Forget The Baby Registry, Give New Parents The Gift Of Food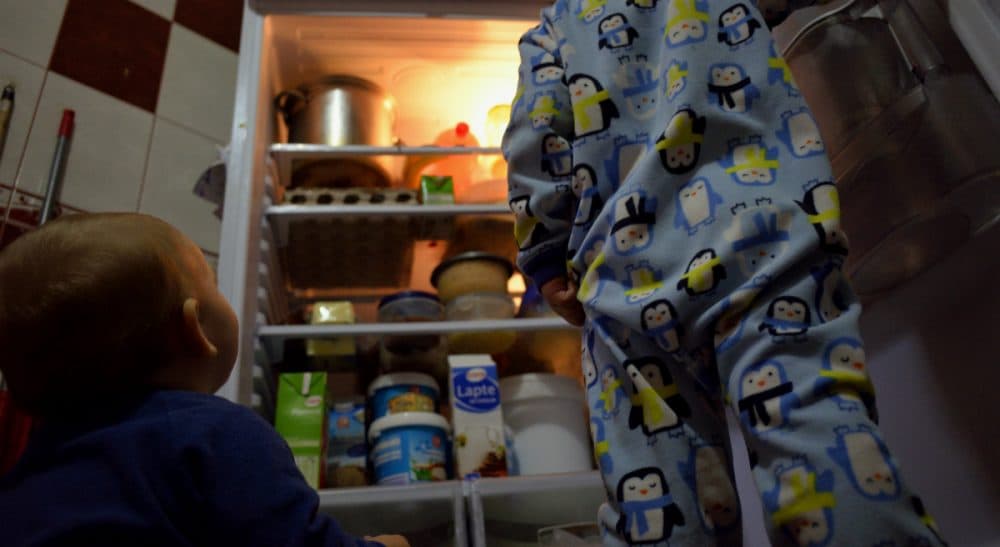 This article is more than 6 years old.
On March 18, 2014 at 5:27 p.m., my husband Dan and I welcomed our son into the world. We were ecstatic, in love, incredulous. And we were hungry. I had packed my hospital bag weeks before, including carefully selected snacks for labor, but it hadn't occurred to me to think about what we would eat afterwards. Three hours after Lucas was born, when we were finally settled in the mother-infant unit with a swaddled and sleeping baby, I realized I was ravenous. I hadn't eaten since 4 a.m., and that dry piece of toast seemed a distant memory. It was the first — but not the last time — that we were so wrapped up in baby, so overwhelmed and exhausted and overjoyed at the same time, that we forgot to eat.
As Dan and I resigned ourselves to waiting another hour for takeout to arrive, we heard a knock on the door. It was a Papa John's delivery man, with two pizzas and a giant chocolate chip cookie, sent to us by a friend/guardian angel who knew that pizza is Dan's favorite food, and any kind of food would be my favorite at that point. And so it came to be that the best, most satisfying meal I have ever eaten was a slice of mushroom pizza accompanied by a large plastic mug of ice water. If I wasn't crying while eating, I certainly came close.
We received many gifts in the months before Lucas' birth. They ran the gamut from practical to beautiful to humorous, each one a connection to the loving network of friends and family we are so fortunate to be a part of. But the gift I didn't expect to need so much — to still need even now, 12 months later — was food. Dan and I both like to cook, and I thought we would still have time and energy to feed ourselves. I didn't know I would be trying to eat breakfast while holding a tiny slumbering human, or negotiating the logistics of lunch while nursing, or finally getting our little infant dictator to sleep in his bed only to realize that dinner wasn't going to cook itself.
It was fortunate, then, that we weren't the first people in the history of the universe to ever have a child. We received a gift certificate for our favorite restaurant, where the manager kindly made an exception to their no-takeout rule when he heard we had a 3-day-old baby at home. My mom and sister came a few days later and made sure to stock our fridge. Dan's mother visited and made all of his favorite foods, enough to fill our freezer. Nearly a year on, while we feel we're out of the haze that is life with a newborn, and we're able to grocery shop for ourselves, plan meals, and override our exhaustion to enjoy cooking, it's still a wonderful gift when friends come over to make us dinner or family members show up with food.
And it's not just the food that feels important about these interactions, it's the company too. There's something humanizing, as a new parent, about treating mealtimes as more than fuel. Sometimes scarfing down whatever you can whenever you can is inevitable, but taking time to sit down, eat off plates, and talk about what matters to you (baby-related or otherwise) means making a choice to take care of yourself as a person, and the presence of friends and family can facilitate that. My mom comes over once a week now to babysit Lucas, and she always brings lunch. It's one of my favorite times of the week, not just because of the free meal, but because we sit down at the table and connect. Between work and childcare and nursing and cleaning and the never-ending list of things I think I should be doing, it feels like an oasis in the middle of my day.
There's something humanizing, as a new parent, about treating mealtimes as more than fuel.
Dan and I are among the first of our friends to have a baby, and the experience has taught me how to be a friend to a new parent — to pay forward the support we received and give the gift of sustenance.
Registry gifts are wonderful and oftentimes necessary (and I'm still incapable of walking through a store without lingering over tiny baby shoes) but in the whirl of activity that follows the birth of a child, I think one of the greatest gifts you can give is for the parents: the gift of a meal and the space to enjoy it.