Boston 2024: Long On Dreams, Short On Reality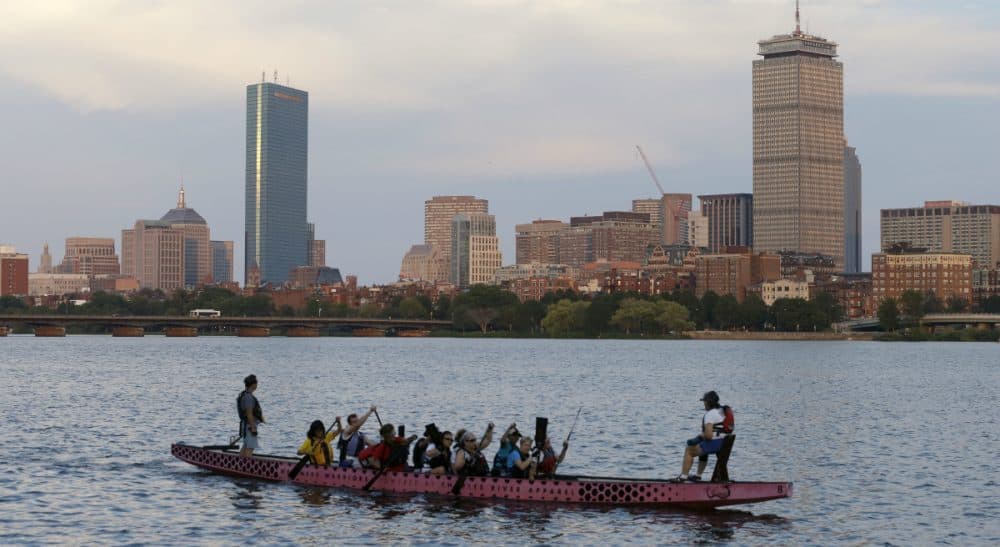 This article is more than 7 years old.
Boston's Olympic bid died on Monday the way one of Ernest Hemingway's characters in "The Sun Also Rises" went bankrupt: "Two ways. Gradually, then suddenly."
The "gradually" had been building since January, when the United States Olympic Committee tapped Boston as its candidate to host the 2024 Summer Games over Washington, D.C., San Francisco and Los Angeles. Almost immediately opposition sprang up in the form of a grassroots movement, No Boston Olympics, whose task was made easier by a brutal winter which exposed a decaying public transit system, tone-deaf leadership on the part of Boston 2024 officials, a lack of transparency regarding bid details, venue sites that shifted like seeds in the wind and eroding poll numbers measuring public support for the Games.
The "suddenly" came Monday morning, when Mayor Marty Walsh, previously a supporter of the Boston bid, took off his cheerleader's outfit and refused to sign a host city contract with the USOC that would have guaranteed Boston taxpayers cover any cost overruns that might accrue. That put a fork in Boston's Olympic dreams, or nightmare, depending on one's point of view. By Monday afternoon it was official: USOC Chairman Scott Blackmun announced Boston's Olympic bid was dead, and they were moving on.
One of my favorite scenes from "The Graduate" is when Ben, Dustin Hoffman's character, blandly tells his father he's going to marry Elaine Robinson… although she doesn't know about it yet. "Ben, this idea sounds pretty half-baked," his father says.
"Oh it's not," Ben replies. "It's completely baked." He then admits that Elaine doesn't even like him.
Boston 2024, you were Ben: a sweet, well-meaning dreamer, completely clueless.
The aquatic center? Harvard didn't want it. The velodrome? Never accounted for. Ditto the handball arena, BMX course and modern pentathalon stadium.
The bid was so delusional, it was misleading. Remember? This was going to be a "walking Olympics." There would be beach volleyball on the Common (bikinis!); sailing in Boston Harbor; tennis, water polo, swimming, diving and field hockey at Harvard. A lego-like 60,000-seat Olympic stadium that would go up and come down like magic. But none of it was grounded in reality. "We did not see the bid documents before they were made generally public," Harvard spokesman Jeff Neal told The Boston Globe, "and had never made any decisions or commitments regarding the potential use of any venues."
The aquatic center? Harvard didn't want it. The velodrome? Never accounted for. Ditto the handball arena, BMX course and modern pentathalon stadium. Boston's 2024 budget? A tidy $4.7 billion, just $500,000 more than the 2012 London Olympics cost overrun! The total tab for the London Olympics was $14.6 billion.
Small wonder Mayor Walsh did a sudden U-turn in his support of the Games. The numbers weren't credible. Neither were the men behind the numbers. Anyone who watched the debate between Boston 2024 Chairman Steve Pagliuca, USOC board member Daniel Doctoroff, No Boston Olympics Co-Chair Chris Dempsey and Smith College economist Andrew Zimbalist knew that. Pagliuca was defensive and inarticulate, Doctoroff smugly arrogant. Neither could satisfactorily answer the legitimate concerns voiced by Dempsey and Zimbalist on behalf of the public. And the one man who could have turned the tables in favor of Boston 2024, Gov. Charlie Baker, very sensibly said he would remain neutral on the issue until he read the economic impact report he had commissioned from The Brattle Group, which was not due for a couple of weeks.
Good luck to [Los Angeles]. It's where the USOC, which has egg on its face today, should have started.
All in all, Boston 2024 was long on dreams and short on reality. It was amateur hour. Had the group lined up the unqualified support of the governor, the mayor, key State House representatives, the academic community (whose venues were coveted) and the business community before submitting their bid to the USOC, they might have had a chance to muster popular support. Boston is, after all, the best sports town in America. That would have been a bid completely baked. Fortunately for Boston's finances and traffic, they didn't.
Los Angeles, by the way, has the support of its mayor and governor, the need for a modern stadium (the NFL is calling!), plus 75 percent support from its citizens according to a recent poll. Good luck to them. It's where the USOC, which has egg on its face today, should have started.