The National Anthem: Does It Really Have A Place At Sporting Events?
Colin Kaepernick, the San Francisco 49ers quarterback who refused to stand for the National Anthem, is taking heat from all sides for his decision. One of the latest to lambaste him is the San Francisco Police Officers Association, which called his action "ill-advised."
Here's what's really ill-advised and what no one is talking about in the wake of Kaepernick's action: Why do we even play the National Anthem?
Think about it. You only hear it at sporting events and not even all sporting events. That's it. You don't hear it at the opera, at the theater, at the concert hall (the late, great Jimi Hendrix excepted on certain occasions, of course). You don't hear it at the most democratic of all institutions, the Town Meeting.
"It's a game we're about to watch, not the Battle of Iwo Jima."

Guy Mainella
I saw the delightful Kristin Chenoweth perform in Provincetown recently and she absolutely killed it. I didn't hear anyone complaining that "The Star-Spangled Banner" wasn't played before her set.
But for reasons unknown, the song has become part of our sporting culture, indelible and embedded. You cannot attend an NFL, NBA, MLB or NHL game without hearing it. And in some cases, you might get "O Canada" along with "The Star Spangled Banner." (I've always wondered what the Russians, Swedes, Finns and other Europeans think when they hear those tunes.)
This is basically an American thing, by the way. You go to an English Premier League soccer match between, say, Liverpool and Chelsea, and you won't hear "God Save The Queen" beforehand. The Brits somehow seemed to have survived not hearing their anthem before all their soccer matches.
If you attend a Champions League match between, say, Manchester United and Real Madrid, you will hear this, the Champions League Anthem. The only time you will hear a country's anthem is when one national team meets the other. Both countries' anthems are played.
"The National Anthem celebrates military conquests and is out of place at sporting events,'' wrote Guy Mainella, a sports radio talk show host in Boston in the 1970s. "For what reason should the nation's sports fans proclaim their devotion to the country every time athletes prepare for action?"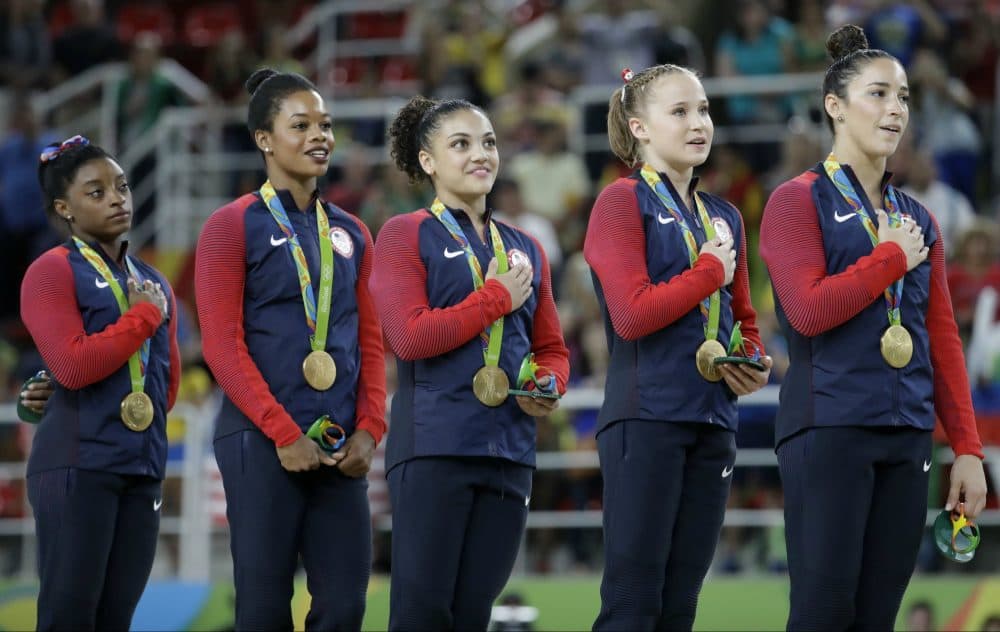 He added, "It's a game we're about to watch, not the Battle of Iwo Jima."
Mainella wrote this piece for the old afternoon Boston Globe in February of 1974. It was both prescient and probative. He foresaw the unholy alliance of nationalism, militarism and sports, producing what he called "a hybrid monster" which rears its ugly head before every game. He concluded, "it's risky business tying sport to politics."
Kaepernick is only the latest to discover that article of faith. He sat for the anthem for the first three 49ers exhibition games, but it wasn't noticed until the latest one. He's been defending his decision ever since as a protest against what he sees as omnipresent police brutality and the targeting by police of people of color. He's been ridiculed for being hopelessly naïve. He's been praised for taking a stand, so to speak.
But what's being missed in the back-and-forth is the tying together of two discordant notes: the National Anthem and a sporting event. Really, what does one have to do with the other? Do we really need to hear "bombs bursting in air" in this day and age? Did we ever need to hear it?
The former Celtic forward Cedric Maxwell used to head to the bathroom to avoid the anthem. He wasn't being un-American.
"Mine was a bathroom thing," Maxwell explained in a 1996 interview. "I want to set the record straight. I had a couple of black guys tell me, 'We're supportive of what you do.' But I was just going to the bathroom."
Would any of us feel less patriotic or less supportive of the troops if teams agreed to stop playing the song altogether?
Would any of us feel less patriotic or less supportive of the troops if teams agreed to stop playing the song altogether? Would anarchy ensue if teams instead offered a moment of silent, personal reflection? Most of us make it through our every day working lives quite nicely, never hearing the song.
The only place the National Anthem seems fitting to me is at the Olympics, because that is all about country. Some of us of a certain age can hum the old USSR anthem from beginning to end, having heard it so many times watching the Olympics.
Still, it was shocking to read the reactions of those who were furious at gymnast Gabby Douglas for not putting her hand over her heart during the playing of "The Star Spangled Banner." Some people really do need to get a life.
Kaepernick is not one of them. He's raising legitimate issues. The issues, however, are getting overshadowed because of how he chose to bring attention to them — sitting for a song which has no place at a sporting event.