Your Stories: The Boston Marathon Is More Than A Race
The third Monday in April is a state holiday in Massachusetts. Officially, it's Patriot's Day, the day we remember Paul Revere and his compatriots who fought in the Revolutionary War battles of Lexington and Concord.
But really, it's Marathon Monday: an iconic Boston holiday when the city marks the unofficial start of spring (whether the weather complies or not). The Red Sox have a day game at Fenway Park. College kids open their windows wide on Beacon Street. And thousands of spectators, old and young, fit and not, cheer on the runners for 26.2 miles, from Hopkinton, through the Newton hills, all the way to Copley Square.
In 2013, tragedy struck at the Boston Marathon. Three people were killed and hundreds more were injured when two homemade bombs went off near the finish line. The attack set off a city-wide manhunt that captured international attention and launched a new phrase, now iconic: #BostonStrong.
On the fifth anniversary of that tragedy, we asked to hear from you. We wanted to know what you remember from that day and what's happened since. We asked you to tell us what the marathon means to you, and all of us.
We heard from runners, including a Boston champion, journalists, fans, emergency responders and even an organizer of the race. Some responses have been edited or condensed for clarity.
These are your stories. Thank you for sharing them.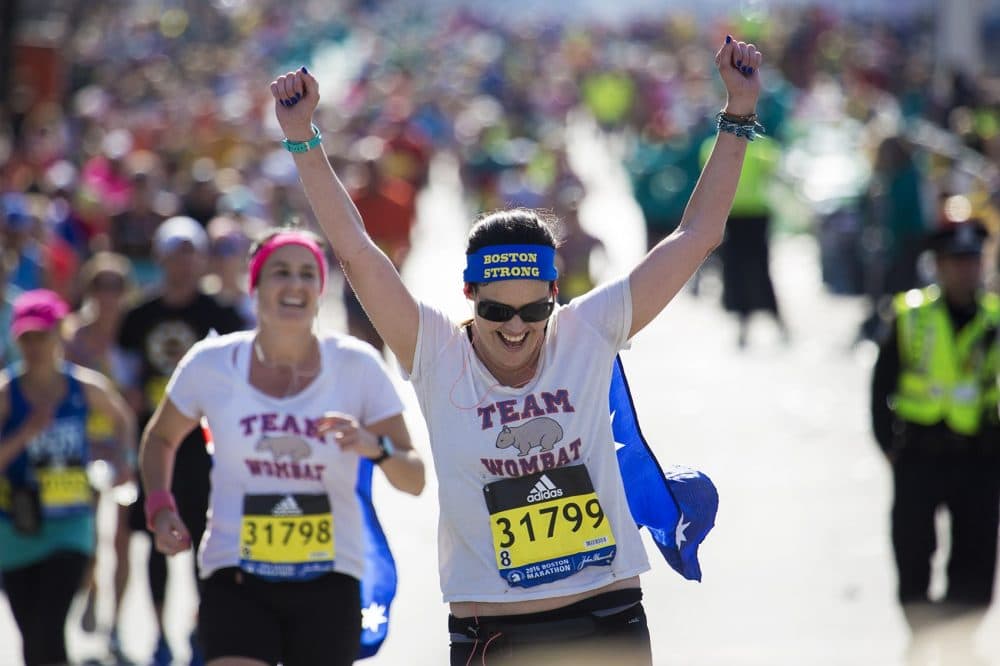 The Boston Marathon is more than a race, it's a tradition — a ritual — that helps to define Boston.
Before the bombs went off at the finish line, I listened to the bottom of the ninth inning of the Red Sox game on my phone, and did a little skip and a jump in Washington Square when Napoli drove Pedroia home for the walk-off win. I stopped to buy candy at the convenience store around the corner from my home near Cleveland Circle, and I made a point to acknowledge the moment and say to myself, "What a day!" — Liza Cohen of Brighton, Mass.

As an innkeeper, my favorite day is Marathon Monday. The first year my husband and I ran the inn, we set out enormous breakfast spreads and churned out platters of baked goods all weekend. After dumping the stale food in the trash, we realized our mistake: runners gorge after the race, never before. Now we pack to-go bags of fruit, bagels and yogurt that the racers can grab on their way to Hopkinton in the morning; the fresh-baked chocolate chip cookies don't appear until late afternoon, when our runners, wrapped in foil blankets, come limping back for hot showers and cold beverages. – Jessica Ullian of Brookline, Mass.

The first year I lived in Boston, the marathon passed just a block from my apartment. I remember not being able to cross the street for hours because of the race. I remember the tears in my eyes when a walker in visible pain started running again when he hit a crowd of cheering fans. I remember realizing this was tradition. This was ritual … The year that I decided to run, I remember recounting to people that if you lived and worked in the city long enough, you'd be hard-pressed not to know someone who was running Boston each year. — Beth Parfitt of State College, Penn.

Almost 9,400 volunteers, 30,000 runners, and hundreds of thousands of fans will give it their best efforts on race day. They will pour their hearts out for strangers, they will trust in each other, and they will unite. This Massachusetts holiday and the road race that occurs upon it is an aggregation of pursuit, gratitude, unity, and courage that is a spectacle to behold. And thanks to support of countless people from near and far, it will remain that way for years to come. — T.K. Skendarian of South Boston, Mass.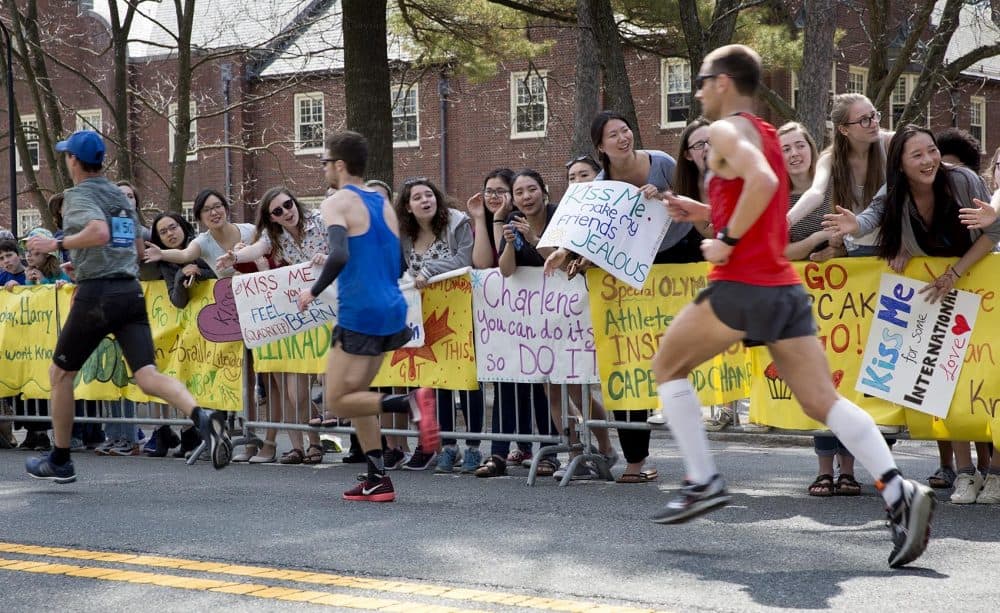 It's not just Bostonians who love the Boston Marathon. 
When I went to Boston to cheer on my sister, I was grateful to be a part of such a historic event. I soaked in everything I could from the moment I arrived — taking photos along Boylston Street, listening to inspirational speakers, meeting my favorite elites as well as talking with fellow runners, volunteers and spectators. There was such an overwhelming feeling of camaraderie — so many people coming together for a meaningful and monumental event. — Malinda Ann Hill of Wynnewood, Penn.

[After the bombing] as days went on, the love poured in: from school children from Texas, from running clubs in Korea, and from widows in Winchester. It was immeasurably helpful. Fueled by this support, guided by our leaders, and backed by our law enforcement partners, we began planning the next Boston Marathon. In 2014, and in every year since, the race reclaimed the spirit of our open society — a free sporting event, enjoyed locally, nationally, and globally. – T.K. Skendarian of South Boston, Mass.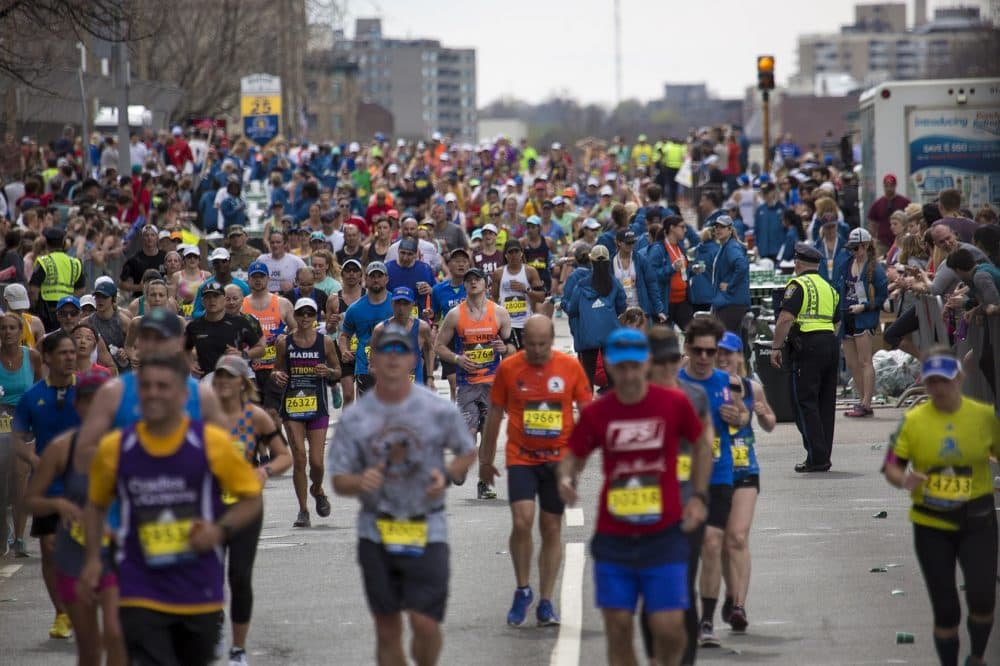 Not just anyone gets to run Boston. It takes hard work to do it — that's what makes it special.
It will be bittersweet to return to Boston this year. While I am grateful that I finally succeeded at my 12th attempt to qualify, I am still sad when I think of the reason I was so motivated to reach my goal in the first place. I know I will be thinking about everyone affected by the tragedy as I run and I am determined to appreciate every step from Hopkinton to Boylston. — Malinda Ann Hill of Wynnewood, Penn.

When I tell people I ran Boston, I usually preface with "I ran for charity…" — and it's true. I did not qualify — I'm not sure I ever would. I know many runners for whom Boston is the pinnacle. They spend years training to qualify and they are among that group that is truly the best of the best. I admire those elite runners and their skill, determination, and commitment to the sport. — Beth Parfitt of State College, Penn.

I joined this special community in 2012 after I qualified in my 17th marathon, a journey that took me four years. Our coach talks about the Boston Marathon as a special event that is like the prom, graduation, wedding, and race all in one. It's a day to celebrate and to challenge yourself. – Leah Connor of Charlottesville, Va.
Everyone remembers where they were when the bombs went off at the finish line.
I was nine months pregnant with my second son. My due date was the next day and my obstetrician expected me to go into labor at any second, but I was determined to watch the race … I gave birth two days later. During my labor, the nurses and I talked about the bombing, about the marathon, about what it all meant. We brought our son home from the hospital the day the city was on lockdown. It was an incredible juxtaposition to snuggle a newborn while watching S.W.A.T teams conduct a manhunt on television. — Stephanie Hirst of North Andover, Mass.

If you work in [healthcare] long enough, you get used to the sound of sirens. They simply don't get your attention. Except for that day. At my desk [at Mass. General Hospital], I first became aware that something was different, then I quickly realized what it was — the sirens were constant. They didn't go away. — Rick Schrenker of Mass.

The lockdown made me think differently about what the bombing meant, and what Boston really was ... I wondered why we had to remain inside. I didn't think he was in my neighborhood. But then I thought, it's about solidarity. We were all in this together. While I was thinking of people in Mattapan, maybe they were thinking about me, too. We were all sending a message to this guy, and all who would attack us: we are small enough to agree that what you did cannot be tolerated, and that nothing is more important than capturing you. We will make sacrifices together, to stop you. — Ed Lyons of Brighton, Mass.
The tragedy in 2013 left an indelible mark.
I was in the medical tent at the finish line area of the Boston Marathon when the attacks occurred. The boom shook the ground in the tent and resonated through my body … The chaos that I witnessed and the fear that I felt during the initial minutes after the blasts still haunts me. It took several months to emotionally regroup from the experience. I felt like the only thing that would heal me would be returning to Boston to run the marathon again the next spring. — Meredith Stenta of Irvine, Calif.

It's not a stretch to say I think about the marathon bombings just about every day. It's not that I suffered any physical loss, but there was emotional pain, because I love this event so much and because I know so many people who basically devote their lives to making it happen every year. — Alex Ashlock of Brookline, Mass.

As lifelong Marathon spectators, we remain well aware of how much has changed since 2013. The sturdy metal barriers lining Beacon Street and the helicopters hovering overhead remind us that the race may never be the same as the one we attended as children. But … the race for us is unchanged: a gathering of old friends and new hopefuls, where the body's achievements are celebrated and its efforts rewarded. — Jessica Ullian of Brookline, Mass.

When I returned home I made it my mission to know as much as I could about every victim from the bombings. I compiled a list on my website and links to everyone's fundraising pages and news articles. I felt it was my responsibility to keep everyone who was killed and injured in my thoughts. Martin Richard was the same age as my daughter on that day so his death was even more poignant for me as a mother. — Leah Connor of Charlottesville, Va.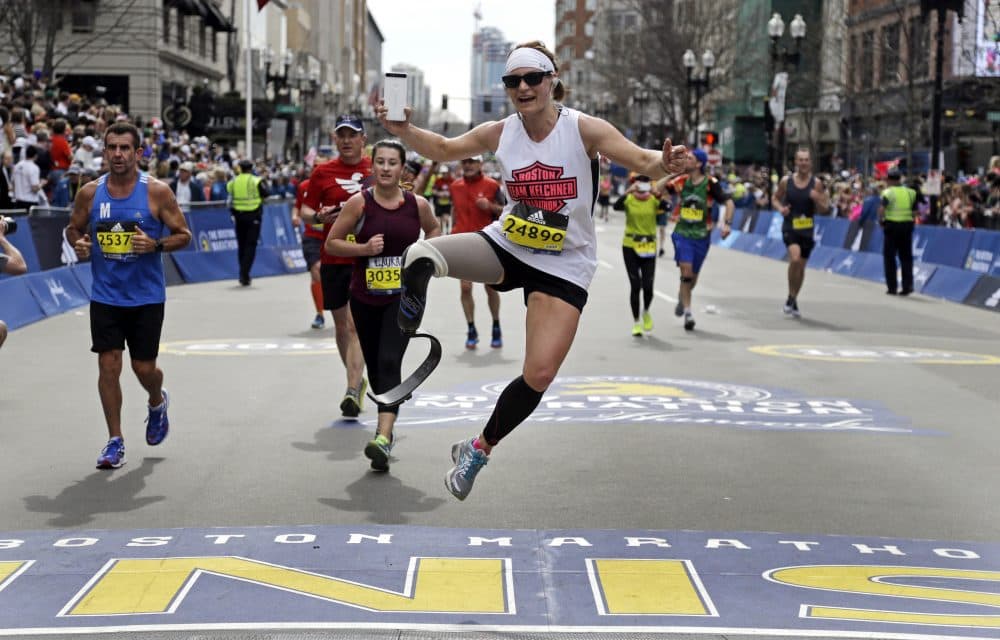 The 2014 Boston Marathon, one year after the tragedy, endures as one of the most emotional races in memory.
After winning the race in 1968, I pledged to run the Boston Marathon at least once every five years. Since 2013, I've run all four. The miraculous "comeback" marathon of 2014 was, without a doubt, the most spectacular, emotion-filled footrace I've ever participated in. Boston's knowledgeable marathon fans turned out in record numbers, celebrating us louder than ever. We runners, in return, applauded the roadside families for their decades of unstinting support. — Amby Burfoot of Mystic, Conn. (Winner, 1968 Boston Marathon)

That 2014 race was a celebration of the human spirit and a tribute to the glory of the city, the victims, the survivors, the race and the runners. It was an emotional day of camaraderie and solidarity that provided healing for so many who needed to experience the outpouring of love that enveloped the city and the race on that day. — Meredith Stenta of Irvine, Calif.

When I returned home [after the 2013 race], I couldn't stop thinking about the tragedy. I read and watched everything that was available. It was devastating to think about the lives lost and the lives forever changed … I knew I would return to Boston in 2014, either as a runner or spectator. I was determined to qualify so my sister and I could run together in memory of those who died and in honor of those who survived. —  Malinda Ann Hill of Wynnewood, Penn.
The opportunity to honor those who were injured and those who lost their lives in 2013 is what keeps people coming back year after year.
I have returned to Boston every year since 2013 to run the marathon. Every year, I have committed to an endless cycle of qualifying and training for the April event that takes place 3,000 miles from my home. The race has challenged me in ways I could never have imagined and I always feel a renewed sense of purpose when I return home from Boston. To me, the iconic race represents the hope, the strength, and the glory of the human spirit. There is no other place I would rather be on the 3rd Monday in April! — Meredith Stenta of Irvine, Calif.
The city created One Boston Day to turn the anniversary into something that looks forward, a day of public service, neighborhood cleanups, a blood drive and other events that offer an opportunity for folks to reach out to help. But there will also be somber, quiet ceremonies at the two bombing sites on Boylston Street … Families of the bombing victims come. Sometimes survivors are there, amazing people I have come to know like Jeff Bauman, who lost his legs that day … April 15, 2013 will be in the back of my mind this Patriot's Day as another chapter in the history of this great race is written. I'll try to do it justice. -- Alex Ashlock of Brookline, Mass. (Ashlock has covered the Boston Marathon for WBUR for 20 years, since 1998.)