Civilians Are Blind To The Lasting Trauma Of War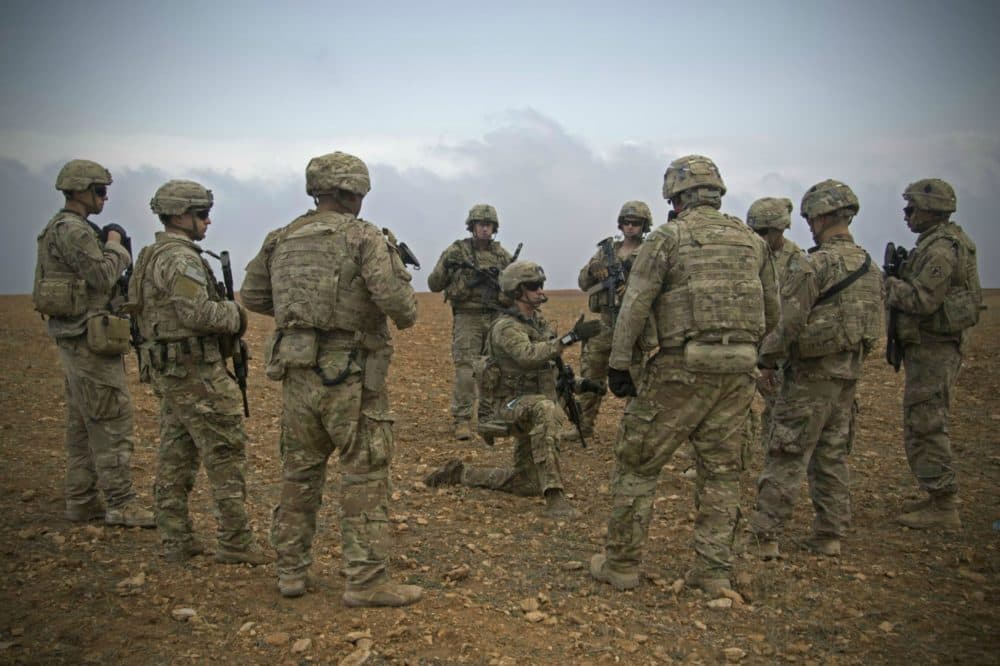 This article is more than 3 years old.
Shortly before Memorial Day weekend, the U.S. Army posed a broad question to veterans, prodding them to talk about how serving America "impacted" their lives. The question was very much on-brand with the Army's recruitment commercials, which valorize service as a life-changing good, and it's likely that the marketing team hoped to spark an inspiring response from people who had worn the uniform and lived to tell their tales.
But it didn't go that way.
Veterans seized upon the tweet and offered a stream of stories that comprise a very different picture of how service can transform your life: suicide, depression, PTSD, poverty, drug addiction, living with physical disabilities and a sense of abandonment from the Army itself. I've scrolled through the replies several times now, and on every occasion, I've come away feeling speared through the gut — not because those narratives of veterans suffering are new to me, but because they've afflicted our society for so many years.
It's not just the trauma of being in conflict zones that leads to physiological health issues, but also the alienation that many vets feel upon re-entering life on the homefront. The author and war correspondent Sebastian Junger has talked about this extensively. His latest book, "Tribe," is about the intense bonding that often occurs within military ranks, and how this loyal solidarity is not reflected elsewhere in modern society. The promises that military recruiters dangle before prospective recruits — such as comped college tuition and free lifetime health care — are often left unfulfilled. And while the rest of us claim to support the troops, we don't seem to care much that many of them are homeless and struggle to find work when they return.
Addressing war's lasting trauma ... should be a defining issue in politics right now.
In recent decades, we've seen a widening experiential divide between civilians and soldiers in American life. The U.S. has one of the largest all-volunteer armies in the world, and while that may sound good on paper, it's really not. Volunteerism means that military service is vulnerable to stratification by class and race. Those with the means to avoid service can, and I'm one of those privileged people who never had to consider joining the military because I was lucky enough to have better options. But for many Americans, serving can present itself as the only viable pathway to economic security. This is what recruiters explicitly tell young people, and it's what many civilians tell themselves to avoid thinking about the far harsher realities that soldiers face in the field — and back in American society.
Addressing war's lasting trauma — and avoiding protracted war in the first place — should be a defining issue in politics right now. We've been at war with Afghanistan for 18 years, with no end in sight. We still maintain nearly 400 military bases across six continents. Our $649 billion military budget is Godzilla-sized compared to most countries. And now that National Security Adviser John Bolton is trying to get President Trump on board with bombing Iran — a long-held fantasy for the neocons who brought us the ongoing war on terror — today would be a good time for the Democrats running for president to talk about parity for veterans. And, just as crucially, about foreign policy that moves us away from empire-building and constant military engagement and promotes peace instead.

And yet — as if to illustrate that divide between soldiers and civilians — the Democrats have been mostly silent about foreign policy and military matters. Only Bernie Sanders and former Alaska Sen. Mike Gravel (admittedly running as a protest candidate) have consistently spoken out about the human consequences of engaging in forever wars and using our unprecedentedly powerful military as a cudgel for world dominance. Militarized foreign policy has alienated many of our allies — this began long before Trump became president — and it often costs soldiers and their families everything.
What if, instead of introducing a plan to curb greenhouse gas emissions on U.S. military bases, Elizabeth Warren had instead suggested closing some of those bases as a means of diplomatic reconciliation with countries who've tired of our presence? What if the humanist empathy behind Cory Booker's "baby bonds" program was applied to our foreign policy? Or — here's a darker way to put it — what does it say about America that we're flirting with egalitarian domestic policy like universal health care, but not having the same conversation about how we engage with the wider world, and how we think about the well-being of our people in uniform? Why do we forget them?
We owe our soldiers (and our neighbors) a foreign policy that upholds life and dignity over power. We owe our veterans sweat equity. And we owe the next generation of Americans honesty about war's impact on the mind and body, and the alternatives that exist.