Farewell To Mad Magazine
Mad was the first magazine I ever subscribed to; I started reading it in 1967, when I was 11 years old. I didn't get a lot of mail at that age, and when it came every month (or so), I tore open the white envelope and flopped down on my bed to read it cover to cover. I was a rapacious reader, eager to discover what the self-proclaimed "usual gang of idiots" at Mad had in store for me.
Reading the magazine shaped my world view. I learned a lot about advertising (Mad had none), about manipulation and guile, about how corporate interests aren't exactly aligned with ours. About irreverence and satire. About not trusting the government. That laughing at the ludicrous (or even heinous) things all around us was not bad. All of these ideas were overseen by Mad's gap-toothed smiling mascot, Alfred E. Neumann, and its motto: "Humor in the jugular vein."
In July it was announced that, apart from an end-of-year issue and the occasional special collection, Mad would cease regular publication of new material. Its quasi-death has been a topic of conversation among my like-minded, Mad-stalgic friends.
"Mad was all about challenging you to find out about things you didn't know," said David Bieber, a pop culture collector. "It lured you in with clever and funny parodies of Broadway — things we didn't even see — and yet the storyline and song lyrics played in your head. They force-fed you knowledge in the process of making fun of adult aspects of life. It was beautiful how textured it was. If you didn't know the joke, you did the investigation."
"We're talking about the '60s and there were limited humor magazines, certainly limited for 12-year-old boys," says Boston comic Mike McDonald. "You didn't have a lot of money to spend at 11 or 12, so if you were gonna lay money out for something, this was it."
I haven't read Mad for years — eventually, the National Lampoon took hold of my comic sensibilities — and yet its demise makes me sad.
For a kid like me from central Maine, with friends and family who were nearly all white Catholic/Protestants, the magazine gave me a different perspective. Most of Mad's writers and editors were Jewish — which I didn't know or care about at the time — but I grew up with what I've come to call a Jewish sense of humor. When I learned that later in life, it kind of tickled me. Yiddish knock-off words, like furshlugginer (derived from the word shlogan, meaning "to hit") entered my world.
These words, part of the Mad vernacular, became part of my own, albeit more as a reader than a conversant. The language had such comic, phonetic verisimilitude it stuck. Now, when I read or hear "putz," "shmuck" or "blecch," it makes me smile.
Three years ago, cartoonist Al Jaffee, who is 98, explained to Forward's Leah Garrett:
… the humor in Mad was deeply Jewish because it was based on satire created by a community that saw itself as not having much power and which used the jokes to take down those who 'had it made,' i.e., rabbis, parents and, later, the rich and powerful. As he explained it, … Your only revenge is to expose and make fun of the frailties of the big shots and the 'better-than-thou' people. … Some of it was a bit raw and mean spirited … [but] going after the wealthy is such a release when you are barely getting by.
These were men — yes, all men — who acted like smart-alec adolescents making fun of adults. Publisher William Gaines (ne: Ginzberg) was God and writers and illustrators like Jaffe, Jack Davis, Harvey Kurtzman, Dave Berg, Norman Mingo, Drew Friedman, Don Martin, Mort Drucker and Sergio Aragones were acolytes and among my creative heroes. Later, as I became a rock critic and feature writer, I incorporated the Mad worldview into mine. Call it rational skepticism or the freedom to skewer sacred cows.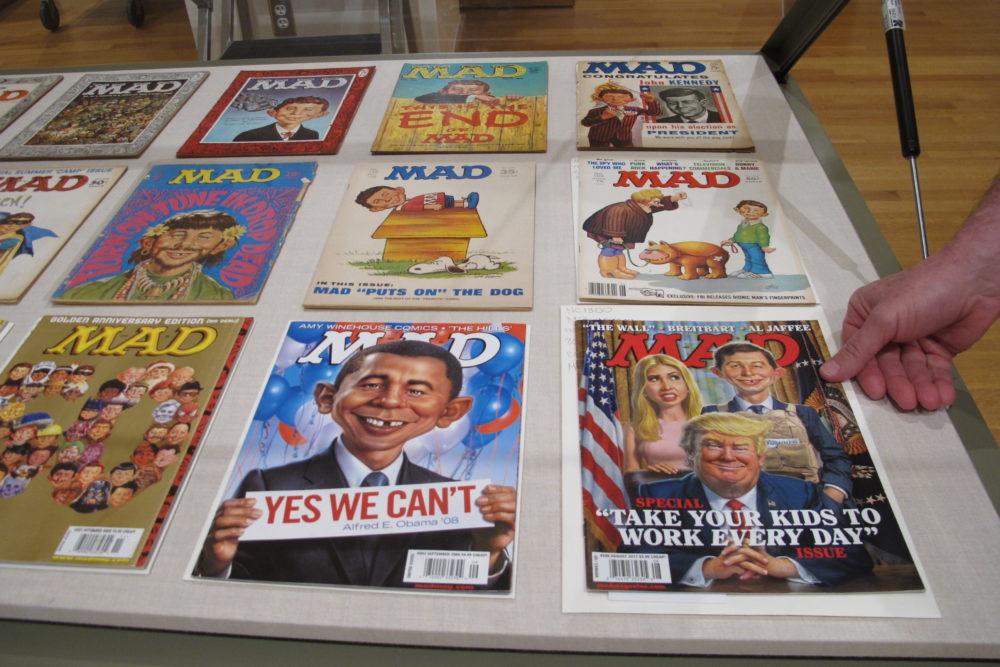 So, another totem of my youth has now been consigned to the dustbin of history. Although I began to pull away from Mad in 1974, as college beckoned, in 1973, they still had it: A sharply drawn, witty and cutting parody of Stanley Kubrick's "A Clockwork Orange" they called "A Crockwork Lemon." The cunning psychopath Alex (renamed Aleech) and his once-mighty Droogs took it on the chin.
I loved "A Clockwork Orange," but Mad dug in deep. For example, when the Droogs become policemen and taunt Aleech, they say, "Hi! Remember us? We're those brutal, amoral, sadistic toughs you used to hang around with. … The authorities tried to rehabilitate us, but they couldn't … So they made us policemen instead! Interesting bit of symbolism there, don't-cha think?"
"Not really!" Aleech says.
How resonant is Mad today to a certain sort of baby boomer?
Very.
Film director and screenwriter, Quentin Tarantino, born in 1963, set his upcoming film, "Once Upon a Time in Hollywood" in 1969. On the wall of cowboy actor Rick Dalton (played by Leonard DiCaprio) is a framed cover of Mad.