It'll Take More Than Evidence To Convict Donald Trump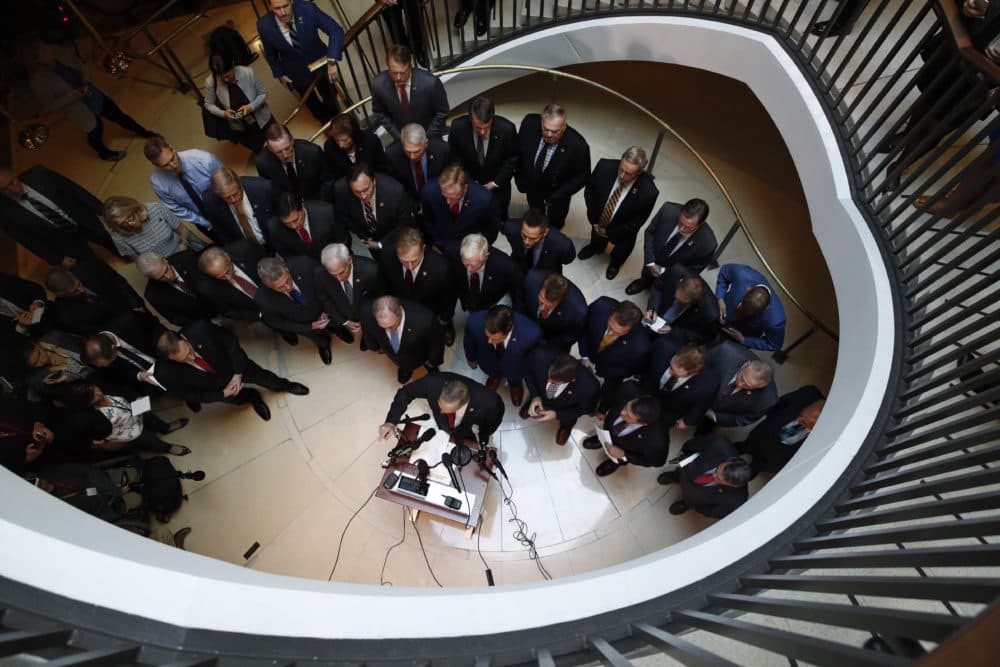 This article is more than 3 years old.
In an interview about her newest book on the presidencies of Lincoln, Teddy Roosevelt, FDR and LBJ, historian Doris Kearns Goodwin reflected on political leaders' need for mass movements to provide them with both the impetus and the political protection they need to take bold action.
"Lincoln was called 'The Liberator,'" she explained. "But he said, 'Don't call me that. It was the anti-slavery movement that did it.' The Progressive Movement was critical for the two Roosevelts, and the Civil Rights Movement was critical for LBJ."
That lesson is especially salient now, as Congress considers impeachment.
In action movies, there's generally a moment where the hero, trying to shield himself from a fusillade of bullets, realizes that he must stop hiding behind the dumpster. "Cover me," he grunts, then dashes out into the open, sprinting from point A to point B while his comrades distract the bad guys with a burst of their own gunfire. Though the analogy is inexact, it's useful to think of "cover" not as barrage of bullets, but as a form of protection for the politicians putting their futures on the line. Mass movements — political action that isn't confined to the electoral process, but also manifests in schools, on campuses and in the streets --create the groundswell and the cover that leaders need to take risks or make transformative changes.
And contrary to Trump's truculent tweet, an impeachment inquiry is not a lynching. Unlike those who strung up and killed 4,743 people in extrajudicial vigilantism, those elected representatives engaged in a constitutionally condoned process do not constitute a mob.
For intellectually honest politicians of both parties to do their jobs ... they need to hear our voices, see our signs, and feel the strength and durability of our conviction.
This crucial distinction is conveniently lost on many in the Republican leadership. As journalist Eric Levin recently noted:
The modern GOP has no principled opposition to angry, or even lawless, demonstrations. When the far-right rancher Cliven Bundy protested federal land policy by assembling a heavily armed militia — which then threatened to shoot Bureau of Land Management (BLM) workers who refused to obey their orders — many Republican lawmakers rallied to Bundy's defense; Ted Cruz even suggested that this insurrection against federal law enforcement was an understandable response to the Obama administration's 'jackboot of authoritarianism.'
In contrast, when decrying the protesters opposing Brett Kavanaugh's nomination to the Supreme Court, leading Republicans were quick and unified in how they discredited their opponents. The Washington Post reported:
'They have encouraged mob rule,' Charles E. Grassley (R-Iowa) said on the Senate floor … Sen. Orrin G. Hatch (R-Utah) said there was 'a paid mob trying to prevent senators from doing the will of their constituents,' while Sen. Marco Rubio (R-Fla.) wondered on Twitter: 'Imagine the coverage on cable news if an angry mob of conservatives stormed the steps of the Supreme Court building.'
Now we don't have to imagine. When a group of Republican members of the House of Representatives chanting "Let us in" barged into the Sensitive Compartmented Information Facilities (SCIF) in the Capitol building (bringing their forbidden cell phones with them in violation of security protocols), these same GOP leaders remained silent. Never mind that the protesters do not sit on the committees involved in the impeachment and are not allowed to attend. Ignore the fact that Republicans already sit on the House Intelligence Committee, whose hearing these protestors were trying to disrupt.
But while juvenile and noisy, these irate and obfuscating minions weren't really a mob either, and their action was a stunt, not a manifestation of a movement.
Mobs seek to terrorize and intimidate, while movements try to influence and empower. Mobs take direct action against the enemies they've identified, whether by stringing people up, mowing them down with their cars or trying to intimidate with threatening chants of "Lock her up" or "Send them back." They are collective expressions of rage and retaliation, dangerously cathartic but short-lived and ultimately ineffectual.
But movements — whether progressive struggles like those for emancipation, civil rights, women's equality and gay rights, or the sustained (if reactionary) fight to once again criminalize abortion — don't generally seek to do direct, physical harm. And while they may be spoken for, even crystallized by extraordinary individuals (Eleanor Roosevelt, Martin Luther King, Gloria Steinem, Nelson Mandela, to name just a few), movements are not simply supporters of charismatic leaders, let alone groveling toadies trying to win their bosses' favor. Movements give rise to leaders, challenge as well as embrace them, and exist to propel change.
Mass movements ... create the cover that leaders need to take risks or make transformative change.
That's why Bernie Sanders speaks about the need for a "political revolution." It's why, when announcing the Working Families Party's endorsement of Elizabeth Warren for president, national director Maurice Mitchell said, "We need a mass movement to make her plans a reality, and we're going to be a part of that work."
Movements are about positive change, not mere reaction. As Doris Kearns Goodwin eloquently explained:
… Public sentiment is not just public opinion … Lincoln would say public sentiment is a collective understanding of what needs to be done and why it needs to be done, like the fight against slavery. And that with public sentiment, Lincoln said, anything is possible. Without it, nothing is possible.
Her words are particularly instructive at this inflection point. For intellectually honest politicians of both parties to do their jobs (if such people still exist, and I think a few do), they need to hear our voices, see our signs, and feel both the strength and durability of our conviction.