How One Massachusetts City Decided To Celebrate Kindness
This article is more than 3 years old.
On Wednesday, Nov. 20, Melrose, in Massachusetts, will celebrate its fourth annual Random Acts of Kindness Day. On this day, many Melrosians look for ways to honor kindness in our community and beyond.
The origin of our self-appointed holiday dates back to 2015, when a few middle schoolers took to heart the suggestion by the television show "South Park" that Nov. 20 was "kick a ginger day." (I don't know how many red-haired kids were kicked on that day, but even one is too many.)
My son was in middle school at the time, and although he was not involved one way or the other, it still made me sad and eager to do something.
"They were just being stupid, Mom," he said. "They already got punished. Just forget about it."
It is true that the school administration handled the incident swiftly and appropriately. Still, I couldn't forget it. Nov. 20 comes around every year and reruns are forever. What would prevent it from happening again? I didn't want any more kids to kick or be kicked. But instead of responding with anger, I decided to make a personal commitment to mark every Nov. 20 by celebrating kindness.
Celebrating kindness has changed me, too. Now that I'm focused on my mission, I see good deeds all around me
People often ask how I managed to get the day sanctioned in our community. And the truth is, there were no steps and there was no formal sanctioning; only a call to be kind.
In 2016, our first year, I shared my idea in a post on the city's Facebook community page and submitted a letter to our local paper that listed 100 ways to be kind. I suggested charitable organizations to embrace, local businesses to support, grumpy people who'd benefit from a hug, harried parents who needed help lugging their groceries to the car. I encouraged my fellow kindness warriors to get to work spreading the love.
I was overwhelmed with positive feedback that first year.
A local guy who collects socks for the homeless received such an outpouring of donations, he added coats and gloves to his list of requests.
An unsuspecting YMCA visitor received a free month-long membership.
A florist created "kindness" bouquets, to be enjoyed for 10 minutes and then passed along to someone else who could use it. Several landed in our local hospital.
There were so many cups of coffee purchased for the next person in line, that the guy in front of me — as I waited to order — asked, "I wonder what's going on?"
"Kindness," I replied.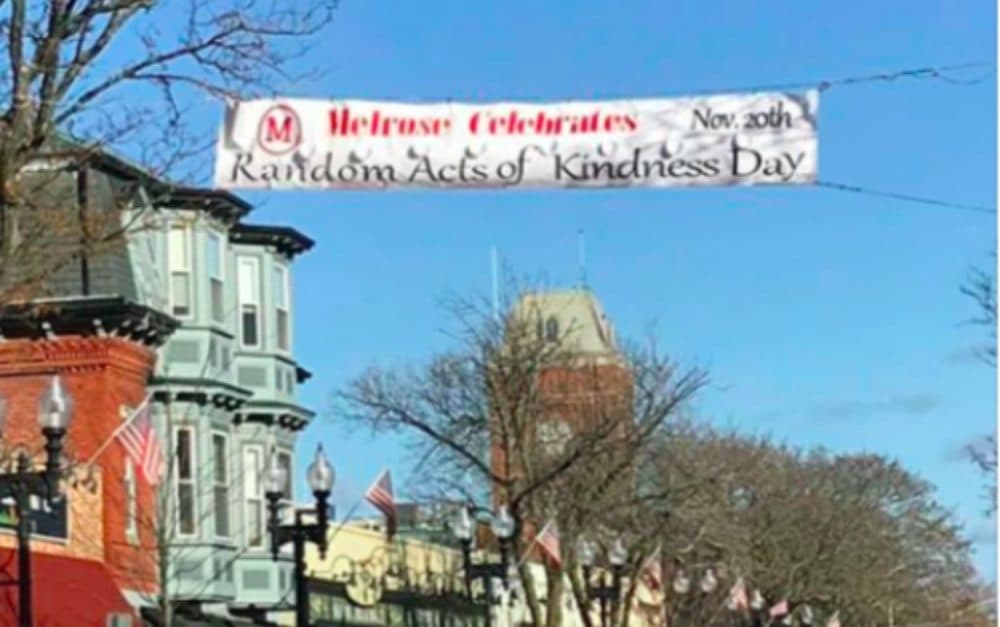 I am certain more goodness occurred than I will ever know. That's the thing about random acts: no one records them, no one keeps track, they just happen.
I've gotten more organized in the past few years. In 2017, I purchased a banner to fly over Main Street. I met with the mayor, who offered to tend bar at a local restaurant, donating tips to the Melrose Emergency Fund, which provides help for Melrose residents experiencing financial emergencies.
I spent time with school principals and teachers, who told me they loved the concept. The parent-teacher organization at the middle school created a letter writing campaign, encouraging kids to write thank you notes to those who are kind. The high school principal greeted students in the morning with muffins. Elementary schools held kindness circles and created kindness walls.
As awareness of the day-of-kindness grew, more people got involved. My friend Stephanie convinced an artist to donate his talents. He created kindness posters, stickers and pass-kindness-along cards: "You just received a random act of kindness," the card says. "Now it's your turn. Pass it on."
As Stephanie and I visited local businesses, spreading our kindness swag, one shopkeeper encouraged us to keep up the good work. "Year three," she said, "is when an idea really catches on."
She was right. Heading out on a business trip to Canada, my husband presented a kindness card to a TSA agent at Logan Airport, along with a Box of Joe, with the hopes of spreading kindness to the friendly skies. My son, the same kid who three years earlier told me to "just forget about it," reported, "Someone just bought me a donut, Mom. Then I bought one for some random kid. It's working!"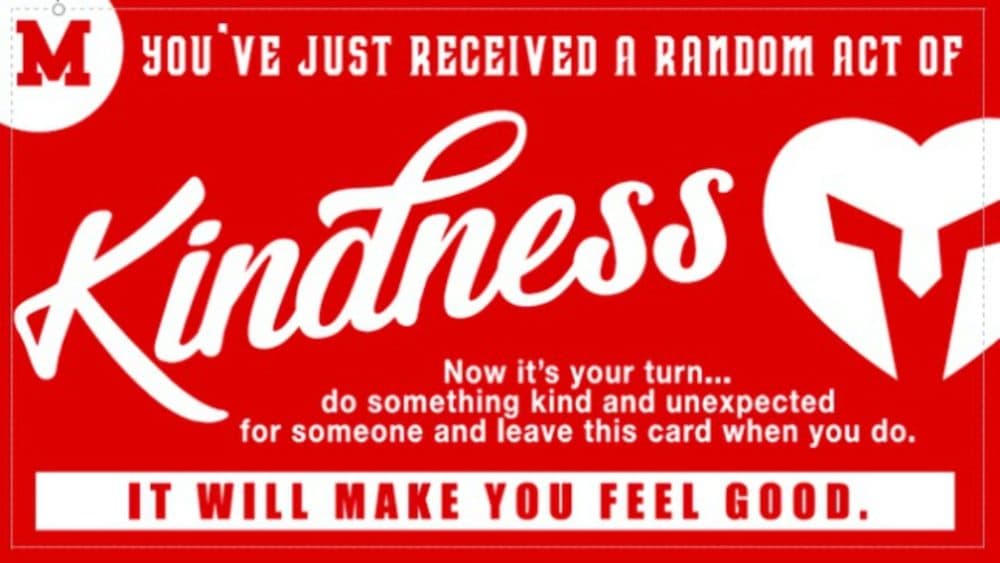 Celebrating kindness has changed me, too. Now that I'm focused on my mission, I see good deeds all around me: the boys who invited a homeless man to a Red Sox game; the good Samaritan who noticed a neighbor getting wet on the walk home from work, dug through his trunk and offered up an umbrella.
In a world so divided, so angry, so righteous in our beliefs, it's nice to take a kindness break, to focus on the good that is out there, to look beyond our differences and toward our commonalities. I make a conscious effort to do so every day.
This year, I created the Melrose Kind Facebook page. I use it to record the magic that surrounds us. Every Wednesday, I celebrate a Melrose kindness warrior, someone who might just be standing next to you in the checkout line or buying a cup of coffee for a stranger. Next week's warrior could be someone bagging your groceries or waving you on as you navigate the crosswalk. They are there; they've always been there, and not just in our city, either. Melrose Random Acts of Kindness Day simply reminds me to look for them.
I am hopeful that my fellow Melrosians keep looking, too. Beyond the lawn signs showing support for candidates in the upcoming election, past the squabbles about parking spaces and overbuilding and too many potholes, I hope they see the smiling shopkeepers, the committed educators and civil servants, the charitable organizations, the kind souls everywhere. And, maybe our random acts of kindness will spread to Wakefield and Malden, to Saugus and Stoneham, to other communities. We'll celebrate kindness together, as one.
Kindness doesn't happen on just one day of the year. But on Nov. 20, we honor it.