What's The First Thing You'll Do When This Is Over? We Asked, You Answered
What's the first thing you'll do when this is all over? What do you daydream about between Zoom meetings, laundry-folding, dishwashing and kid-wrangling? What's that one thing you took for granted before strict social distancing measures went into effect, that you'd give anything to get back?
We put these questions to our readers, contributors and colleagues and we got hundreds of responses.
"Hug my mom," "visit family" and "go out for dinner" were common replies. So was "get a haircut." But there were also a number of truly surprising — sometimes sad, sometimes funny — responses.
One thing is for certain: we all miss something or someone. And we all long to get back to the freedom we enjoyed in the "before times." A few people told us they want to take a vacation, but no one said anything about shopping or material things. The answers are overwhelmingly about human connection or about people doing things that make them feel like their normal selves. That seems noteworthy and important.
You'll find an assortment of the responses we received (some of which have been edited for space and clarity), along with some highlights from separate but similar call-outs on Twitter. And please feel free to share your answer in the comments below.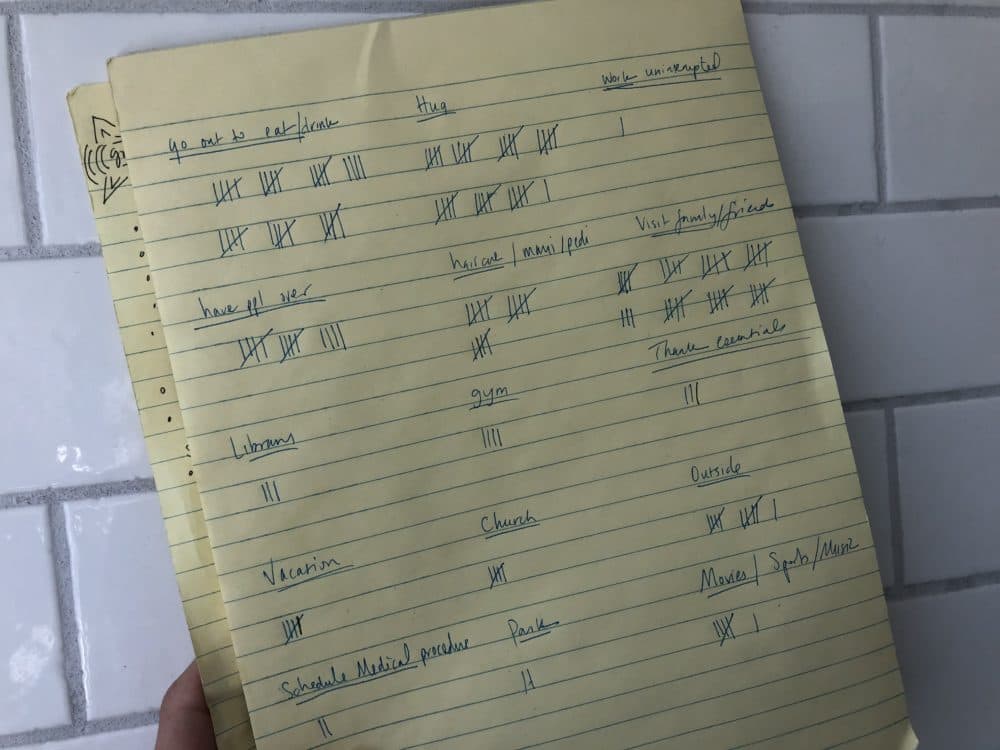 ---
If nothing else, coronavirus has revealed that we are a nation of poor hug-deprived souls. About a quarter of responses were embrace-centric.
Hug someone! Hug a bunch of someones! Hug everyone in sight! I haven't hugged anyone in weeks and I am a born hugger — this distancing thing is HARD! -- Patricia Mulkern, Marshfield, Mass.
I'm going to visit my 95-year-old mother. She is in a nursing home and, understandably, there are no visitors allowed right now. I am sometimes able to reach her by phone, and when I do, she sounds sad and worried. In the meantime, I'll tell her, "Stay strong, Ma, try not to worry. When things get back to normal, I'm going to give you a big hug, and I won't even mind this time if you say, 'Joan, it looks like you put on a little weight.'" Ciao, Bella. Ci vediamo! — Joan Taglieri, Newburyport, Mass.
In addition to craving physical contact, we miss in-person visits with our loved ones — it was the only response more common than hugging.
I had been reluctant to visit my grandmother before all of this because she is slowly losing her memory; I wanted to avoid the pain. Now all I want is to spend time with her, regardless of whether she knows my name. -- Alexis Harvey, Dorchester, Mass.
Fly to Scotland and go for a walk with my family, aged 2 to 92, around the Birks of Aberfeldy — a beautiful tumbling waterfall that falls down a steep hillside. It is surrounded by birch trees, hence the name, and beeches too. Robert Burns wrote a not very good poem about it. — Margot Livesey
I sorely miss having people over for dinner. I miss planning a meal my guests would really enjoy (accounting for allergies and preferences). I enjoy setting the table. I love seeing my guests clean their plates and ask for more. Most of all, I enjoy the conversation, the interruptions, the laughter, and the passionate disagreements that vanish into thin air. I miss the fellowship of the table, which can be a profound kind connection even if the topic is nothing but binge-worthy TV. In Judaism, if the conversation goes deep, if it lifts your spirit and reminds you how lucky you are to be among these particular faces — the table becomes an altar. As soon as the light appears at the end of this unfathomable tunnel, I will start planning menus and guestlists. — Anita Diamant, Brookline, Mass.
I want to drive to Palo Alto to see our grandson Kiran, born March 25th. His Hindu name means "ray of light" and he was born on the annual Indian celebration of Ugadi, which signifies the beginning of a new era — indeed! -- Pat Newport, Corvallis, Oregon
By contrast, parents who have been cooped up with their kids 24/7, expressed the desire for a break — of any kind. 
The first thing I'll do is savor my 8 hours at work away from my kids! — Jen, Maynard, Mass.
For all the silly or sarcastic answers we got, we also got some that were decidedly more somber and reflective. 
Go for the longest run and just collapse in a field somewhere, stare into the sky and literally wonder if this was all real. Days feel like months right now; months like years. When I've finally exhaled, I'm going to get back to work to make sure we never get into something this bad again. — Dr. Abraar Karan
Scheduling my daughter's brain surgery. Even though her seizures could kill her, the surgery that could control them is considered elective. -- Kate Cooper, Richmond, Virginia
Grieve that we may now begin harming the earth and each other again. -- Mindy Fusi, Bedford, Mass.
I can't wait to take a walk and without a mask and be able to smile at other people, especially when I'm walking my dog. So much connection is lost without that little wordless interaction. — Dan Guzman, Boston, Mass.
Others are eager to venture out so they can thank essential workers. 
When social distancing ends … I'm gonna go thank all the people that I take for granted: Bus drivers, teachers, nurses, docs, mailmen and women. There are a lot of them. — Steve Almond, Arlington, Mass.
I want to go to my neighborhood hospitals, police and fire stations — The Faulkner and The VA Hospital, etc. — and bring them a handwritten thank you note along with an array of cookies, cakes and sandwiches. -- Dede Ketover, West Roxbury, Mass.
Thank the grocers, the pharmacy workers and civil servants for their efforts and risks they took during this time. — David, Wrentham, Mass.
Whether it's to eat, drink, see live music or just wander aimlessly, countless people said they couldn't wait to get out of their homes.
I'm going to walk from my home in Washington Square to Beacon Street, greeting everyone I pass. I will visit a neighborhood restaurant to thank them for staying in business, and help them catch up financially. I will engage with everyone at the bar and share the joy of our newly regained freedom of movement. -- Amy Kossnar, Brookline, Mass.
I can't wait for music festivals to return — Hardly Strictly Bluegrass or New Orleans Jazz Festival. I long for a crowd of people, days on end of listening to music. A cold beer, a pile of crawfish at my feet, sunset, and Aaron Neville singing "Amazing Grace" or the San Francisco fog rolling in among the trees in Golden Gate Park and Elvis Costello singing "What's So Funny About Peace Love and Understanding." -- Katherine Florio
Go to a local bookstore. I didn't realize how much I'd miss in-person book shopping: browsing the tables and shelves, getting recommendations from booksellers, bumping into friends, grabbing a coffee, and going home with a stack of new stories to dive into. As soon as they reopen their doors, I'm there. The hard part will be picking which store to visit first, so maybe I'll go to all of them in one day — my own glorious post-pandemic bookstore crawl. — Whitney Scharer, Arlington, Mass.
... most of all, I will take none of the beautiful banality of it all for granted.
If "normal" ever returns and resembles what it once did, I am grabbing a meal at a bar. Hopefully, it will be a familiar place, and crowded, where one has to wade through a sea of elbows and careless conversation to find that empty seat. A place where I know the bartender and can ask him how his softball league is going or whether the new dog is sleeping through the night yet. I'll study the menu and decide what kind of evening it will be: a martini and oysters, or perhaps the wings and a long perusal of what's on draft. Are they doing a proper, leisurely pour on the Guinness? I'll strike up a conversation with a stranger who can tell a fascinating life story or an even better lie as we bask in the glow of the flat-screens suspended above tight formations of liquor bottles. I'll relish the moment when the crowd lets out a collective obscenity because the goaltender let in a soft puck, or the equally foul-mouthed exhalation that accompanies the perfect strikeout to end an inning, "We're still in this one!" And most of all, I will take none of the beautiful banality of it all for granted. — Andrew Carleen
In conclusion, we don't know how much longer strict social distancing measures will be in place, but we hope you get to hug your people, drink a beer with friends and have a dinner party before too long. We hope the same for ourselves.