Pearls And Chucks: How Kamala Harris Is Changing Fashion In Politics
Play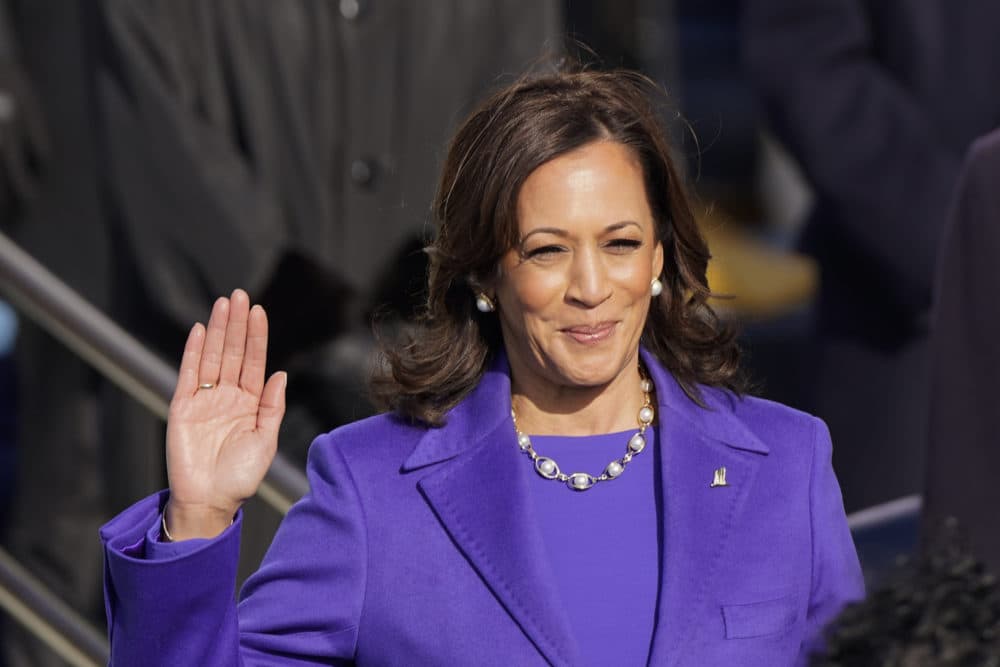 This article is more than 1 year old.
Among the many firsts of Inauguration Day: this is the first time anyone has cared about what the vice president is wearing.
And maybe that's sexist, and maybe it's a double standard, but think about this: If you've been following Vice President Kamala Harris's fashion choices over the past few weeks and months, you know more about the origin of her trademark pearls and the history of Alpha Kappa Alpha, the Black sorority she joined at Howard University. You know that she has a closetful of Converse Chuck Taylor sneakers, which she wore on the campaign trail, making the grueling travel easier while looking effortlessly down-to-earth.
Style is a language through which she can send any number of pointed messages. Consider her fortunate for that.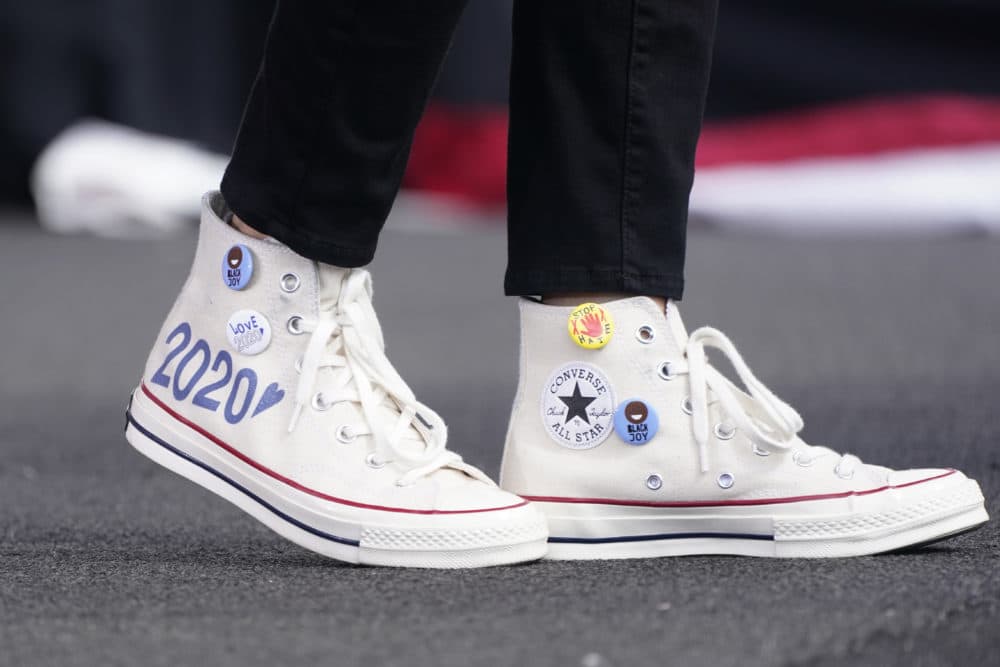 The most a man can do, in the buttoned-down culture of politics, is choose a pointed color for his tie — or stumble into symbolism, the way Sen. Ed Markey did, when his vintage Nikes became an unexpected way to connect to young voters. Women have a broader canvas: skirts or pantsuits, colors or patterns, a platform to call attention to designers and fabrics and styles.
For a long time, that sort of scrutiny was unwelcome, or relegated to the ceremonial role of the First Lady. (Michelle Obama was known for highlighting the work of emerging American designers — and she had some gorgeous Vogue covers.) As more women reached high office, the ground rules have changed. Hillary Clinton came to understand that her pantsuits told a story. Cosmopolitan was as regular a stop for presidential candidates as any other this year, and made news by asking about the candidates' skincare. (Bernie Sanders got the question, too. He wasn't sure if he moisturized.)
It has been easy to look on fashion cynically, as something beneath the dignity of serious observers or politicians with gravitas. In a 2014 episode of the TV show "Madame Secretary," a new secretary of state, fresh from the dowdy climes of academia, scoffed at the idea of using a stylist — until she realized she could use a fresh outfit and heels to divert the attention of the frivolous press.
Style is a language through which she can send any number of pointed messages. Consider her fortunate for that.
But sometimes you want that attention — and if you're blessed with political talent, you know how to use it. With her Chucks on the trail, Harris was quietly saying something pointed about the energy required for retail politics, the occasional absurdity of sky-high heels, and the power of comfortable shoes to allow a hardworking person to get the job done. It wasn't so different from the message Mary Tyler Moore sent to viewers, decades earlier, when she insisted that her housewife character on "The Dick Van Dyke Show" wear pants instead of dresses. The task of managing a household wasn't merely ornamental; it also was work.
Those Chucks got Vogue into trouble this month, when the magazine released its February cover; Harris in her sneakers and a simple suit, in front of a drape of Alpha Kappa Alpha colors. On some level, the backlash was understandable. Harris is now officially, formally the most powerful woman in the country — all apologies to Oprah, who will never be so close to the nuclear codes — and the dignity of the office demands a careful touch. Responding to the outcry, Vogue issued a second cover, with Harris in a more traditional shot in a blue Michael Kors suit.
But if you take the Vogue editors at their word, as I'm inclined to do, the magazine was, at the very least, not aiming for disrespect. Instead, Vogue was acknowledging the power of Harris's accessible personal style. It was demonstrating that a woman doesn't have to wear a designer dress or suit to project beauty or confidence. It was indicating that, as a powerful woman, Harris gets to set the standards, not just follow them.
Harris wasn't the only one setting fashion standards on Wednesday. As the ceremony played out on the West Face of the Capitol, the women who took the stage did not disappoint. Among the most memorable images from the day: the bright yellow of poet Amanda Gorman's coat; the bright red of Lady Gaga's skirt; the rich shades of blue on Jill Biden (who wore an outfit by Colorado native Alexandra O'Neill, with a matching mask); the sweep of Harris's deep purple coat (by Christopher John Rogers, a young Black designer from Louisiana).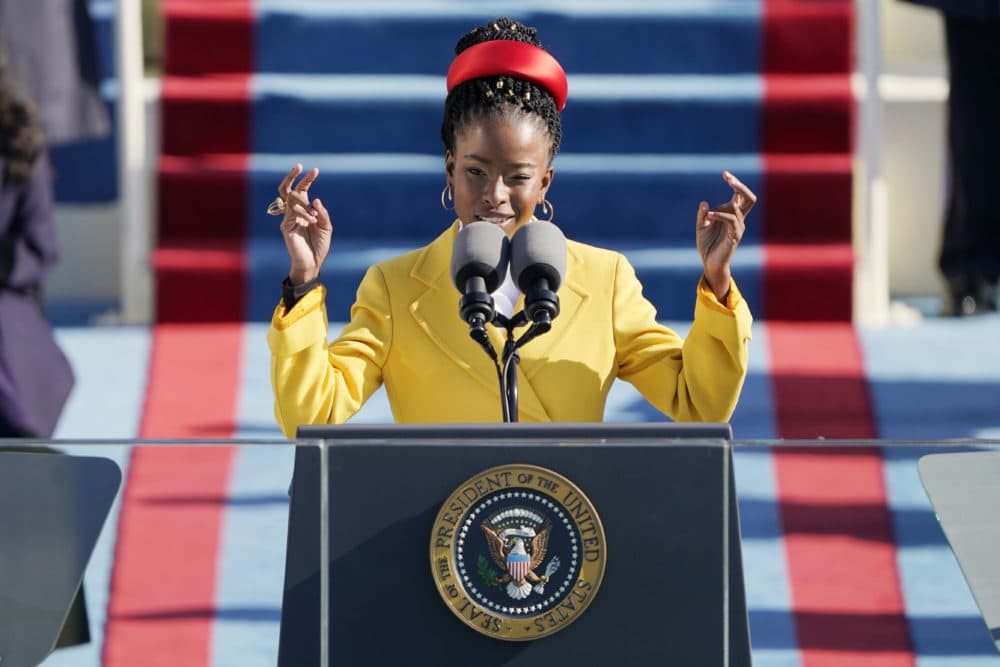 Harris wore her pearls and high heels well. The nature of the day called for formality. But in the future, when the occasion calls for it, we should be looking forward to more Chucks, too.
This segment aired on January 22, 2021.