Once Again, Black Women Are Heroes. It's Time To Pay Up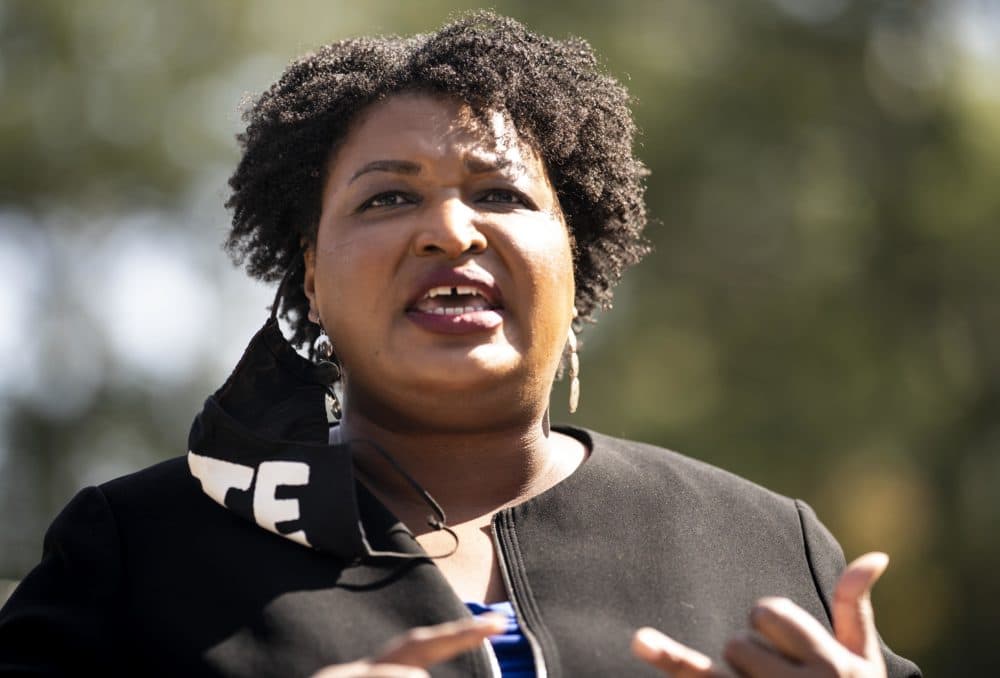 This article is more than 1 year old.
Once again, Black women have proven to be this nation's enduring political heroes. Black women organized and voted to save American democracy, and many argue, drove the slim margin by which we succeeded. And finally, Black women are being recognized for their outsized contributions: Stacey Abrams will be remembered as one of the most politically influential figures of our generation, Vice President Kamala Harris has become the face of the Democratic party's future, and Black women activists and organizers are being credited for flipping Georgia twice in one year. It would seem, at long last, that Black women are finally getting our flowers.
And yet, so far these celebrations risk falling far short of true justice for Black women. There has been no shortage of punditry about how Democrats owe 2020's political victories to Black women, but discourse without action is just talk.
In some cases, the glorification of Black activists — most notably Stacey Abrams — has crossed a line into even more dangerous territory. These Black women are being mythologized as an inexhaustible national resource, reliably saving our democracy in spite of the oppression we have, and continue to face, at its hands. Worse still, jokes offering these women trivial rewards — like a spa day or a job quarterbacking the Atlanta Falcons -- show how commonly compensation for their efforts is a mere afterthought rather than a true call to action.

This type of celebration may seem innocent, giving credit where credit is due with a bit of levity and humor. But each day that passes without a deeper reckoning signals that this could be just another chapter in this country's painful history of failing to compensate Black women for their contributions to our culture and institutions. Taking from Black women without paying just dues is an American tradition tying back to the Mammy stereotype of the early 1900s. The Mammy trope caricatured Black enslaved women as faithful domestic workers and caretakers, whose contented servitude justified the very institution that enslaved them.
While the origin of the Mammy may seem like distant history, the caricature persists in popular culture. The award-winning film, "The Help," for example, centers on Black women offering up their own stories and lived trauma to help a white protagonist achieve her dreams and escape Jackson, ultimately leaving them behind without materially improving their lot. This critically acclaimed and popularly successful film barely cloaked the age-old Mammy stereotype in a feel-good score and the vague ambiance of southern charm.
Today's political characterizations of Black women as faithfully doing the work of reforming a country that has oppressed us since our arrival, with compensation as a trivial punchline rather than a moral imperative, is merely the most recent incarnation of this painful construct.
It's time to stop characterizing Black women as selfless saviors and instead, ask what must be done to ensure our time and effort is not taken for granted.
This is why it's time to pay up. It's time to answer joyful celebrations of Black women with relentless advocacy for our wellbeing and rights. It's time to stop characterizing Black women as selfless saviors and instead, ask what must be done to ensure our time and effort is not taken for granted. And it's time to stop mythologizing us as superhuman in light of the adversities we've faced, and instead, recognize us as exceptional humans whose relief is long overdue.
What does it mean to pay up? Collectively, it means ensuring that our society does right by Black women who have saved a system that historically and currently devalues our work, our identities and our lives. Individually, it means personally committing to do the work of reforming the institutions we have saved, so that we may finally share in their bounty.
Politically, this means backing Black women for positions of power instead of questioning their electability. This means advocating for policies that will eliminate the many disparities plaguing black women, including fatally poor health care, glaring wage and employment gaps, and disproportionate rates of incarceration, criminalization and violence. This means taking voter suppression seriously, not only in major election years. It means using the freedoms Black women have just defended, to step up and do right by us.
Culturally, this means rejecting the multitude of stereotypes and social constructs deeply embedded in our culture that place Black women at the margins of our society and at the butt of our jokes. This means acknowledging the compounding obstacles at the intersection of race and gender, and validating issues affecting Black women as differentially complex and severe. This means leveling standards for strength and humanity and recognizing the burden of generational trauma that will weigh on Black women even as our circumstances improve.
As weighty as these imperatives may seem, the task can be distilled to its simplest form: Love Black women as much as you love the fruits of our labor. And in doing so, act upon that love to ensure that Black women can finally share equally in the benefit of our collective victories.