As we fight monkeypox, we must remember the somber lessons of HIV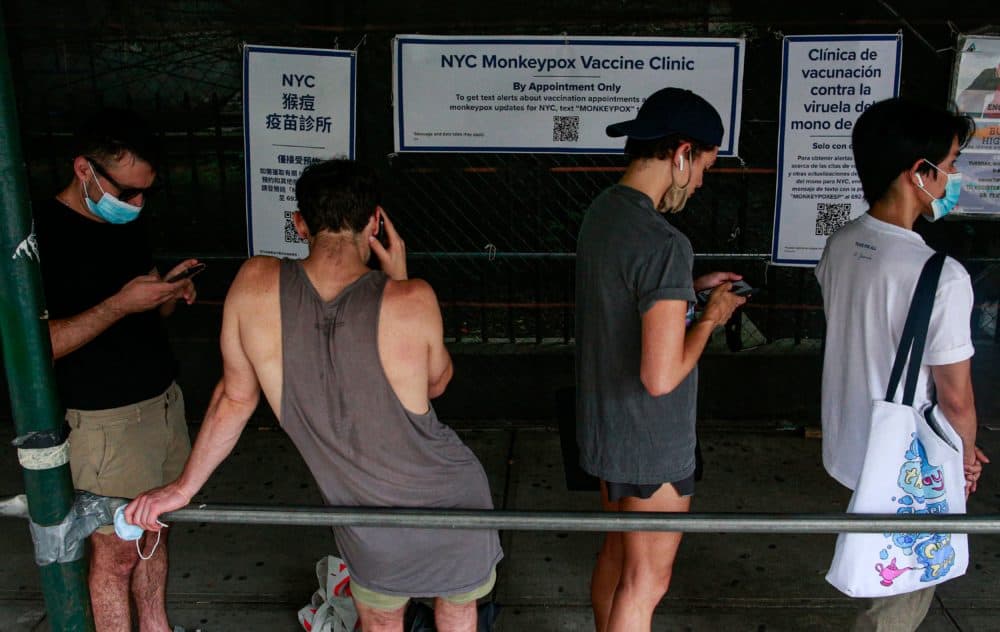 The racial disparities in the current monkeypox outbreak recall the early years of the HIV/AIDS epidemic. Unless health leaders heed the lessons of the past and act compassionately to reach vulnerable populations, these disparities could worsen.
While anyone can get monkeypox, Black and Latino men who have sex with men make up more than two-thirds of cases nationwide. However, of the 352,000 vaccines administered so far, a largely disproportionate share has gone to white men.
This discrepancy is tied to fear, stigma and lack of access to cultural health resources among men of color. These groups are traditionally more closeted than their white counterparts, more likely to be transient or homeless, and often speak English as a second language.
In other words, it's difficult to get treatment to the men who need it most.

Public health leaders must draw upon lessons learned during the HIV/AIDS epidemic (as well as the COVID-19 pandemic) to address monkeypox through targeted, compassionate and confidential outreach to men of color who have sex with men. And they should try to reach these men before they contract and unintentionally spread the virus.
Pain, fever, severe itchiness and swelling, followed by confusion, fear, shame and stigma — these are the physical and emotional tolls of monkeypox, as shared by survivors with The New York Times. Many of those interviewed work in close contact with others and worry about telling their bosses and co-workers about why they had been out sick.
The emotional toll of isolation and looking at the ugly lesions is as hard as the physical toll, said Dominic Faison, 35, a dancer from New York City.
Dr. Bisola Ojikutu, executive director of the Boston Health Commission, says monkeypox causes symptoms similar to other sexually transmitted infections, which has made diagnosis difficult. Transmission generally occurs through direct skin-to-skin contact with body fluids or sores.
"Viruses and bacteria don't determine if someone is gay or straight," Ojikutu told The Boston Globe. "They just infect."
In July, the World Health Organization declared monkeypox a  global public health emergency. More than 23,000 people have contracted monkeypox across the United States, including 364 in Massachusetts. The vast majority of the commonwealth's cases are among males in their 20s and 30s, according to the latest data from the Department of Public Health.
[T]his is not the first health crisis in which gay men of color have disproportionately suffered.
Supplies of the monkeypox vaccine Jynneos have remained limited nationwide, with most initial doses going predominantly to white men who have greater  access to health care than their Black and Latino counterparts. Similar gaps in access have been reported around the antiviral medication Tpoxx.
Of course, this is not the first health crisis in which gay men of color have disproportionately suffered. In the late 1990s, more than a decade into  the HIV epidemic, antiretroviral therapy became widely available, greatly  reducing infections and deaths overall. Yet even as more patients were treated, researchers found widening gaps in infection rates among low-income people of color.
Researchers also found similar disparities across Greater Boston in the 2000s. While HIV infections greatly dropped among Boston's overall population, infections increased by 20% among young Latino men who sleep with men, according to a study by Fenway Health.
Many Latinos hide their sexuality due to cultural and religious stigma in their communities. New immigrants often experience language barriers that leave them unaware of mainstream public education campaigns.
Outreach to diverse young men who are transient, engaged in substance abuse and speak English as a second language must be prioritized.
Fenway Health, funded by a federal grant, launched a campaign through social media, gay dating apps and community outreach in Spanish to contact Latino men who sleep with men aged 18-24. The campaign connected respondents with confidential health advisors to share prevention measures, such as PrEP — a drug effective in preventing the spread of HIV if used prior to sex. (Full disclosure: The marketing firm I founded assisted in these efforts.)
After initial racial disparities around COVID-19 emerged, Massachusetts launched an unprecedented Vaccine Equity Initiative, which enlisted multicultural community organizations and ethnic media outlets in grassroots outreach that reached hundreds of thousands of people and soon closed the vaccine gaps.
Now is a critical time in the monkeypox epidemic and public health leaders must draw upon the outreach and education measures that have worked for HIV/AIDS and COVID-19. These efforts must be compassionate, multilingual and confidential, so target groups listen and engage in monkeypox prevention without feeling "targeted."
It is important to stress  that monkeypox "is not a gay disease," as Dr. Ojikutu has said.
Outreach to diverse young men who are transient, engaged in substance abuse and speak English as a second language must be prioritized. To do this, vaccine locations must be expanded beyond the 14 locations across Massachusetts where the monkeypox vaccine is available.
Massachusetts was the first state to report a monkeypox case, and it can become the first state to meet this diversity challenge if our leaders act quickly, using compassion and confidentiality.