The pure joy of being a grown-up BTS superfan
I'm going to tell you a secret, something many of my friends and family don't even know. I love BTS. And it's not just their music. I mean I — a 59-year-old, highly educated, professional, suburban mother of two grown daughters, with a husband of 33 years – am 100% obsessed with everything about this K-pop boy band.
I set out to write about the publication of the global phenomenon's first official book, "Beyond the Story: 10-Year Record of BTS," a memoir of sorts written by the septet — known as RM, Jin, SUGA, j-Hope, Jimin, V and Jung Kook — along with journalist Myeongseok Kang. It publishes July 9 in 23 languages, with a presale print run of a whopping 1 million copies.
But honestly, now? I think I'm writing to figure out what happened to me.
It started in December 2020, and it happened fast. My then-15-year-old daughter was watching a show featuring seven young Korean men completing a series of silly challenges at a waterpark. I didn't get it at first, but the next day as I was cooking dinner, I could see her watching a group perform on Jimmy Fallon. It was the same boys. I found myself lurking in the doorway, wooden spoon in hand, riveted.
Biggest musical act in the world? I was skeptical, so I Googled the heck out of the band and, days later, emerged from the rabbit hole bleary-eyed and even more fascinated. BTS's global fandom, ARMY, is tens of millions strong. The inside joke is that we all start out thinking, "I just want to know their names" — but after that, there's no going back. Soon, I not only knew their stage names, but also their given names, where they're from, how old they are, where Jimin's "NEVERMIND" tattoo is, and the fact that RM learned English by watching "Friends." And ARMY isn't just about the music; it's also a powerful social movement. When BTS and their label donated $1-million to Black Lives Matter in 2020, ARMY matched the gift, raising another $1 million in 25 hours.
Exactly a year after my obsession began, I was on a plane from Boston to Los Angeles.
What struck me most was their origin story. Under contract with a near-bankrupt agency, living in a dorm with a single bedroom for all seven, attending school during the day, practicing all night, surviving on a few hours sleep (or none at all), they persevered through the grueling K-pop system with talent, humility and perseverance.
A week after I saw the Fallon performance, I sat down with my daughter to watch a past BTS concert streamed online for free. Just one. But those two hours spiraled into four, then eight, then, over two days, I realized I'd binge-watched over 18 hours of BTS concerts. Their 2019 show at Wembley Stadium gave me goosebumps, when the boys broke down in tears as more than 60,000 fans surprised them by belting out the chorus of their song "Forever Young" — in Korean. I vowed then and there to see them in person. By February, I'd fully surrendered.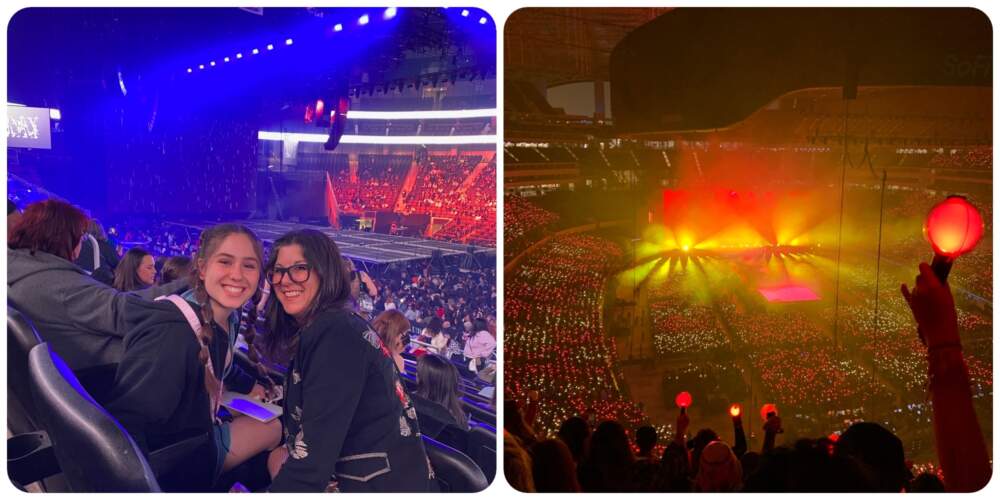 Every morning, I checked their social feeds. During the day, I plowed through their discography. At night, I watched their music videos, variety shows, or one of their 600 Bangtan Bombs (vlogs going back to 2013) — with and without my daughter. Songs like "So What," "Cypher 4" and "Stay" had me jumping around my kitchen, singing at the top of my lungs in a language I didn't speak. I even learned some of their choreography, inspired by their "On" performance video.
The joy and intensity was addictive. It helped me forget about the world outside, which, if you recall, in early 2021 was not pretty. I woke every day with a renewed sense of anticipation, like anything was possible. And listen, if I was regressing to some sort of teenage dream, it certainly wasn't mine. I was a straight-up leather jacket chick, feathered roach clip in my hair. We're talking Zeppelin, Black Sabbath, Van Halen, Bruce Springsteen. Do you see the disconnect here?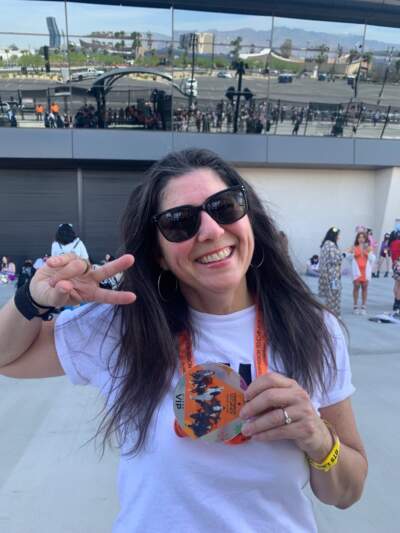 Exactly a year after my obsession began, I was on a plane from Boston to Los Angeles. I couldn't remember being that excited for a concert since my first Springsteen show in 1980, when I was 16. I've seen a lot of concerts since then. BTS blew them all away.
It's hard to describe because it's not just a concert; it's more like a festival or a giant party with 60,000 of your closest friends. It starts days before the show, with BTS-themed exhibits and events all over the host city. ARMY are everywhere, meeting with online friends for the first time, doing BTS choreography in the streets, handing out free handmade BTS keychains and bracelets. Everyone is nice and kind and in a good mood--like a Grateful Dead show minus the tie-dye and weed.
Then there's the actual show. Kinetic energy fills the stadium. The chant starts slowly and grows in urgency and volume: "Kim Nam-joon! Kim Seok-jin! Min Yoon-gi! Jung Ho-seok! Park Ji-min! Kim Tae-hyung! Jeon Jeong-guk! BTS!" Suddenly there are lasers and fog, fire and confetti and a sea of ARMY Bombs (BTS' official Bluetooth-enabled light sticks) flashing and rippling in unison to the beat. You're transported to a place where everyone, regardless of age or country of origin, understands each other completely. And then there's the cheering — it's deafening, until one of the BTS members speaks, and then, complete silence. Time stops. You live in the moment. The genuine love and gratitude they each express to ARMY is extraordinary. You are there for BTS, but suddenly you realize you are also there for each other, and for yourself.
You are there for BTS, but suddenly you realize you are also there for each other, and for yourself.
By the time my daughter and I flew to Las Vegas for two more shows, my husband and older daughter had settled into grudging acceptance. Honestly, I thought my obsession would fade when the pandemic subsided and we all went back to our semi-normal lives, or as my daughter graduated high school and prepared to leave for college. I figured it would take a back seat as BTS went on temporary hiatus to work on solo projects and complete their mandatory military service. But it hasn't. Two-and-a-half years later, this passion still consumes me.
So, what gives? The truth is, I don't care anymore.
Min Yoongi (aka SUGA/Agust D) says you find BTS when you need them most. This past spring, we saw the rapper and music producer twice on his solo world tour, the first for any BTS member. In Newark, I met Kim from Pennsylvania. After waiting six hours in the rain to gain access to the VIP soundcheck, my daughter and I snagged spots right in front of the stage and prepared to stand for two more hours before the show started. Just when I was beginning to think I was too old for this, I noticed a woman beside me, who looked to be about my age. We exchanged a knowing smile. "This is my reward for surviving a year of chemo," she told me. She leaned heavily on her walker with one hand, her ARMY bomb blinking in the other.
For the next five hours, although she could barely stand, not once did Kim stop smiling. We sang together and screamed together till our voices were raw. We weren't there to escape our lives; we were there to live them.