My hip-hop education began in the '80s, turning the dial to Boston college radio stations
I'll never forget how my big brother Dave used to scan the dial on our stereo after WILD 1090 AM stopped broadcasting for the day. WILD or AM109, as people often referred to it, had a tiny transmitter that could only broadcast until the sun went down, but the station played the R&B, soul, funk you couldn't hear on Boston's mainstream stations. After dark, though, we had to scramble to find an alternative.
Since rap was considered the outcast of Black music genres in the late 1970s and '80s, it was usually relegated to being played late at night or early in the morning. After we discovered rap, my big brother would place a cassette in the boombox in our room at night and record rap on whatever station played it, so we'd always have some to listen to whenever we wanted.
At the age of 4, I was tasked with remembering the locations of the following stations on the radio dial: 88.1 FM where MIT's WTBS (now WMBR) broadcast "The Ghetto" show, 88.9 FM for Emerson College's WERS, and 104.9 FM for Northeastern's WRBB. My older siblings didn't want to give me more than I could handle.
They also occasionally allowed me to tag along when they took their excursions to Skippy White's and Strawberries to buy records, or when they went upstairs where our family friends lived. That family had two teenage sons who owned every new record you could imagine, including the hottest new rap singles. We'd pore through the liner notes and album credits while we listened to our favorite artists.
As the years passed, college radio became more and more essential for us diehard rap fanatics. We relied on forward-thinking college stations over radio titans like Kiss 108 FM or WBCN because the bigger, more corporate stations played our parents' music. When I was 7, my big sister and big brother trusted me to learn more locations on the radio dial — 90.3 FM, where Boston College's WZBC could be found, and 95.3 FM for Harvard's WHRB. I spent many a night listening to "Soul's Place" on WRBB with Wallace T, falling asleep to the latest Kurtis Blow, Run-DMC, Whodini, Fat Boys, LL Cool J or local rap singles.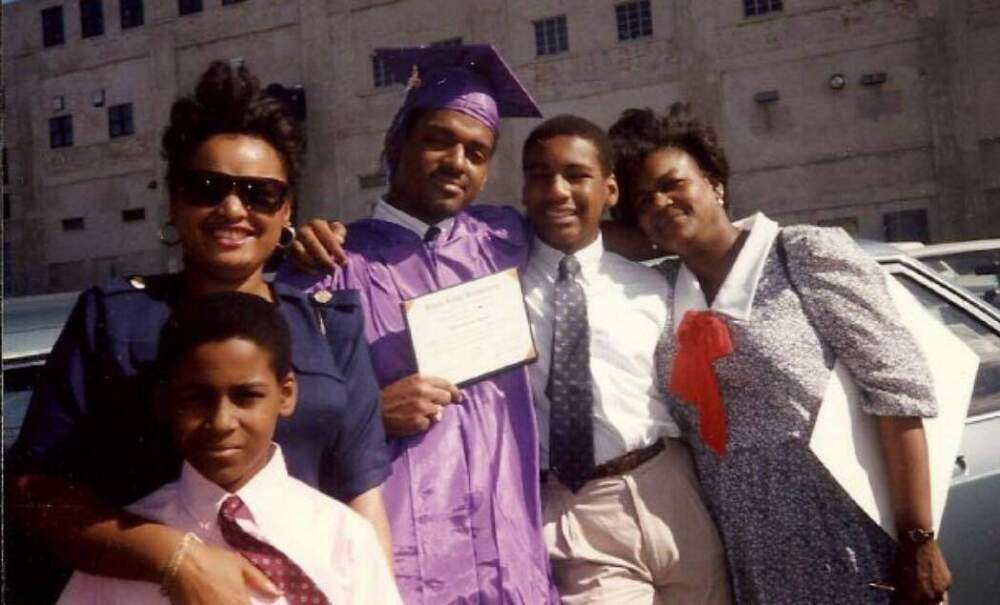 Between the ages of 10 and 11, I was mesmerized by Magnus Johnstone's "Lecco's Lemma" program on MIT's WMBR. This was where I first heard Almighty RSO, a young Ed O.G. as a member of Fresh To Impress Crew and Guru of Gang Starr back when he was known as MC Keithy E. By July 1986, the show moved to Boston College's WZBC. The following year, Jon Shecter and Dave Mays, two Harvard undergrads, started a rap program at WHRB called "Street Beat" with Almighty RSO's DJ Def Jeff. Between "Lecco's Lemma" and "Street Beat," the Boston rap scene had two venues where artists could perform live on-air, meet and network, and have their music played for a rabid fanbase. I was listening the day Gang Starr visited and the day the White Boy Crew did "Popeye Rap" live on the air. I also used to listen to WMBR's "The Funk Lab" with Ron Steele and Trick 740.
By the time I was a teenager, my older siblings had moved out and it was my responsibility to patrol the airwaves and make mixtapes. I still relied on Northeastern's WRBB, "Rap Explosion" and "Wreck Shop" with Mista B and Cherry "Bomb" Martinez at Emerson's WERS,' plus WHRB's "Street Beat," which was still running even after Shecter and Mays graduated, moved to New York and opened new offices for "The Source," the first prominent print publication about rap.
Boston's hip-hop artists made live appearances at every local college radio station to perform and be interviewed, continuing the tradition started at MIT's "Lecco's Lemma." And it was a rite of passage for local fans to satisfy their rap fix by listening to the new stuff on air before they visited Skippy White's, Strawberries, A Nubian Notion, Funky Fresh Records, Tower Records or Newbury Comics to buy a record they could hold in their hands.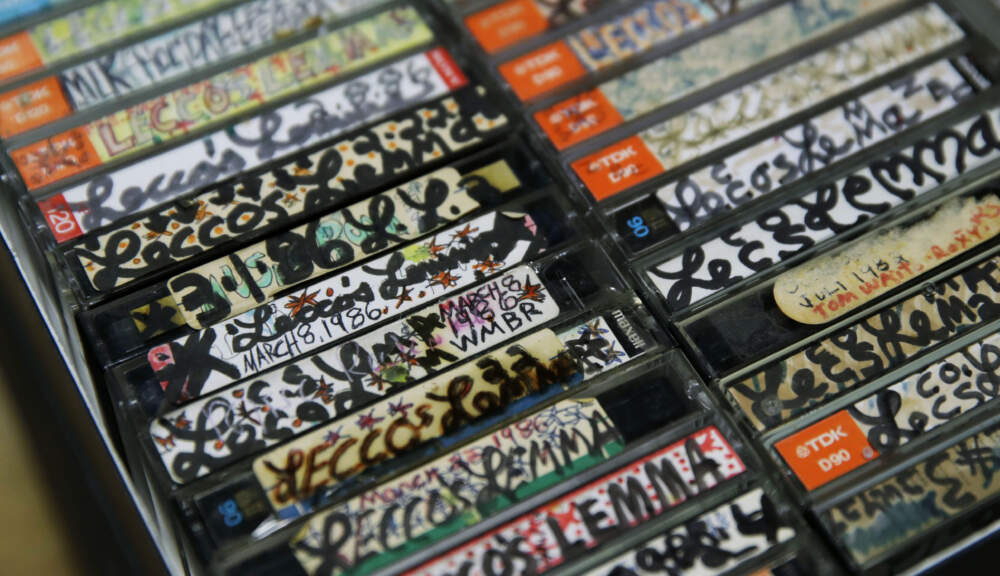 Mainstream radio pushed rap to the margins until the early '90s, so without the support of college stations, their DJs and program directors, the Boston rap community wouldn't have survived long enough for the indie/underground rap explosion of the late '90s. In that decade, artists like Concrete Click, T-Max, Akrobatik, Mr. Lif, 7L & Esoteric, Virtuoso, Skitzofreniks, Mikst Nuts, Ed Rock  & Termanology and others paved the way for the modern Massachusetts rap scene.
While we've lost the legendary rap shows at WERS and WMBR, I have fond memories of visiting both. I was even a co-host for the last shows of Dana Scott's rap program "MUSENOMIX" at WMBR in 2016. Every time I crossed the Mass. Ave Bridge into Cambridge and entered the Walker Memorial building, I thought about how we were broadcasting a rap show in the same tiny studio "The Ghetto" broadcasted from and where Magnus Johnstone galvanized the entire Boston hip-hop community by playing demos and allowing artists to perform live on the air just 30 years prior. It was as if everything had come full circle.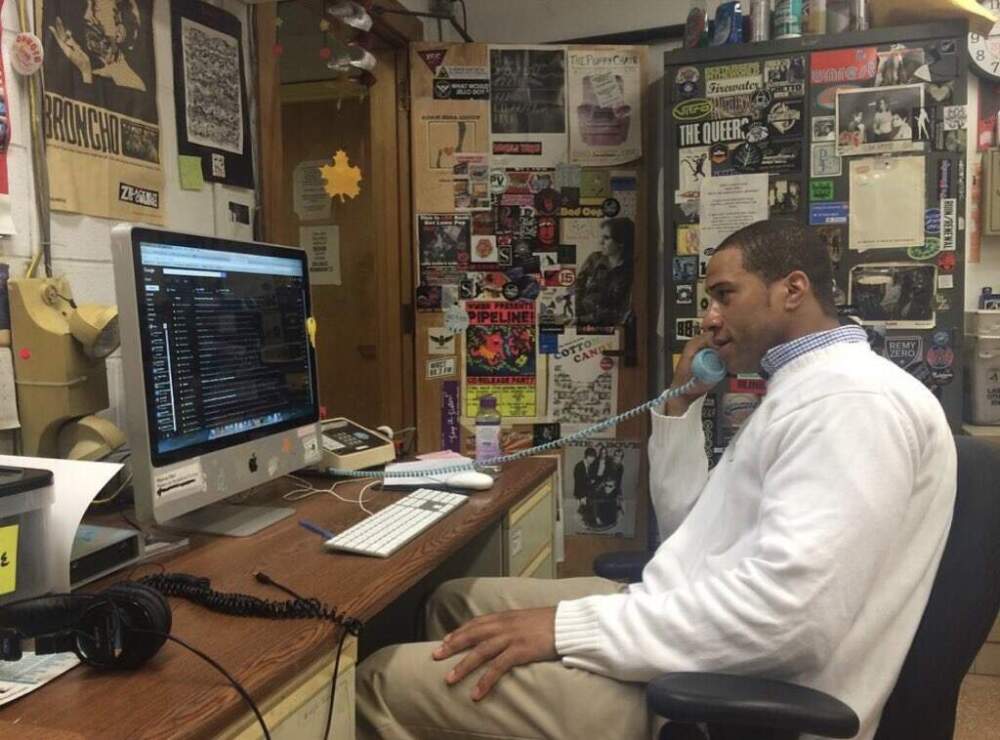 No matter how many years removed I am from being that kid scanning the radio dial, looking for my rap fix, I am still searching for that excitement, that connection and that dopamine hit that comes with discovering a new song, a new lyricist, a new producer or a new sound.
When people think of Boston's hip-hop scene, they don't immediately associate it with the region's many colleges and universities, but those institutions of higher learning helped rap find a foothold here. And if I hadn't grown up listening to those local college radio shows, I never would have become the music fan, historian and journalist I am today.