For Colleges, New Challenges And Surprising Benefits From Going Online
03:19
Play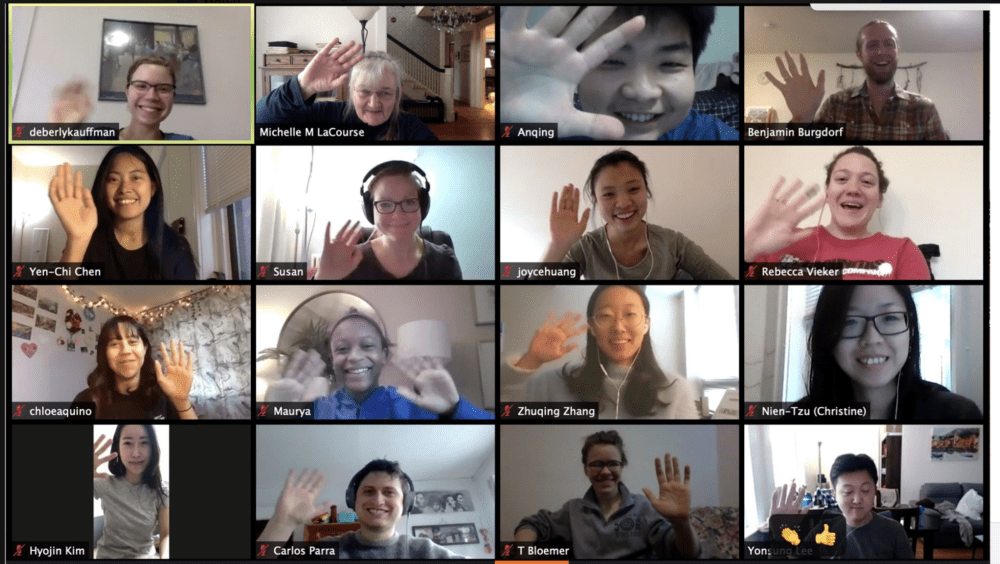 For some Boston area colleges and universities, this is already the second week of experimenting with teaching what were in-person courses at a distance.
They are having mixed results.
"It's hard," said Julia Marshall, a graduate student in criminology at Suffolk University. She worries that many of her classmates won't be able to keep up with their education online. "I personally have a really hard time with online learning, which is part of the reason I went to an in-person program, so it's a big adjustment. I don't think it's sustainable.
"People might not have constant access to WiFi. If things change with people's jobs, they might not have the same availability. They might be pressed to work whatever hours they're given instead of being available during class time."
Some courses require labs. That's the case with a graduate class Josh Galloway is teaching. He's a professor of chemical engineering at Northeastern University. He said one drawback of teaching remotely is that he's not able to run a lab.
"Best case scenario: I think we teach this way through the rest of the semester, and then, in the summer, it's better," said Galloway.
Others are more optimistic.
"We are learning a lot," said Adil Najam, dean of Boston University's Pardee School of Global Studies.
This is not the first time Najam has had to shut down a university. In his last job, in his second week, he had to close a university in Pakistan for the first time in its history, because of another epidemic: dengue.
Najam worries about what will happen at BU in a few weeks. He predicts screen fatigue will come very quickly. And students and faculty have to perform in environments not conducive to learning and teaching.
"Students but also faculty have to perform their work in an environment not conducive to that," said Najam. "The student's home is not constructed as a classroom. My faculty's apartment where their kid is also out of school is not meant to be the place from where they teach. That stress might add up, as it would depending on what happens with the virus itself."
At BU, Chris Dellarocas is in charge of coordinating the university's move to remote teaching. He said professors are finding the transition easier than they thought it would be, but he sees one potential problem. In order to help students in remote time zones, classes are being recorded. But he recognizes that in some cases, recording may not be advisable.
"For example, classes where sensitive political discussions take place, and we're asking faculty to make the decision on whether to record them or not by thinking as educators and placing benefits to the student body as a top priority," said Dellarocas.
Some professors are realizing that resiliency is perhaps the most important lesson their students can learn in this crisis. Taylor Peyton teaches human resources at BU's School of Hospitality. Her students are now in Boston, New York, Alaska and Thailand. She was calling from Vermont.
"I hope my students learn that even though you can be in a very uncertain time and you can't control everything around you, at least you can play an active role in how you respond to what's in front of you. And so we've been working a lot with managing our own anxiety and being mindful in the moment," Peyton said.
"The student's home is not constructed as a classroom. My faculty's apartment where their kid is also out of school is not meant to be the place from where they teach."

Adil Najam, Dean of Boston University's Pardee School of Global Studies.
Journalism students may in some way be benefiting from being dispersed across the world. That's what Anne Donohue is finding. She teaches journalism at BU's School of Communications. Her students produced a live newscast via the online platform Zoom.
"One of the producers was in Puerto Rico and one of then hosts was in London," said Donohue. "We had reporters in Barcelona and Italy, upstate New York, and then a few hardy souls that stayed in Boston. And they pulled it off seamlessly. It was amazing."
Donohue said the broadcast had much more journalistic substance than if all the students had been on campus. And the students are demonstrating resiliency they never would have had to show if they were all at BU together.
Some of the most difficult courses to teach remotely are turning out to be courses in the arts.
"As a teacher, it's just heartbreaking," said David Snyder, who teaches sculpture at BU.
"Particularly the seniors, the sculpture majors who are going to be graduating this semester," said Snyder. "They were in the midst of these incredibly ambitious, very physical thesis projects. And now they've found themselves without space. They don't have material. They don't have the technical support of our amazing staff. It's all gone. But to me, and this is a kind of silver lining to all of this, and this was evident from our first virtual class meeting, what everyone seemed to miss the most was the conversation."
In the virtual conversations, they realized they needed a common virtual space to work on their art. So they launched a web site.
Perhaps even harder to teach remotely are the performing arts.
Michelle Lacourse teaches viola in the School of Music in the College of Fine Arts at BU.
"We are used to being one-on-one in the same room, walking around each other, me poking my elbow at their arm and saying, 'Let go of that muscle,'" said Lacourse, who said she had never taught viola online until last week.
"The viola is really known for this melted chocolate tone color, this sound that we all work on producing that's very close to producing what's very close to the human voice, really velvety and rich and deep," Lacourse said. "That doesn't translate over the online platform very well."
So Lacourse was surprised when she found that teaching online actually has some benefits.
"I've been discovering that I can put my bow hand or put my left hand on the strings, on the instrument, right up to the camera and demonstrate things in super closeup that the students normally can't see in a person-to-person lesson, and I've just been discovering that I can ask them to do the same, so I can see it," Lacourse said. "My whole screen is filled with a closeup of a hand at an odd angle and I can look inside their pinky finger on the bow, or look at what the space between their thumb and their pointer finger is doing compared to the neck of the instrument in ways that you just can't do in person."
Professors in the arts say more than the loss of in-person instruction, students miss the ability to meet and talk. Students at BU's Opera Institute, for example, loved spending time exchanging ideas and experiences in their common area. So William Lumpkin, the institute's artistic director, said he's focusing on providing as much of that experience in the virtual classes.
"I don't even know that I would even call it teaching anymore because we're being humans and we're reacting and we're trying to be proactive about how we come out of this and what we're going to learn from it, for God forbid something like this would ever happen again," Lumpkin said.
How students are finding new ways to come out of this crisis is what Emily Tilson Ranii found most inspiring in the BU acting class she taught on Friday. There was no instruction going on, just students sharing how they are adapting.
One of Tilson Ranii's students, Maureen Brabek, said she was invited to a virtual open mic.
"And usually, I would never ... No one wants to hear me try to do opera virually," Brabeck told the class on Zoom. "No. I just don't need to do that."
"I do," responded Tilson Ranii.  "I want to hear."
Brabek said the invitation came over Instagram.
"And I was like: Why the hell not?" Brabeck said. "I don't have anything else going on."
This article was originally published on March 23, 2020.
This segment aired on March 23, 2020.