Trees, Leaves And Family Pot Busts: It's 420
25:11
Play
Weed. Reefer. Kush. Mary Jane. Dope. However you refer to marijuana, you can't escape it these days, as state after state legalizes medical and/or recreational marijuana. It's now legal for recreation in nine states and Washington, D.C., and is decriminalized and/or allowed for medical reasons in many more.
Unsurprisingly, it's a pretty popular topic on Reddit. There's r/trees, where you can go for marijuana discussion (and r/marijuanaenthusiasts if you want to talk about actual trees. Well played, folks). There's also r/leaves if you want to quit or talk about quitting.
In honor of 420 Day, this week's episode focuses on pot — how it brought two long-lost family members together, via Reddit, and how one Redditor wants to help you if you're struggling with marijuana addiction.
'Hey Random Redditor! You're My Cousin'
Redditor u/Meta_Man_X told Amory and Ben the story of how he found some long-lost family on Reddit, via r/trees. An aunt he didn't know very well posted the below photo on Facebook, which Meta_Man_X just had to share with r/trees. He also posted this to r/OldSchoolCool, which is basically a lot of awesome, old photos.
Meta_Man_X knew the man getting arrested in the photo was his dad's brother, but he didn't know him personally, since his dad wasn't really in the picture growing up.
The post went viral, and a woman messaged Meta_Man_X to say that the man getting arrested was her dad — she and Meta_Man_X must be cousins!
That man is Johnny Grandizio; the cop was Officer Bob Weinstein of the Huntington Beach, California, police force. Johnny had just turned 18 when the photo was taken.
It's a photo that's gone down in family lore — not just because of the arrest, but because that day, when it was taken, in 1975, was already a pretty stressful day for Johnny and his family.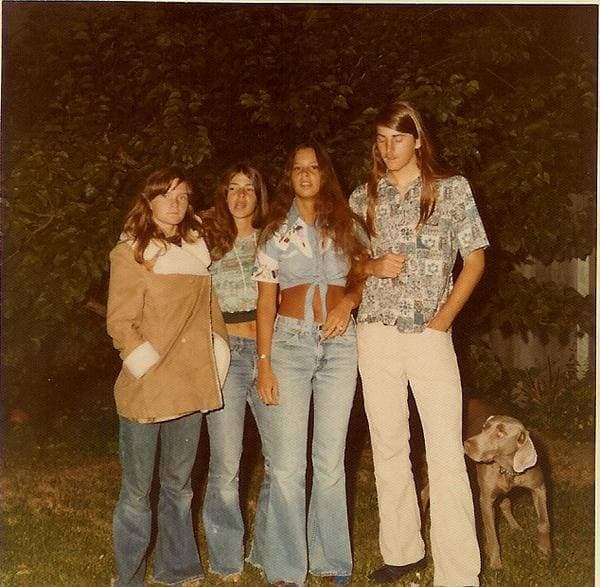 Johnny had gotten into a fight with his sister's boyfriend, who stormed off after their scrape. The boyfriend owned a gun and Johnny was kind of worried he'd use it. So he called the cops.
The cops went to the boyfriend's house, and the boyfriend told them that Johnny was growing pot — a lot of pot — in the backyard. So Officer Bob made his way over to Johnny's house, where Johnny was living with his mom and his sisters, and asked to see the backyard.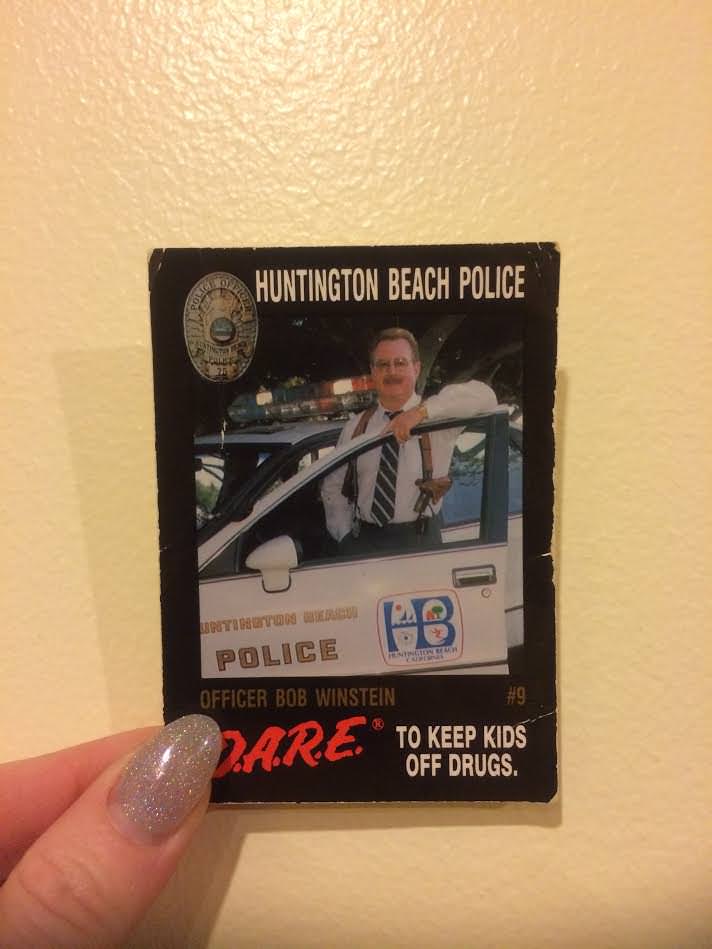 Officer Bob found the pot and arrested Johnny, and a backup officer confiscated his marijuana paraphernalia and took the now-famous photo.
But Officer Bob never got a warrant. So the case against Johnny got thrown out. Johnny got all his stuff back, too, including his stash box, and an envelope of photos.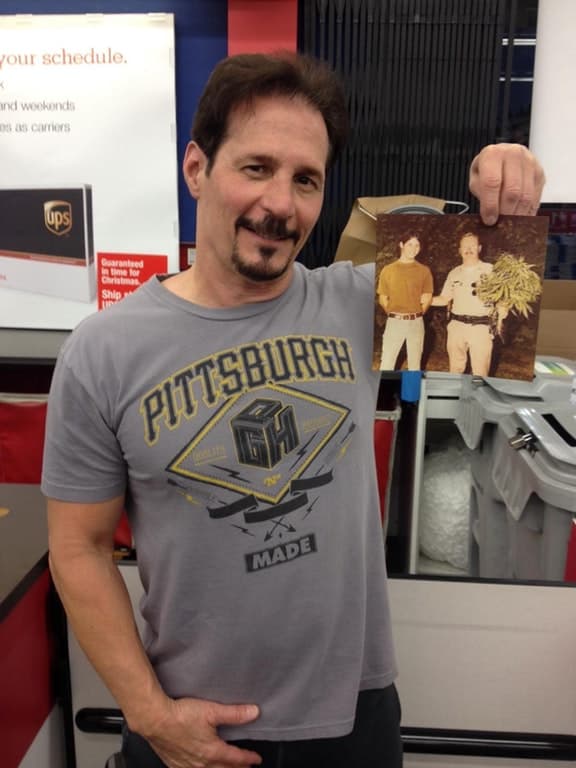 And the nice part is that now Meta_Man_X is connected to a side of the family he's never met — he and Johnny are going to meet up in southern California in June.
Help For Those Who Need It
As we mentioned previously, there's also a related subreddit devoted to helping people who struggle with marijuana addiction, called r/leaves. Kind of a clever way to link it to r/trees, says its founder, Dave, aka u/Subduction.
"The name of the subreddit is, yes, a pun, but I hope a bit metaphor-y too: leaves being something that can make the tree stronger, which I think a candid discussion will do, and ultimately something that can fall off once the time is right without the tree hurting itself," says Dave.
He started the subreddit to help others like himself who were struggling with an addiction or dependency on marijuana.
The subreddit is at 61,000 subscribers, says Dave, and it's got the support of r/trees, too.
"The whole [r/leaves] community is just one of the most supportive, friendly places where people are really trying to achieve a goal, and actively reaching out to other people to help them," he says.
---
We're on Twitter at @endless_thread and on Reddit as /u/endless_thread. Subscribe to the podcast with Apple Podcasts, Stitcher, RadioPublic or RSS.