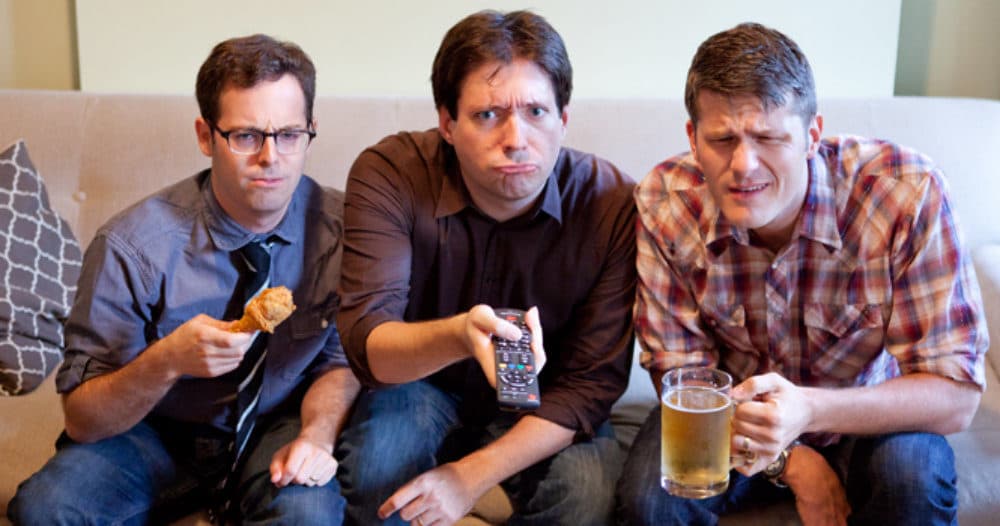 Time & Date
Saturday, September 28, 2019, 9:45 pm
Event Location
WBUR CitySpace 890 Commonwealth Avenue Boston, MA 02215Open in Google Maps
Join us for live taping of The Flop House, a comedy podcast where three friends watch a bad movie and then discuss it. Since 2007, Dan McCoy, Stuart Wellington and Elliott Kalan have taken on some of the worst in recent film and, in the process, engaged in some of the funniest nonsense to grace the podcast airwaves, earning praise from Entertainment Weekly, Slate, The Onion A.V. Club, The Guardian and many more in the bargain.
7:00 p.m. show SOLD OUT
9:45 p.m. late show added due to popular demand
Hosts
Dan McCoy (producer/co-host) is a writer for "The Daily Show" with Trevor Noah and a multiple Emmy- winning writer for "The Daily Show With Jon Stewart." His sketches have been heard on the Seattle public radio program Rewind, NPR's Morning Edition and his work has appeared online on Slate, Modern Humorist, and Gawker.
Elliott Kalan (co-host) is a four-time Emmy Award winning writer and comedian, most recently employed as the former head writer for "The Daily Show with Jon Stewart." He's also written for Marvel Comics, Discover Mgazine, Metro Newspaper and has had many pieces rejected by The New Yorker.
Stuart Wellington (co-host) Stuart Wellington was born in Indiana, USA to Mark and Shelley Wellington. He did poorly in grammar school and went on to an undistinguished career at Earlham College. One day everything changed. He found a magical amulet in an old trunk that was once owned by his great grandfather, and he became a co-host of the popular bad movie podcast The Flop House. He works in Brooklyn as a bartender, and has been described by The Onion A.V. Club as "equally funny."