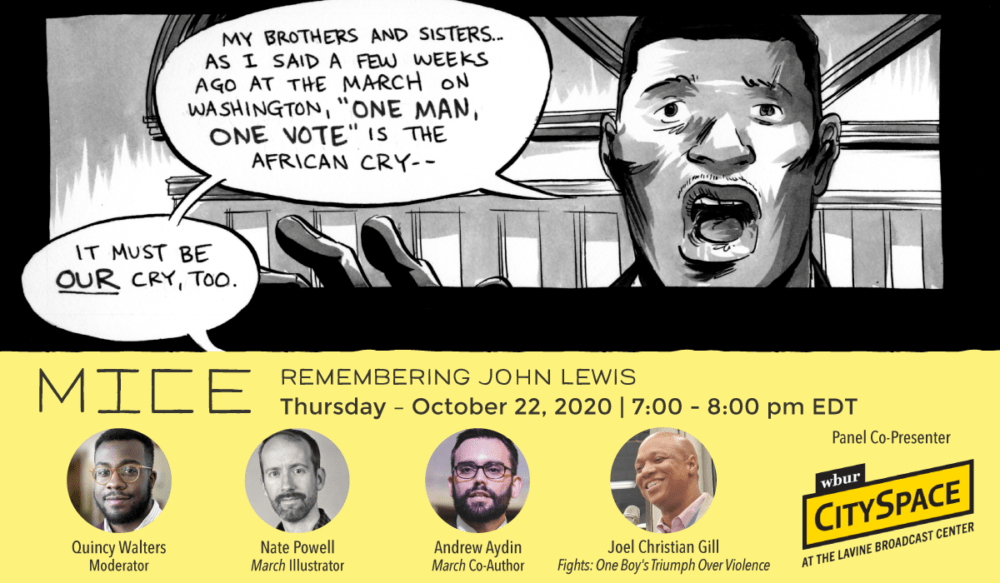 Time & Date
Thursday, October 22, 2020, 7:00 pm
Event Location
Massachusetts Independent Comics Expo Virtual EventOpen in Google Maps
Ticket Price
Free
This year's passing of Congressman and civil rights leader John Lewis has helped bring renewed attention to systemic racism and voter suppression, as well as the principles and strategies of nonviolent protest. Lewis worked closely with writer Andrew Aydin and artist Nate Powell on "March," his award-winning and history-making graphic novel trilogy about the movement he helped shape.
WBUR reporter Quincy Walters joins Aydin and Powell for a live conversation as part of this year's virtual Massachusetts Independent Comics Expo (MICE) to discuss the current relevance of the themes explored in "March," talk about the ways Lewis impacted them and share memories of working with the icon who would become their friend. They'll be joined by cartoonist, historian and author Joel Christian Gill.
Click here to see the entire lineup MICE events happening now through October 25 here.