Robin's Thoughts On Petraeus And Broadwell
03:44
Play
This article is more than 8 years old.
When we first met General David Petraeus in 2006, he had fallen from favor with civilian leaders in the Bush-era military, banished from Iraq to Fort Leavenworth, Kan. after he suggested that U.S. forces switch from fighting insurgents to befriending Iraqis so that they would fight the insurgents.
It was something he called counter-insurgency.
So Petraeus was in exile, and yet we remember watching him walk alone down the long hall to our studios in uniform, his bearing erect, as if leading a battalion.
He came at the request of our friend Seth Moulton, a young Marine who served four tours in Iraq. Moulton became a special assistant to Petraeus, and stood by him throughout his exile.
As Petraeus left our studios, he gave me a general's medallion, which I graciously gave to a colleague with young sons - and immediately and selfishly wanted back!
Should you enshrine one of the great military minds of our day, who became the head of the CIA and threw it all away?
So the next time Petraeus came to our studios, I asked for another one. This time, he was surrounded by a swarm of aides, a textbook example of recovering from setback. He took that time in Fort Leavenworth to literally write the book on counter-insurgency, and was now elevated to Commander of U.S. Central Command.
It said so on my new medallion, which I'd planned to put in a Christmas shadow box for a nephew, who recently burst into tears because he doesn't have a dad or a grandpa like his cousins - no man to look up to.
The plan was to include my dad's Marine medals from Guadalcanal, a picture of my uncle from the Battle of the Bulge and the general's medallion.
But now what? Should you enshrine one of the great military minds of our day, who became the head of the CIA and threw it all away?
And then there's Paula Broadwell, West Point grad, married mother of two, Petraeus biographer and paramour. But we knew her for her fierce support of Team Red, White, and Blue, an organization for injured vets.
We went to her big fundraiser for injured vets in North Carolina during the Democratic Convention. Jon Stewart came. Now we're reading that her affair with Petraeus was uncovered after she sent harassing emails to another woman.
Why ask why. We just had author Barbara Kingsolver on the show. She begins her new novel with the line, "A certain feeling comes from throwing your good life away, and it is one part rapture".
But we think we need people like General Petraeus and Paula Broadwell in the military. She improved lives. He undoubtedly saved them by changing U.S. strategy.
We learn once again you can't put people on pedestals; they will fling themselves off. But I've decided you can put them in a shadow box. Come to think of it, my adored Marine dad wasn't perfect either.
---
Here & Now's May 2, 2006, interview with Lt. Gen. David Petraeus:
This segment aired on November 12, 2012.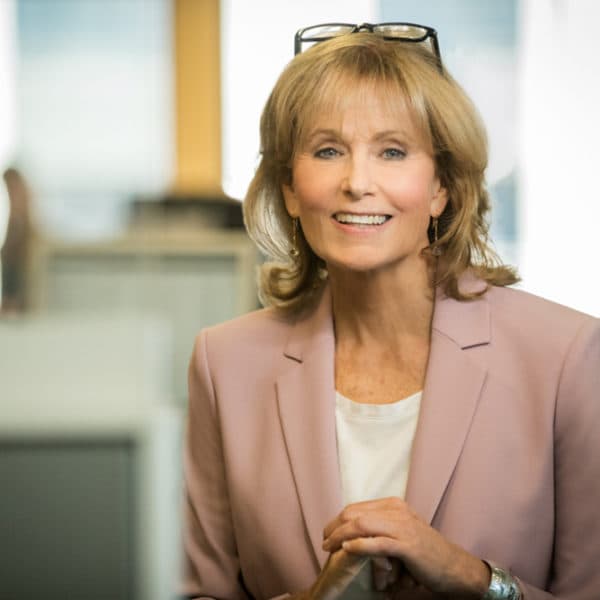 Robin Young Co-Host, Here & Now
Robin Young brings more than 25 years of broadcast experience to her role as host of Here & Now.