E-Cigarette Liquid Nicotine Poses Poison Risk
02:53
Play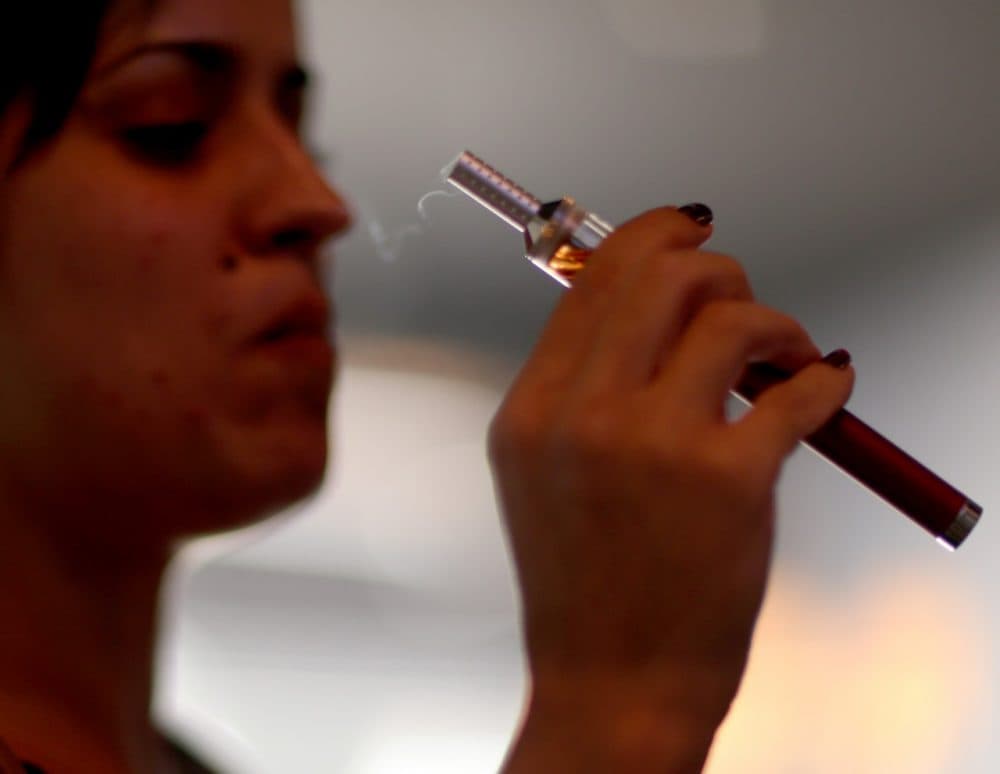 This article is more than 7 years old.
As e-cigarettes become more widespread, the nicotine liquid used to fill e-cigarettes has been found to be potentially dangerous.
Liquid nicotine is a neurotoxin and small amounts - whether ingested or absorbed through the skin - can be lethal.
As the New York Times reports, poison control centers around the country are seeing rising rates of accidental poisonings, especially among young children.
Here & Now's Robin Young speaks with Ashley Webb, the director of the Kentucky Regional Poison Control Center, about whether she's seen a rise in nicotine poisoning from e-cigarettes.
However, we heard from many Here & Now listeners who praised e-cigarettes for helping them quit traditional tobacco smoking.
Tom Glynn, director of Cancer Science and Trends at the American Cancer Society, says he's intrigued by the promise of using e-cigarettes as a smoking cessation tool, but the scientific evidence — and the FDA — do not yet support the practice.
Interview Highlights: Tom Glynn and Ashley Webb
Webb on the main danger concerns related to e-cigarettes
"We're concerned about children who get a hold of e-cigarettes or get a hold of the vials. One because they can spill it on their skin and have symptoms, or two because they can ingest it and have symptoms.
"But also adults who are handling e cigarettes or refilling e cigarettes have the potential to get it on their skin as well and have the same symptoms: nausea and vomiting, some pallor and sweating, salivation. We've seen a couple of cases with increased heart rate and blood pressure. We're concerned that in a significant enough exposure we'd see cardiac affects and potentially nervous system affects including seizure."
"We're looking at such a high concentrated product that some amounts including just a milliliter to two milliliters can equal numerous cigarettes so we've seen calls for tobacco with children eating cigarettes and we do get a concern with that – but it takes a much smaller amount of the concentrated liquid to cause symptoms we'd be concerned about."
Glynn on the American Cancer Society's position on e-cigarettes
Our position on e-cigarettes are that they're intriguing. In the short run, we know that they are going to be less harmful than a traditional burn cigarette; there's virtually nothing that is more harmful than a traditional burn cigarette. And they may have a role in helping some smokers stop. But there are many, many scientific medical and social questions still surrounding e-cigarettes, and at this point we can't actively encourage their use until we have more independent science-based information and FDA regulation.
Glynn on the debate over using FDA-approved cessation drugs and e-cigarettes
I've seen that argument for many years, and it's just simply not the case. The FDA approved medications – all seven of them – five of them are nicotine replacement products, as well as two prescription products.
"They have been moderately useful: they help maybe on the first try, maybe 10 to 15 percent of people quit smoking. People then need to recycle and try again and they become more useful – particularly if they're used correctly.
The limited data suggests that e-cigarettes are probably in the same range as the nicotine replacement products and the other two medications. So the question then arises: If they're about equal, why use something that hasn't been approved by the FDA? On the other hand – if they haven't proved useful to someone – clinicians are not discouraging people from it — but basically saying do so with your eyes open.
Guests
This segment aired on March 25, 2014.