Just (Lobster) Roll With It: Variations On A Summer Tradition
05:29
Play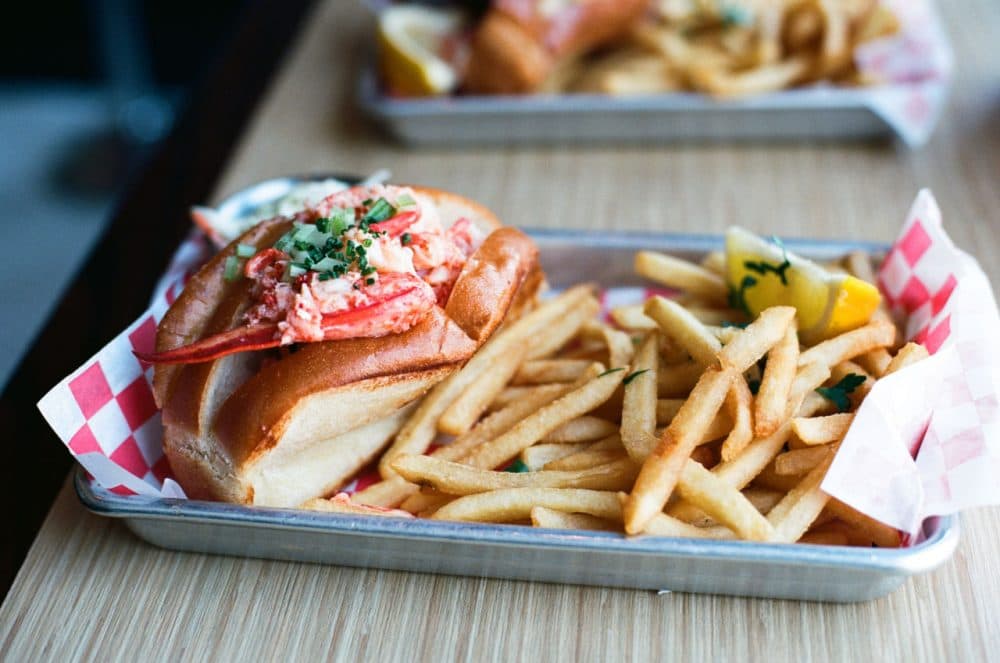 This article is more than 5 years old.
Ask 100 chefs in New England how to make a lobster roll, and you'll get 100 different answers. The dish is a summer tradition from Connecticut to Maine.
But is it best plain with just a little mayo and drawn butter? Does the bun have to be toasted? Split down the side? Wait, where's the tarragon? The celery?
With summer about to begin, I went to the Maine coast to get to the bottom of this debate, where plenty of chefs and eaters were willing to weigh in.
"With my roll, you get the whole tail," says Debbie Gagnon from behind the walk-up window at Red's Eats in Wiscasset, ME. "You get tails knuckles and claws filling the middle of the roll. Two claws sticking out the sides. So you get more than you would in one whole lobster."
Gagnon owns the 14-foot shack that's a perfect red-and-white slice of Americana on a corner of the well-traveled Route 1. With $21 cash, you've got enough for one of her rolls. The lobster meat is piled into a toasted hotdog bun. Mayo and drawn butter on the side.
"That way my guests can do whatever they want," she says. "They can dip those tails in butter first and then drizzle that wonderful butter down the roll. I let them do what they want."
At the peak of summer, a line of customers will loop around the block toward the Sheepscot River, which feeds into the nearby Atlantic Ocean. Last year, Maine fishermen pulled $456 million worth of lobster out of the ocean. Gagnon says she sold 11.5 tons of lobster in six months.
Maine resident Peter Levecque was satisfied with his sandwich. You might call him a lobster roll purist.
"The nice thing about a lobster roll, you don't have to work at it," Levecque says. "You don't have to crack the lobster."
He says he prefers his lobster plain. No fillers. No lettuce. Just full of meat.
"A lot of places are skimpy with their lobster," he adds.
Mainers are fervently opinionated about their lobster rolls, says Here & Now resident chef Kathy Gunst. I met her at a table in the Eventide Oyster Co., about an hour south from Red's in Portland, Maine.
Why are they so dogmatic about their rolls?
"Because they're from Maine," Gunst says. "People are really into tradition around here. It's an old-fashioned food, and it very much speaks to a place. For me, I want to be eating it for the most part outside, smelling the ocean, at a picnic table that's going to give me a splinter."
For all the opinions about the best way to make one, it's not entirely clear how the lobster roll was invented. Gunst says she once researched its origin for a month and came up with endless explanations.
It's certain though that lobster wasn't always the coveted - and expensive - dish it is today. Gunst says it used to be so plentiful that people looked down upon the bottom-feeding lobsters as peasant food.
It is no longer. Gunst and I are about to eat a decidedly untraditional lobster roll at the Eventide Oyster Co.
"We're doing something totally different," says chef-owner Andrew Taylor.
Fellow owner Mike Wiley says customers are receiving the twist on tradition pretty well.
"We do get people who bemoan the fact that we're not doing the griddled hot dog bun, but I like to think nine times out of 10, people taste and are like, 'Oh, man, that's pretty good,'" he says.
For this one, instead of a hotdog bun, think Chinese sticky bun beneath a mound of hand-picked lobster in a brown-butter vinaigrette, which makes it sweeter and richer than a traditional roll.
"We're not running a spa over here," Wiley and Taylor say.
And thank goodness they're not.
Reporter
This segment aired on May 26, 2015.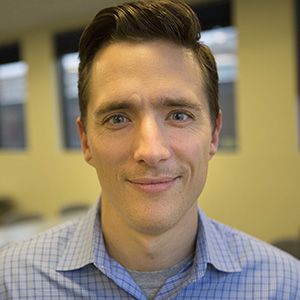 Peter O'Dowd Senior Editor, Here & Now
Peter O'Dowd has a hand in most parts of Here & Now — producing and overseeing segments, reporting stories and occasionally filling in as host. He came to Boston from KJZZ in Phoenix.