National Parks Tour: Everglades, Home To Alligators, Birds And Panthers
09:26
Play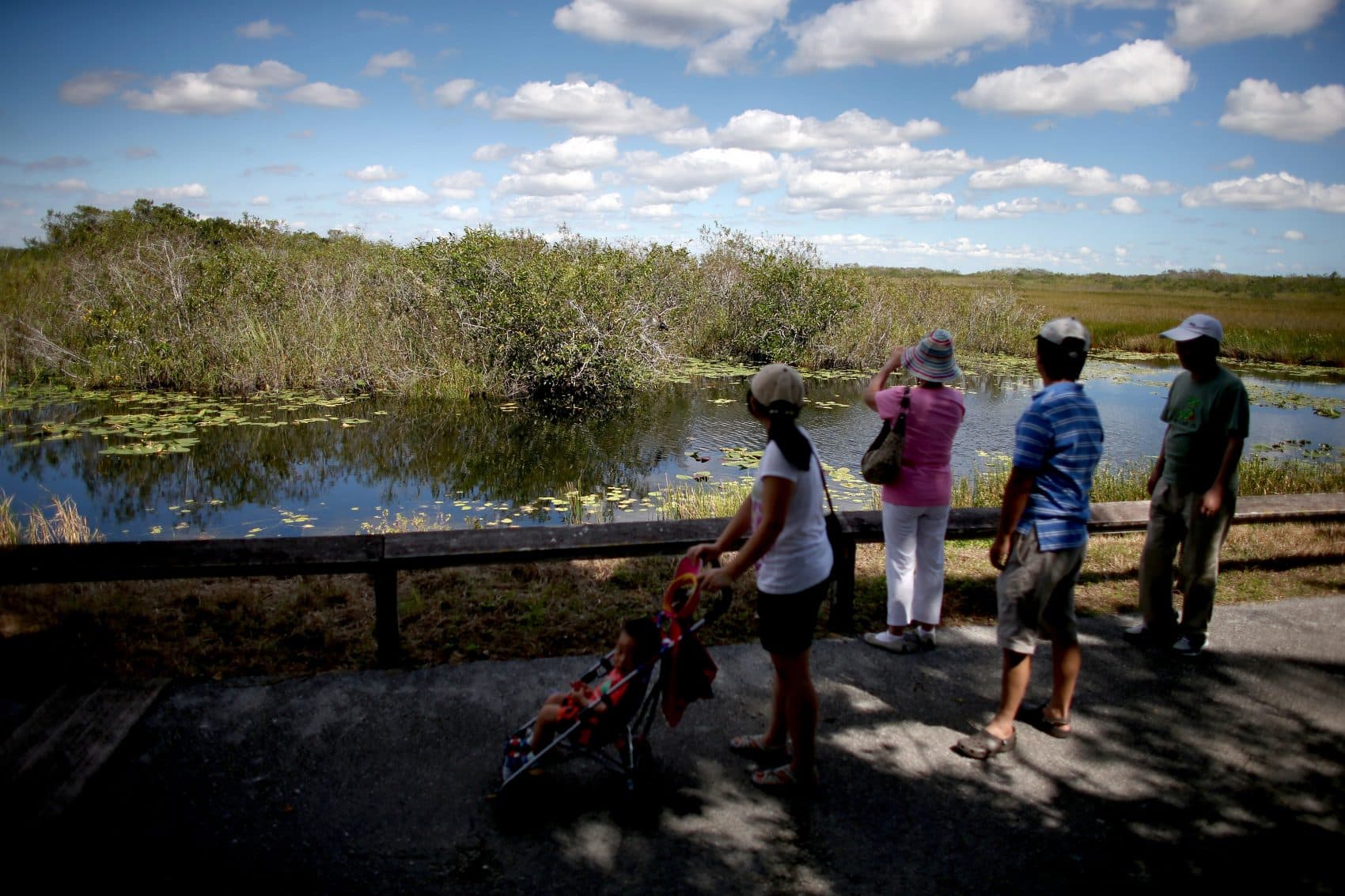 This article is more than 4 years old.
To celebrate the National Park Service's Centennial this month, Here & Now is touring of some of the country's parks. South Florida's Everglades National Park — which was established to protect plants and wildlife that thrive in the mix of fresh and saltwater — is our next stop.
Here & Now's Jeremy Hobson talks with Alan Scott, the chief of resource education and interpretation at Everglades National Park.
Hear more from Here & Now's national parks tour.
Interview Highlights: Alan Scott
On what Everglades National Park looks like:
"Everglades National Park is at the southern tip of Florida, and if you're not from this area, it's hard to comprehend. It's sort of a mix of environments between the Caribbean and North America. The park was really established for what's alive — plants and animals, and it's a great place to experience wildlife."
On the wildlife living in Everglades National Park:
"So some of the wildlife that you can see in Everglades National Park is alligators. All of south Florida is known for that, but we have trails that go into alligator habitat. The wildlife in Everglades National Park is not fed. It's not hunted, and they were born and raised with people walking by, so you can see them acting in their natural environment behaving as they would in nature, and they basically ignore us."
"I'd like to say some of our trails are like a National Geographic special every day. You don't have to look for hours for wildlife. You just walk down a trail and see birds and fish and turtles, different kinds of butterflies and alligators."
On some of the birds in the park:
"One of the types of animals the Everglades are most famous for is birds, specifically wading birds. There are egrets and herons and wood storks. There are birds called rosy spoonbills. There are shorebirds that you would call seagulls. The reason that birds are in this area is because of the diverse habitats and a mix of fresh and saltwater in the everglades that creates a great food source, and the other aspect of it is we have a seasonal cycle of flooding. Then we have a dry season in the winter that concentrates the fish that has really attracted the birds to the everglades. Because when the fish are concentrated, it's easy for them to catch the fish and feed their young."
On the Florida panther:
"The Florida panther is one of our endangered species. It's a huge cat. If you ever see one, they can be eight or nine feet long from tip of nose to tip of tail. It's a big animal. So we have a Florida panther population that we like to say is  around a dozen animals, and the park is right next to Big Cyprus National Reserve, and that is right next to the Florida Panther National Wildlife Refuge."
On how the Everglade National Park became a national park:
"Everglades National Park was the first national park in the United States that was set apart as a national park because what's alive: the plants and the animals and the ecosystems that support those plants and animals. Today we know the Everglades as a river of grass. That term was coined by Marjory Stoneman Douglas in 1947, only the same year the park was established. Prior to that, people didn't really understand it was a river and they saw what was wetlands, known as everglades, as worthless land to be developed."
"A lot of the Everglades had been drained and developed prior to the park being established. Something else that happened is at the turn of the 1800s to the 1900s there was a fashion for women to wear feathers in their hats. The feathers are plumes from birds that were nesting in the Everglades and other wetlands around the world. The time that people hunted for those feathers was when those birds were on their nests with their chicks. The hunters would go kill the adult birds for their plume feathers that they had because they were in breeding season, and so those populations of wading birds were nearly wiped out. That brought a lot of attention to the area that is now in Everglades National Park."
On how development has affected the park:
"One of the unique aspects about Everglades National Park is it's a natural area we set aside to preserve the plants and the animals in the area, and it relies on the flow of fresh water. Everglades National Park is 1.5 million acres, but within 50 miles of that park there are almost 7 million people living next to it. It's an amazing mix of people and wilderness side by side. The development around the park manages the water, and it manages the water to keep, what used to be wetlands dry, for development purposes. And it also manages, the water to hold water for the water supply in south Florida. The water that's in the Everglades is also the water supply for the people in south Florida."
One of his favorite things to do at Everglades National Park:
"One of the things I like to do the most, that most people don't like to do is go walking in the water off the road and off the trail, and we call that slough slogging, and so you walk out in the water more than ankle up to knee deep, and you're out there standing in an open prairie, where you can see from horizon to horizon, Everglades."
Guest
Alan Scott, chief of resource education and interpretation at Everglades National Park. The park tweets @EvergladesNPS.
This segment aired on August 1, 2016.