Family Of Hostages Captured In Afghanistan Calls Video 'Simply Heartbreaking'
09:25
Play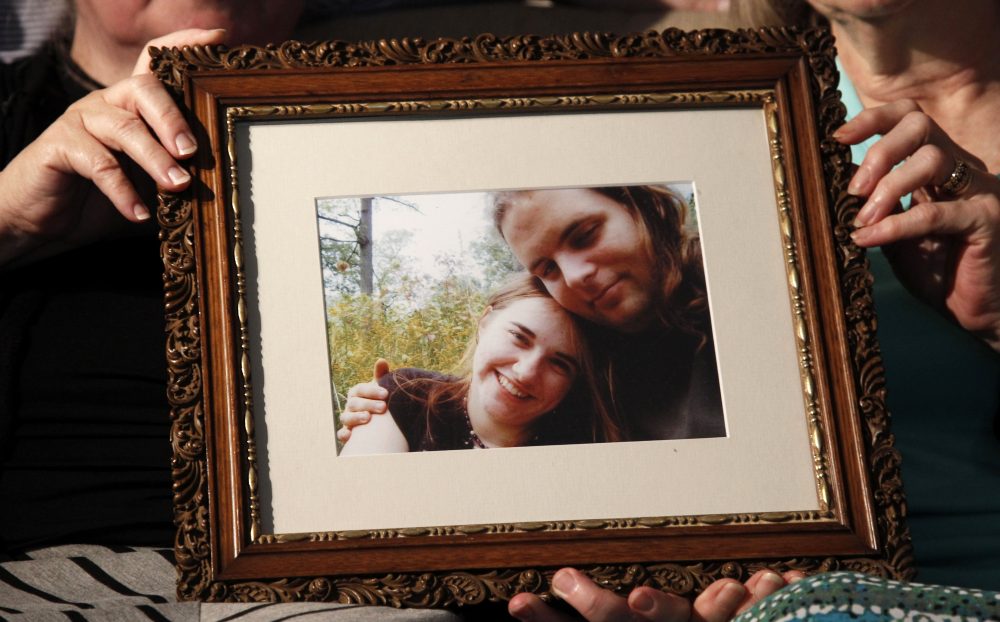 This article is more than 4 years old.
In a statement first released to Here & Now and the Toronto Star Wednesday, the parents of a Canadian hostage, his American wife and their two little boys born in captivity in Afghanistan say it was "simply heartbreaking" to see the family in a video released Monday by their captors.
Caitlan Coleman and Joshua Boyle were on a backpacking trip when they captured by the Taliban-linked Haqqani network in October 2012.
Michelle Shephard (@shephardm), national security reporter for the Toronto Star, knows Boyle and has described the video as "surreal." She joins Here & Now's Robin Young to discuss the effort to free the family.
---
Media statement from the parents of the Canadian-American family of Joshua Boyle and his wife, Caitlan Coleman, Dec. 3, 2016
The December 3rd YouTube video was first brought to our attention Monday afternoon by the media very shortly after Taliban Media's posting on Twitter.

It has obviously been difficult for us since the death threat video was released by the captors at the end of August. In Monday's video, their captors again threaten all four of them — in their written words and in Caity's own voice. They continue to choose to communicate that publicly, not with the families.

We are delighted to see these first pictures of our grandsons with their mum and dad. At the same time, we are saddened to hear our daughter-in-law confirm that another child has died as a result of this ordeal.

It is an indescribable emotional sense one has watching a grandson making faces at the camera, while hearing our son's leg chains clanging up and down on the floor as he tries to settle his son. It is unbelievable that they have had to shield their sons from their horrible reality for four years. Josh described this to us in a letter as play acting the film "Life is Beautiful," pretending their signs of captivity are just part of a game they are playing with the guards and captors.

It is simply heartbreaking to watch both boys so keenly observing their new surroundings in a makeshift film studio, while listening to their mother describe how they were made to watch her being defiled.

Neither Josh nor Caity address their families in this video. In all past communications, they have been made to say that the families need to do what they can to get their governments to do what is asked. This new video confirms what all other messaging has always said, that the captors' demands are made to governments. In the last video in August, Josh and Caity are made to plead with both of their governments to persuade the Afghanistan government to spare the lives of prisoners held by Afghanistan on charges of assisting terrorism.

From their vantage point, Caity could not have used a more accurate term than Kafkaesque. Bleak and seemingly hopeless while persevering against cold bureaucratic policies and organisations. Hopeless perhaps, yet hoping still. Recognising the darkness, but choosing to search for light. Resulting feelings of senselessness, disorientation and helplessness. The absence of a clear course of action to escape a complex and bizarre situation that seems it may be somewhere between fiction and reality. Overpowered and constrained by others beyond their control, but striving to break through nonetheless. We wouldn't expect anything else from Josh and Caity, nor from most other Canadians and Americans.

This video confirms the captors want to bring this to an end soon. They prefer to reach an understanding during this brief period of the American presidential transition. It also confirms the seriousness and immediacy of the captors' threats to our four family members. We are hopeful and we pray that all governments involved, including Afghanistan and the Islamic Emirate of Afghanistan, can bring this to a safe resolution soon.

Patrick & Linda Boyle
This article was originally published on December 21, 2016.
This segment aired on December 21, 2016.