More International Students Uneasy About Studying In The U.S.
05:52
Play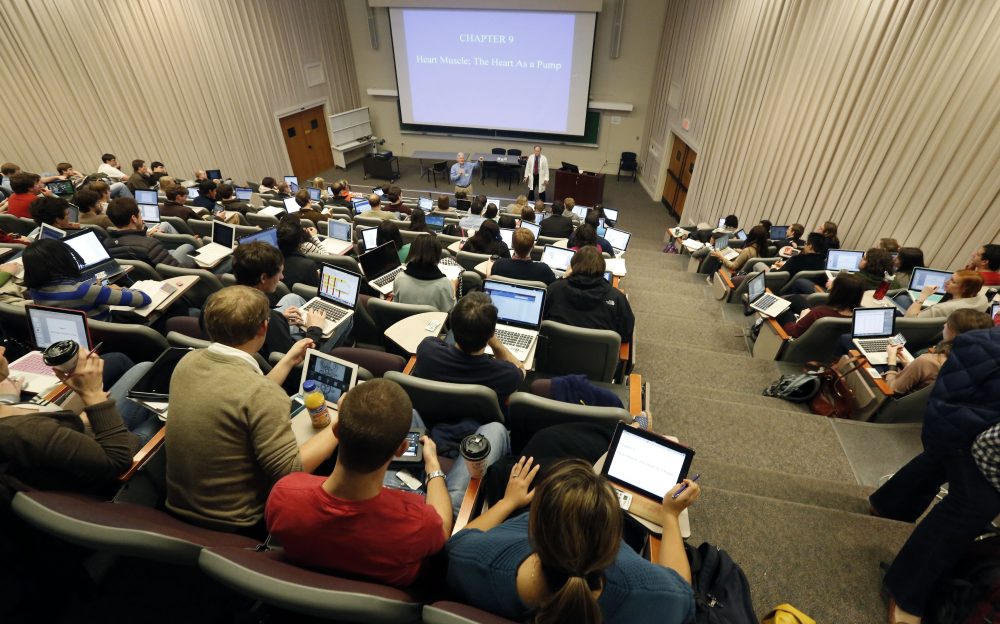 This article is more than 3 years old.
Relatives of two Indian engineers shot in a Kansas bar are urging fellow Indians to stop sending their children to study in the United States. A German father made a similar plea in 2015 when his teenage son was shot to death in Montana.
More than a million international students go to college in the United States, according to government data, but recruiters say they expect numbers to drop as an increasing number of international students tell them that violent incidents and a racially charged climate make them feel unsafe.
Here & Now's Eric Westervelt (@Ericnpr) talks with Esther Brimmer (@EstherAtNAFSA), executive director of NAFSA: Association of International Educators.
Interview Highlights
On if international students are questioning the decision to live or study in the U.S.
"We have been hearing from our members that there's a great deal of concern about studying in the United States, indeed that there are families who have seen these news reports. And it's a tragedy in that sense because across the United States colleges and universities want to welcome international students, but the recent news reports have raised concerns, as have recent actions by the administration."
On concerns for international students
"There are several sets of concerns. The first set was the executive orders that were promulgated by this administration. By banning people from the seven countries, everybody from those seven countries was affected. It meant that there were students and scholars who were split up from their families. And people saw this. We had scholars who might've gone to conferences, they might've gone home to see their families. We had cases where a mother who was a Ph.D. student went home, she wasn't able to get back to see her family. We had people going to conferences who all of the sudden were stranded outside the United States. There were approximately 17,000 students from those countries affected. But also, concerns that other countries would be added to the list, and then even beyond that, concerns that this was evidence of a changing attitude in the United States toward international students.
"And while there's been some relief with the judicial action that has paused this, there are people who are worried that if they come to the United States this year, maybe next year they won't be able to get another visa. Maybe they might be stranded in their second or third year, not able to complete their program. And finally, the actions on immigration. Because there is a connection between the United States' policies on immigration and its face to the world. Is it seen as welcoming?"
On assistance and other options for international students
"As you've indicated, this is actually an especially difficult time because colleges have issued their invitations to students to come and study. So students, both in the United States and internationally, are making their decisions. Several educational associations including ours, NAFSA, and others, are working together to conduct a survey this spring to get more information from admissions officers so we can understand what's happening. At the moment the United States is the leading destination for international students, but we are losing market share. Increasingly students are recognizing they do have choices. Some students may choose to go to Australia or Canada or other countries that also have excellent institutions. We may be losing them for years. If they don't come this year, they're not coming for let's say the next four if they're an undergraduate. So, a decision made now by an international student can have long-term consequences for that student, for the students who would've worked with that person and for colleges and universities across the United States."
"There's an important intellectual benefit, economic benefit, but also a long-term political and diplomatic benefit for the United States of having international students come study here."

Esther Brimmer
On the potential economic impact
"While we stress the intellectual impact, there is an important economic impact as well. There are over 1 million international students and their families in the United States, and that group of people accounts for over 400,000 jobs and over $32 billion worth of economic activity in the United States."
On the value of having international students on campuses
"For decades, the United States has recognized that by having international students here, we benefit from the exchange of ideas, from bringing together smart people, which fosters innovation, which helps the United States economy. But also, international students affect our informal ambassadors. People around the world who have studied in the United States usually go home with a positive view of the United States. They learn more about the United States and as they go on to their careers, and many of them have careers as diplomats and business leaders, they retain that positive view of the United States. So there's an important intellectual benefit, economic benefit, but also a long-term political and diplomatic benefit for the United States of having international students come study here, benefit from the United States and create those international links which are helpful in the future for decades to come."
This article was originally published on February 28, 2017.
This segment aired on February 28, 2017.