With Lethal Injection Drug Expiring Soon, Arkansas Moves Forward With 7 Executions
10:57
Play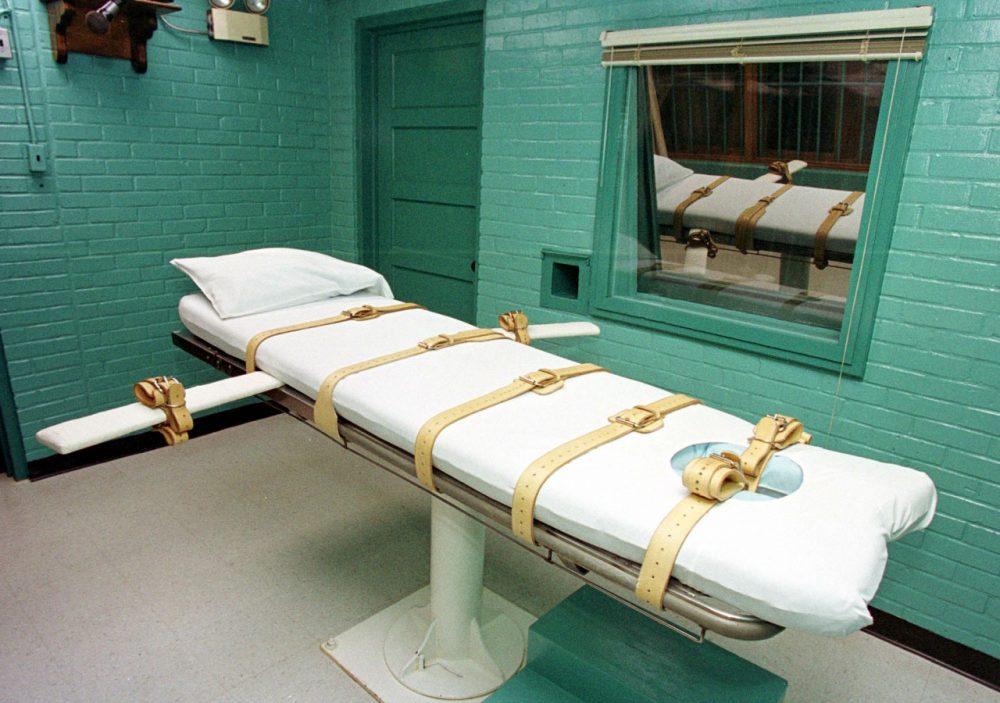 This article is more than 3 years old.
The state of Arkansas is set to execute seven death-row inmates in the span of 11 days, starting Monday. The executions are being rushed by the state, apparently because its supply of the drug midazolam — the sedative used in its lethal-injection procedures — will expire this month.
Arkansas Gov. Asa Hutchinson defended the state's decision, even though it is facing a number of legal challenges from the inmates, and two of the drug makers, which claim the way the drugs were acquired was improper and constitutes a breach of contract.
But there are other options, according to Robert Dunham (@RDunhamDPIC), executive director of the Death Penalty Information Center, a nonprofit policy group that studies capital punishment.
Speaking with Here & Now's Meghna Chakrabarti, Dunham explains what those options might be and the risks of executing so many people in such a short period of time.
Interview Highlights
On how quickly Arkansas is moving forward with seven executions
"What we're seeing is unprecedented, and it's unprecedented in a whole number of ways. No state has ever attempted to carry out so many executions in such a short period of time. The reason that the executions are being carried out in this compressed time frame is completely artificial. The state has a supply of drugs that will expire at the end of April, and so, rather than using a normal type of execution schedule, if you can use that phrase, the state has decided that they have this artificial kill-by date. And they're attempting to execute seven people before their drugs expire."
On midazolam, the drug that will expire, and the alternatives
"States have all sorts of alternatives. They don't necessarily have to use midazolam. They don't necessarily have to use three drugs. But there is a very serious problem that they face, because the American pharmaceutical companies don't want their medicines to be associated with killing prisoners. As a result of that, it's become more difficult for the states to obtain the drugs. But there are a variety of different drugs that have been used. Texas and Georgia, for example, have used a single drug to execute prisoners, pentobarbital. The states that use multiple drugs used to use sodium thiopental, but its manufacturer took it off the market, because it did not want its drugs associated with executions. So states look for other drugs, and they came up with midazolam because it's used in some minor medical procedures. But as we've seen in a number of other cases, it's completely inappropriate to use when it comes to lethal injection."
"What we're seeing is unprecedented, and it's unprecedented in a whole number of ways. No state has ever attempted to carry out so many executions in such a short period of time."

Robert Dunham
On the possibility of a botched execution when seven are done in a short period of time
"That's hard to say. There hasn't been a single state that so far that expected to botch an execution. All the governors in all of those states were confident that nothing was going to go wrong. What Governor Hutchinson is to adopt an unprecedented schedule that corrections experts themselves say magnifies the risk of error. No one has conducted two executions with midazolam in a single night ever in the United States. Oklahoma is the only state to have tried that. They were scheduling the executions for two hours apart when they were going to execute Clayton Lockett and Charles Warner. They botched the execution of Clayton Lockett and had to call off the Warner execution. The wardens — there have been more than 25 prison wardens who were involved in executions who have sent a letter to Governor Hutchinson and to the Department of Corrections saying that the artificially compressed schedule that the state has adopted magnifies the risk that something is going to go wrong. Even though Oklahoma botched the execution scheduled two hours apart, and their analysis afterwards when they were investigating found that the rush that the corrections officials felt contributed to the botch. Well, Arkansas has gone ahead and scheduled them an hour and a half apart. So it appears that they haven't learned from that.
"The difficulty here also is not just a botch. With midazolam, we're beyond the point where something going wrong can be considered to be unanticipated. Even if they follow their protocol, this is a very risky drug. We have seen when states have carried it out properly — that is to say, they've inserted the IV lines appropriately, they've injected the drugs when they were supposed to inject them, where they're supposed to inject them — that it still has failed. And that's because midazolam is the wrong kind of drug to use. When the multiple drug executions work, they use an anesthetic that puts the prisoner to sleep, they follow that with a paralytic agent, and they follow that with the killing drug potassium chloride. But with the midazolam, it's not an anesthetic, it's a sedative. So, if someone is exposed to painful stimuli after the administration of the midazolam, they can be jolted back into consciousness. And we've seen in some of the states, the prisoner's eyes have popped open after they had already been pronounced unconscious. There have been instances in which prisoners have gasped for air for as long as two hours it took for Joseph Wood to die. There have even been, in states when it appeared that there was no outward sign that the midazolam had failed, there still were indications that the prisoner may have been conscious and exposed to searing pain. The potassium chloride has been described as akin to being chemically burned at the stake. So, the governor may be confident that nothing is going to go wrong. But so was everybody else in all the other states where the botched executions occurred."
On why Arkansas is creating an artificial deadline
"What's going on is Arkansas has a choice. They have a choice of carrying out executions properly, in a dignified way, with enough time between executions so that prison personnel are not traumatized. Or, they have the opportunity to just carry out executions. They've chosen to just carry out executions. That's a political judgement. The state has not made preparations for alternatives. The state has decided that the expiration date for the drugs is what's driving whether they're going to carry out the executions or not. And they have had significantly less concern with handling this in an appropriate, humane way, than they simply have a desire to carry out the executions."
This segment aired on April 14, 2017.