What Factors Contributed To Houston's Hurricane Vulnerability?
Play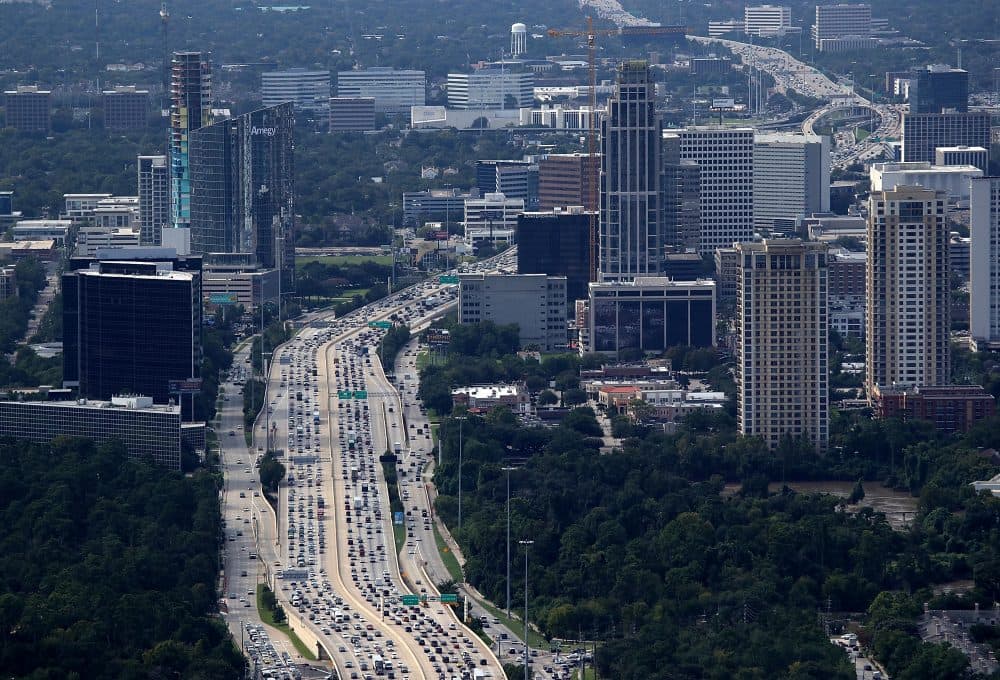 This article is more than 5 years old.
More than a year before Hurricane Harvey devastated Houston, a team of journalists wrote a report predicting what would happen if a natural disaster hit. Now that the worst-case scenario has happened, what lessons can be taken?
Here & Now's Robin Young speaks with Kiah Collier (@KiahCollier), reporter and editor with The Texas Tribune and part of the team behind the award-winning ProPublica investigation "Hell and High Water."
Interview Highlights
On her experience covering Harvey's impact in Houston
"Obviously we wished we were there under different circumstances. We had been focused a lot on holding local officials accountable for not developing smart development practices over the years, which scientists say has worsened flooding. But to see the human side of it was new for us and it was really sad to see. Especially in poorer parts of town where people didn't have much to begin with and now they have nothing, literally."
On steps Houston can take to prepare for future storms
"Limiting development in flood plains. Developers in Houston are still largely able to build in the 100-year flood plain, for example, including infrastructure that slows the runoff that occurs in a storm and impacts surrounding properties and leads to swollen bayous that run through really populated parts of the city. Development in flood plains is definitely something scientists say can be improved. Houston, a lot of people describe it as a '600-square-mile concrete island on top of a swamp.' And a lot of what has happened is the paving over of really absorbent prairie lands and wetlands, and local officials have not required developers to leave some open green space.
"One thing that's been discussed a lot is requiring developers to install infrastructure that curbs the runoff rate during storms into bayous which affects everyone downstream. And one thing that the flood control district has tried to pursue in the northwest side of Houston, which is still growing, is imposing some stricter requirements on developers to basically keep a bunch of water from pouring into these bayous and flooding everyone else out downstream."
On why regulations haven't been adhered to
"Enforcement has been a huge issue. The government is generally underfunded and there aren't a lot of inspectors for any of these agencies to follow up with developers to see whether they've been following the rules.
"The cost of living is really good in Houston. And it's always a city that has jobs, particularly with the recent oil and gas boom. It's the energy capital of the country and people go there to work. It's a serious working town. And I think local officials have this position of, 'We don't want to curb that economic prosperity, these environmental issues, like we shouldn't be paving over wetlands and prairie land, are really off-base and they're anti-development.'"
On Houston Mayor Sylvester Turner's comment that "zoning wouldn't have changed anything"
"I've been dissecting that quote and wondering what exactly he was meaning by that and I think the larger point he was making is that you never know where a storm is going to hit. And certainly Harvey dumped a massive amount of rain on Houston. It would have flooded regardless of what developers had been allowed to do or not. But also I think to dismiss the extensive scientific research that shows that what local officials have allowed to happen in terms of paving over absorbent wetlands is pretty irresponsible."
This article was originally published on September 07, 2017.
This segment aired on September 7, 2017.