Sarah Ruhl Celebrates Her Mother With Play Featuring 70-Year-Old Peter Pan
09:11
Play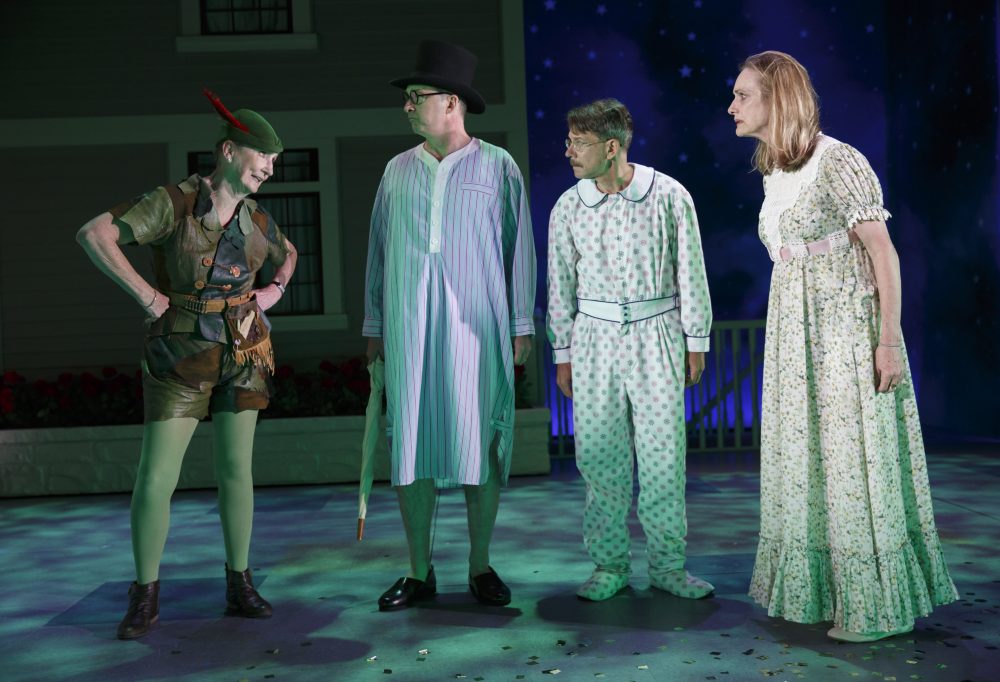 This article is more than 3 years old.
How do five grieving adult siblings end up in Neverland — one of them dressed in a Peter Pan suit? Playwright Sarah Ruhl puts them there in her new production "For Peter Pan on her 70th Birthday." The show was written as a 70th birthday present for her mother, who had played the role of Peter Pan in 1955.
The fantastical drama deals with issues including aging, grieving and what it means to be an adult. Ruhl joins Here & Now's Robin Young to talk about the show, which runs at New York's Playwrights Horizons Mainstage through Oct. 1.
Interview Highlights
On her mother's role playing Peter Pan, and getting to meet Mary Martin
"It was at something called the Shriners Temple, initially, in Davenport, Iowa, and then I think they upgraded to the Orpheum. My mother said the Shriners Temple was where they did mysterious things, and the Orpheum was much fancier.
"Apparently Mary Martin signed my mother's script, and I still have the script: 'To: Kathy, Peter Pan. From: Mary Martin, Peter,' and my mom was so flustered she left it in the dressing room, so Mary Martin sent the script back down with a bouquet of flowers and then they got their picture taken for the local paper."
On the impact it all had for her mother and herself
"Oh, I think she found it utterly thrilling. And, you know, for me as a child, growing up, there were all these pictures of my mom flying in green tights around my grandparents' house in Davenport, and then there was this newspaper clipping that I found mysterious and interesting of my mother with Mary Martin, and I think it always left me with these questions about: What is the theater? What is growing up? Who is Mary Martin? And always the notion that girls can play boys."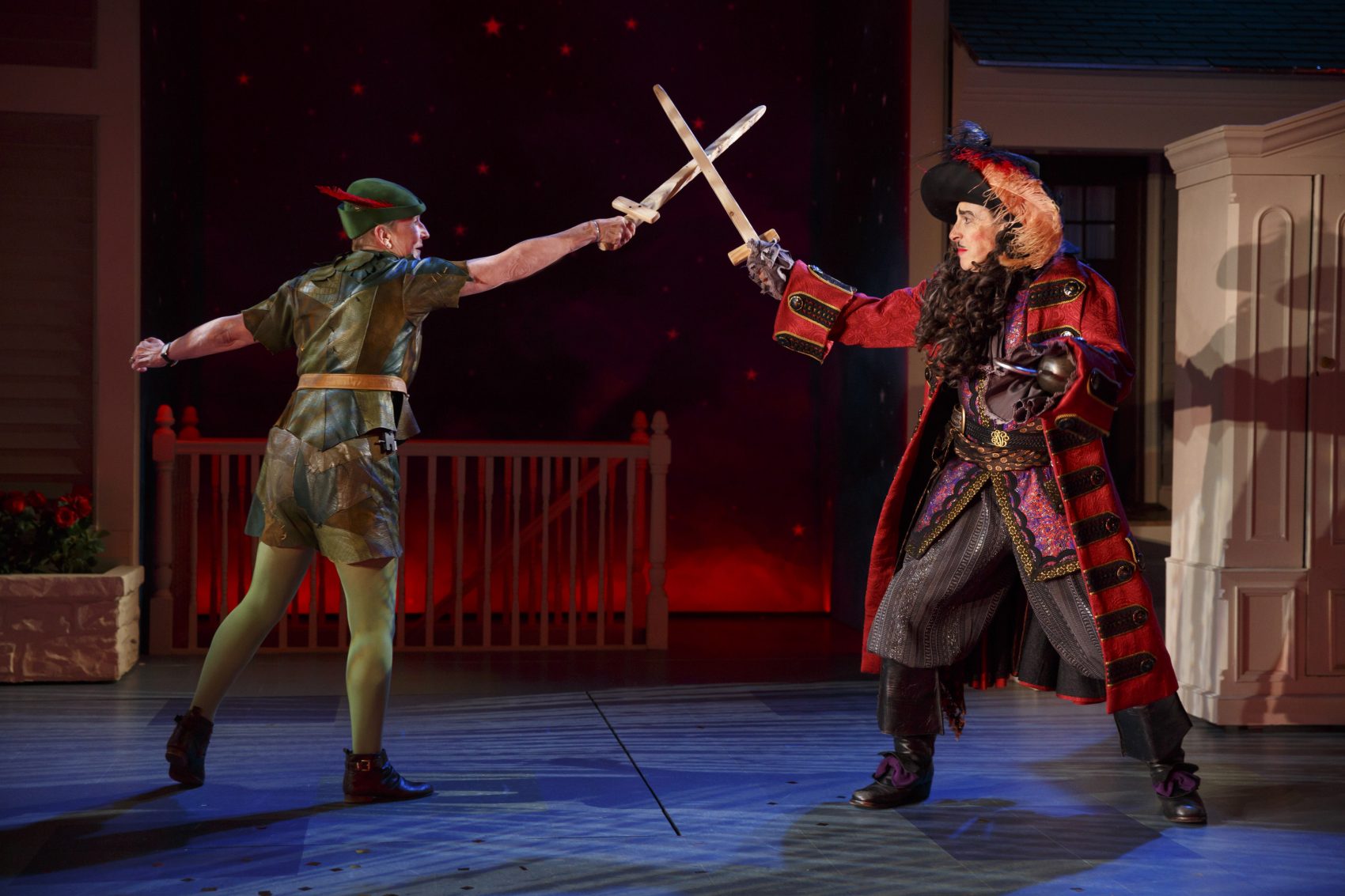 On the themes of loss and growing up in her play
"You know, when my mom turned 70, I was thinking about growing up, what it means to be a grown-up and thinking that the loss of both parents is often when someone is really forced to grow up. So I think it's no accident that these five siblings [in the play] begin philosophizing about the afterlife and fighting about politics, but also ultimately going back to Neverland to rediscover their childhood after the family patriarch dies."
On setting the play in Neverland
"When my mother was turning 70, I wanted to write a play for her that gave her a new metaphor for death, because she was really afraid to die. And I think Neverland became a metaphor and also a place where grown-ups could play and play out various childhood fantasies. And I think, I think Peter Pan is also very much about death, the original material."
On her mother playing the lead role in the original cast of "For Peter Pan on her 70th Birthday"
"It was quite wonderful and she was quite wonderful. We did it at Shattered Globe Theatre in Chicago with a director who I've worked with before, and my mom, you know, is an actress in Chicago and she's won Jeff Awards and works all the time, so of course that made sense for her to do the role. When I wrote the play, I wasn't sure if she'd want to play it because I thought it might be too close to the bone, but being an actress of course she wanted to do it. And I thought the world might implode in some Borgesian sense when my mother played my mother, but instead it was just deeply charming and satisfying for me to watch."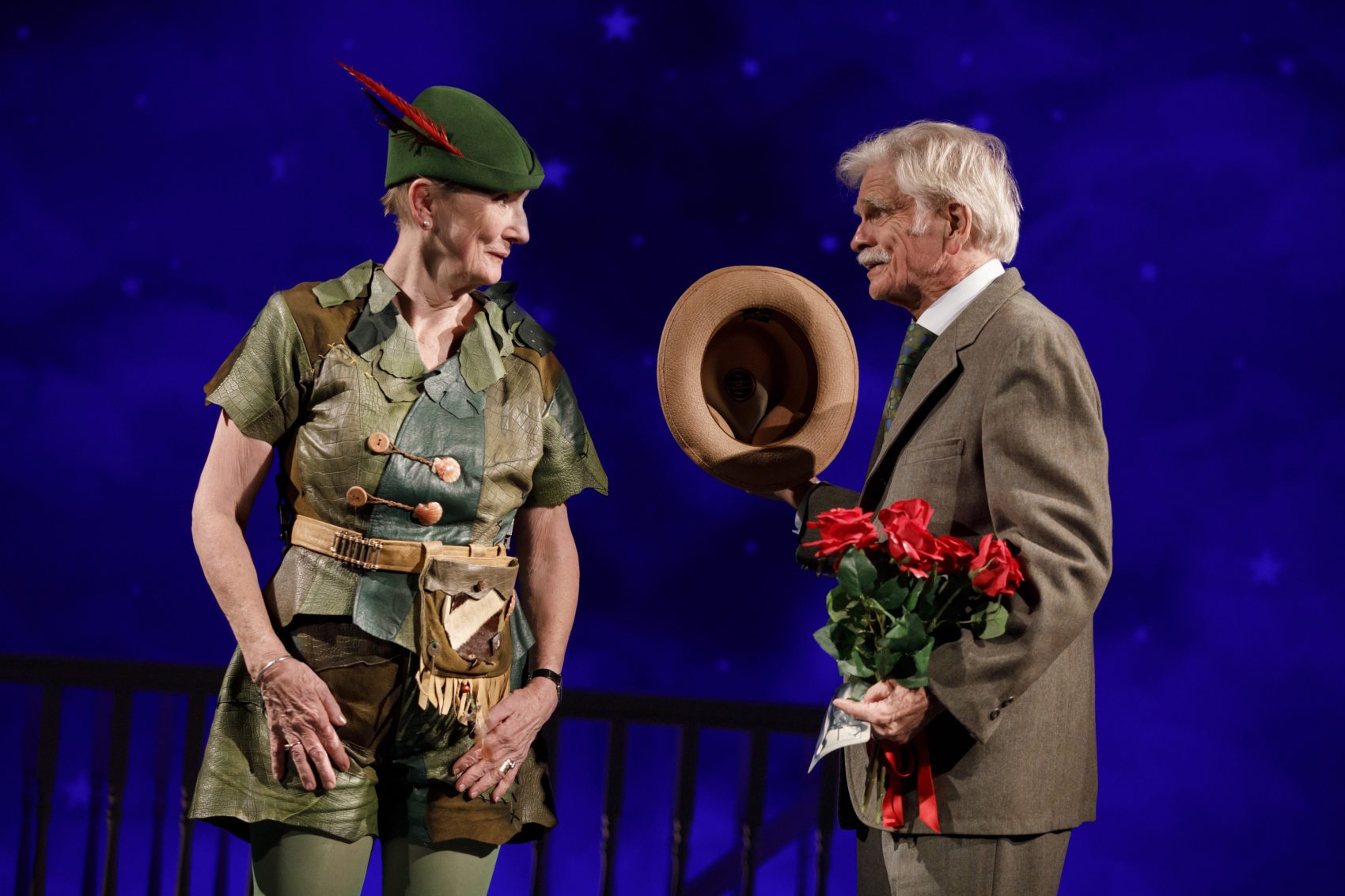 On changes to the original Peter Pan story in her play
"In this play, we actually clap to bring Peter Pan back to life and to make Peter Pan fly. And part of what I wanted to do was I wanted to see a 70-year-old woman fly. I wanted to give a 70-year-old actress the experience of flight. I wanted to give my mother the experience of flight. In Chicago, we couldn't afford a flying apparatus, so we figured out a theatrical way to do it, so my mom didn't actually get to fly ... maybe that's best.
"She felt like she was flying, and for me, that was important, because my mother's always been terrified of flying on planes but never scared of flying in the theater, and so to see her experience flight was quite beautiful to me. And then in New York, to see Kathy Chalfant, you know, dress up as Peter Pan and change a vista in front of the audience, and to see this beautiful woman's body and to see her fly is very moving to me. To see her fly, to see her duel, and I do feel like, culturally, we're at a moment where culture wants women who are aging to just go way back and sit down. And I feel like my mother, and Kathy Chalfant's performance, which I just think is exquisite, you know, says back to that culture, 'No, you go way back and sit down. We're not gonna shut up.'"
This article was originally published on September 20, 2017.
This segment aired on September 20, 2017.