Cookbook 'BraveTart' Explains Little-Known History Behind America's Favorite Recipes
Resume
How many Americans know that the sprinkles on their ice cream were first developed by 18th century pharmaceutical companies? Or that animal crackers were developed by mothers trying to get their kids to eat tomato soup?
Award-winning pastry chef Stella Parks' new cookbook "BraveTart" not only shares more than 100 classic American recipes, but also the history behind them. Parks (@BraveTart) joins Here & Now's Robin Young to discuss her favorites and their stories.
Book Excerpt: 'BraveTart'
By Stella Parks
Graham Crackers
From the late 1820s to his death in 1851, a Connecticut man named Sylvester Graham led a wild and crazy group of pro-fiber anti-sex crusaders known as the Grahamites. While lacking any sort of medical background, this Presbyterian minister made a career of dispensing advice on diet and nutrition. Sy Graham had quite the knack for baking, pioneering his own special brand of flour and writing a book on bread, but he would have despised everything about today's graham crackers.
His 1837 Treatise on Bread and Bread Making categorically condemned commercial crackers, as well as any whole wheat flour that was finely milled.1 His lectures blamed overly processed flour for all manner of bodily frustrations, namely sexual desire and constipation. In an effort to, uh, relieve those issues, Graham urged his followers to abandon such "wanton" luxuries.
He considered white flour "contrary to both nature and reason," and whole wheat not whole (or holy) enough. In those days, commercial bolting could remove up to eighty percent of a flour's bran and still pass for "whole wheat." Graham equated the practice with nutritional divorce, a clear violation of the Biblical mandate, "What God had joined together, let no man put asunder."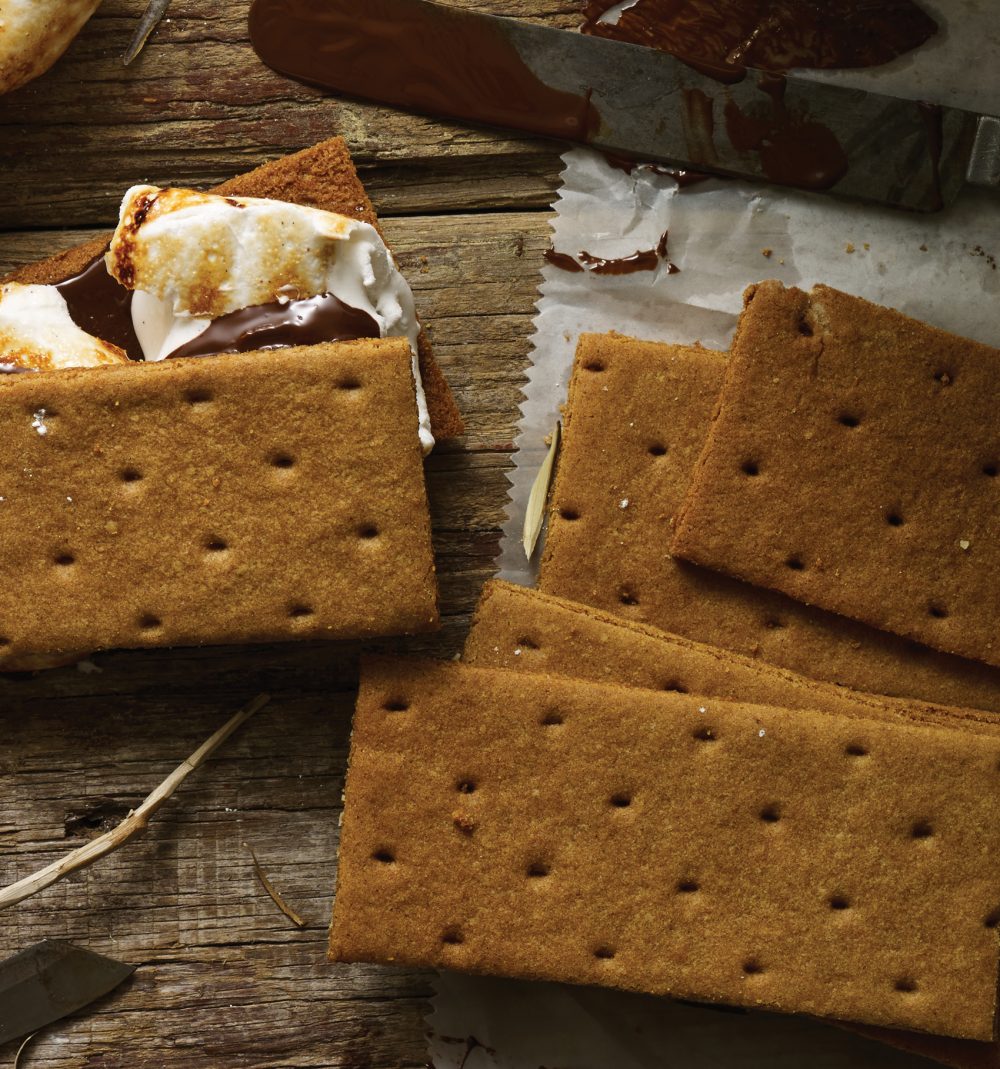 Graham taught his followers to grow their own wheat, or else purchase it direct from the farmer, and to triple-wash the grains by hand. Dirt would dissolve, stray pebbles and debris would sink, while loose bran would float to the top and be saved. After thorough drying, the wheat and bran were cellared together and ground when needed—preferably with a hand mill and as coarse as possible.
There's absolutely no doubt that even the best whole wheat flour on the market today would have been an abomination to Graham, and I can't even dream up a hyperbole extreme enough to sum up his probable reaction to graham crackers—mass-­produced cookies chock-full of sugar, fat, white flour, superfine whole wheat flour, and chemical leavening. It's almost as if graham crackers were designed to violate every principle that Graham stood for . . . and perhaps they were. See, American bakers had a bone to pick with Graham. His 1837 Treatise had claimed that no professional baker could be trusted to appreciate the importance of wholesome bread, and that manufactured goods were "immediately and universally injurious to the health."
The book went on to single out the bakers and flour merchants of New York and Boston (where his book was published), claiming that their trade centered on spoiled and inferior wheat. Central to Graham's premise was that the "art and duty" of bread making belonged to "she who loves her husband and her children as women ought to love."
So when the reverend scheduled a series of women's lectures at Amory Hall in Boston the same year his book was published, we don't need a transcript to get the gist of his message. Graham apparently rained down enough hellfire and brimstone that riots broke out around Amory Hall, forcing the owners to cancel the remaining series for fear of their lives. Graham made arrangements to resume his class at the Marlborough Hotel, but the mayor of Boston, unable (or unwilling) to provide constables for his protection, urged him to withdraw. The reverend refused, but the unrest was such that he wound up barricading himself inside the hotel while his followers shoveled slaked lime onto the protesting bakers below (for the uninitiated, being engulfed in a cloud of calcium hydroxide is a surefire recipe for chemical burns, blindness, and lung damage).
History doesn't tell us who these bakers were, but it doesn't have to. Crackers were one of Boston's most important exports, and by 1837 its bakers had already formed a coalition that would one day become the National Biscuit Company—Nabisco.
With a history like that, I think it was a form of silent protest that led New England bakers to start making cracker-shaped cookies called grahams. And cookies they were! While it's often said that nineteenth-century graham crackers were a portrait of dietary restraint, contemporary sources prove otherwise. The Complete Bread, Cake and Cracker Baker, a handbook published mere decades after the Boston riots, includes a handful of indulgent formulas: one made with white flour and sugar, another from equal parts molasses and lard, and a third with butter, sugar, and milk.4
Even if those grahams weren't baked as a form of sweet revenge, the National Biscuit Company seemed to harbor some lingering resentment even in 1905, when their Graham Cracker advertisements declared Graham's original work "so tasteless and uninviting that it almost required a prescription."5 Ultimately, these corporate grahams made a far more lasting impression than Graham himself, whose sanctimonious approach faded away, leaving only a vaguely heathy aura to his name. Again, it was Nabisco who advanced the cause of graham crackers, even acquiring the Honey Maid brand in 1925 to expand their offerings.
To prevent graham cracker sales from crashing with the stock market during the Great Depression, Nabisco rolled out a series of newspaper ads disguised as editorials for a "new science" they called "Cracker Cookery."6 While not exactly molecular gastronomy, this new approach turned the crackers into the basis of a cheap and easy pie crust that could be made without flour, sugar, or a rolling pin, prompting bakers from Florida to Manhattan to retrofit old-school recipes like Key Lime Pie (page 171) and New York Cheesecake (page 78) with graham cracker crusts.7
It was the culmination of everything Graham had ever preached against—not only were mass-produced crackers replacing the made-from-scratch originals, the packaged crackers were becoming ingredients of their own, with his very name at the center of it all. Perhaps the whole thing's just dramatic irony, but in my heart of hearts, I'll always believe those maligned Boston bakers set out to serve Graham his just desserts.
While I have little appreciation for the reverend's austerity, he was a passionate (if draconian) advocate for homemade, and there's no arguing with his love for whole grains. Compared to plain white flour, whole wheat makes a more fantastically crisp and flavorful graham, with a nutty flavor all its own. You don't even need to hunt down special graham flour, since the FDA considers the term merely a synonym for whole wheat. Despite that whole-grain foundation, I've no doubt ol' Sylvester would hate everything about my buttery sweet grahams, and I wouldn't have it any other way.
Recipe: Crispy Whole Wheat Graham Crackers
My homemade grahams are buttery and crisp, with an incredible depth of flavor thanks to earthy whole wheat flour and the mellow maltiness of golden syrup—a type of light molasses. For simplicity's sake, the dough is rolled and baked in sheets, then quickly snipped into pieces with a pizza wheel. Just don't forget to save the scraps, which make, of course, fantastic graham cracker crumbs.
Yield: twenty-four 21/4-by-43/4-inch crackers, plus 8 ounces (2 cups) crumbs | time: about 45 minutes
3/4 cup | 5 1/2 ounces sugar
1 1/2 teaspoons baking soda
1/2 teaspoon Diamond Crystal kosher salt (half as much if iodized)
1/4 teaspoon ground cinnamon
1 tablespoon vanilla extract
1/4 cup | 3 ounces golden syrup, such as Lyle's, sorghum, unsulfured molasses (not blackstrap), or honey
11/2 sticks | 6 ounces unsalted butter, solid but creamy—about 70°F
21/2 cups | 12 ounces whole wheat flour (not stone-ground or white whole wheat), plus more for dusting
Make the dough:
Combine sugar, baking soda, salt, cinnamon, vanilla, golden syrup, and butter in the bowl of a stand mixer fitted with a paddle attachment. Mix on low speed to moisten, then increase to medium and beat until somewhat light, about 3 minutes. Reduce speed to low, add whole wheat flour, and mix to form a soft dough.
Scrape dough onto a work surface and knead gently to form a ball. Divide in half. Use immediately or wrap in plastic and refrigerate for up to 1 week; soften for 30 minutes at room temperature, then knead on a bare work surface until pliable and smooth.
Roll and bake the dough:
Adjust oven rack to middle position and preheat to 350°F. Generously flour a large sheet of parchment and place one portion of dough in the center. Pat into a 5-by-6-inch rectangle, sprinkle with flour, flip, and dust again. Working from the center out and adding more flour as needed, roll the dough until roughly 15-by-11 inches and very thin. Slide onto an aluminum baking sheet and brush away excess flour. Repeat with remaining dough.
For grocery store look-alikes, score each sheet of dough into twelve 21/4-by-43/4-inch rectangles and dock with a bamboo skewer or the narrow end of a chopstick (a strictly cosmetic procedure). Otherwise, leave the dough uncut.
Bake until crackers are tawny brown and firm, though your fingertip may leave a faint indentation, about 20 minutes. Immediately cut along the prescored lines with a knife, or cut into free-form shapes using a pizza wheel. Cool to room temperature directly on the baking sheets. Enjoy scrap pieces as a snack, or pulverize into crumbs. The grahams can be stored in an airtight container for up to 3 weeks at room temperature or frozen for up to 3 months.
Troubleshooting
If the graham crackers seem anything less than earth-shatteringly crisp after baking, they were probably too thick. To revive soft crackers, simply return to a 350°F oven until fragrant and slightly darkened, about 10 minutes.
Although honey, molasses, and sorghum are all fine for this recipe, graham crackers cannot be made with maple syrup, due to its unique water content and pH.
Mix it up!
Chocolate: My mom used to sandwich chocolate graham crackers with peanut butter for an after-school snack, a combo I re-create by reducing the whole wheat flour to 10 ounces (21/4 cups), sifted with 1 ounce (1/3 cup) natural or Dutch-process cocoa powder. To retain their deep cocoa color, roll the dough in sifted cocoa powder. Serve with generous smears of peanut butter and a tall glass of milk.
Cinnamon Sugar: We rarely had sugar-coated grahams in our pantry when I was a kid, but they were always at my best friend's house, and seemed all the more special for their rarity. For the dough, increase the cinnamon to ½ teaspoon. Before docking, dust each sheet of dough with a half batch of Cinnamon Sugar (page 44), or any Sugar Sprinkle (page 46). Otherwise, dock and bake as directed. After the crackers cool, gently tap each against the baking sheet to knock off any excess sugar.
Coconut (vegan): Replace the butter with 51/2 ounces (3/4 cup) virgin coconut oil (solid but creamy—about 70°F) and add 1 teaspoon pure coconut extract along with the vanilla.
Gingerbread: This variation has all the spicy complexity of a Christmas cookie, with the unique flavor and crunch of a classic graham. Make the dough with sorghum or unsulfured molasses (not blackstrap) and increase the cinnamon to 1 teaspoon. Along with the sugar, add 1 tablespoon orange zest, 2 teaspoons ground ginger, 1/8 teaspoon ground cloves, and a few cracks of black pepper.
Graham Cracker Crumb Crust: Combine 9 ounces (2 cups) finely ground graham cracker crumbs with 2 ounces (4 tablespoons) melted unsalted butter. Scatter into a 9-by-11/4-inch glass or ceramic pie plate and press into an even layer over the bottom and up the sides. Bake at 350°F until firm, about 18 minutes. Cool to room temperature for immediate use in your favorite recipe, or wrap tightly in plastic and refrigerate for up to 1 week.
Gluten-Free: Replace the whole wheat flour with 6 ounces (11/4 cups) white rice flour, 4 ounces (1 cup plus 2 tablespoons) oat flour, and 1/2 ounce (1 tablespoon) kinako.
Excerpt and photograph from BraveTart: Iconic American Desserts by Stella Parks. Copyright © 2017 by Stella Parks. Photographs copyright © Penny De Los Santos. Reprinted with permission of W.W. Norton & Company, Inc. All rights reserved.
This segment aired on September 22, 2017.