Americans Signing Up For Affordable Care Act Despite Lack Of Advertising, Facilitation
06:02
Play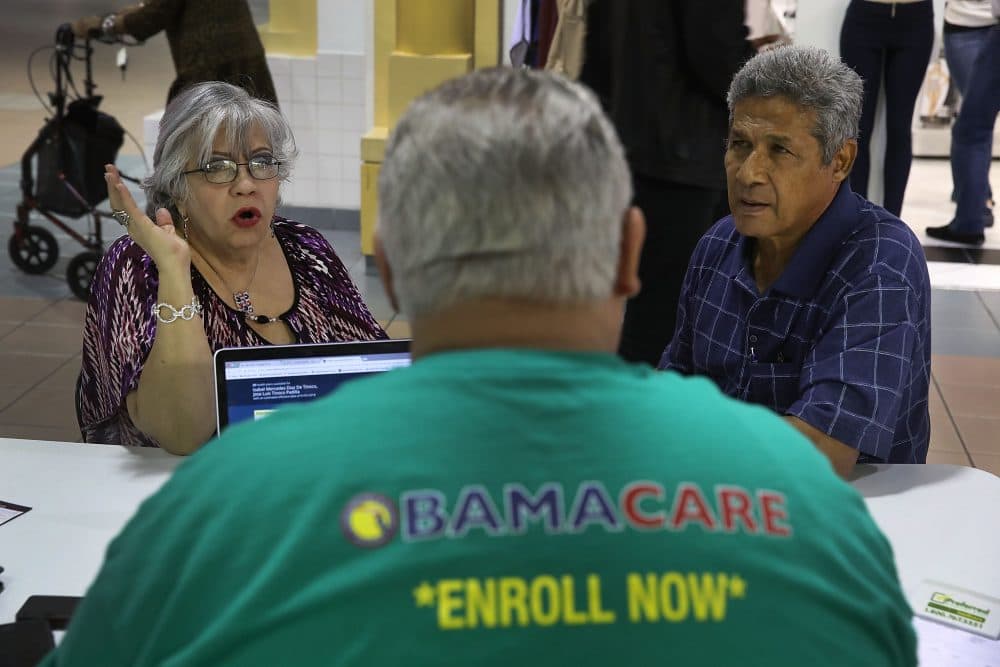 This article is more than 2 years old.
Despite President Trump's declaration last month that, "As far as I'm concerned, Obamacare is dead," Americans are signing up for coverage through the Affordable Care Act in unprecedented numbers. Nov. 1 was the first day of open enrollment, and 200,000 Americans signed up on that day — double the number that signed up on the first day last year. This despite cuts in advertising and on-the-ground facilitation.
Lori Lodes (@loril) co-founded a not-for-profit called Get America Covered to try to get the word out about ACA sign-ups. She joins Here & Now's Robin Young to talk about this year's enrollment, subsidies and premiums.
Interview Highlights
On reaction to the amount of people signing up for coverage
"I'm not surprised. I am heartened. One of the things that we were worried about is that the administration had done so little to get the word out about open enrollment, and in fact, had done a lot to undermine it, that we didn't know where people were going to be. I think it goes to show, it's not about politics for them. It's about their lives, and about making sure them and their families have the care they need to stay healthy. And then, two, affordable care is available. Trump has talked about, 'Oh the rates, they're skyrocketing. Obamacare is dead.' But the reality is, for most people, health care is cheaper this year than ever before."
On cuts to the advertising budget
"What I'm thinking about is, you know, the missed opportunity. If only they were doing everything they needed to do, or should be doing, to make sure that people get the information they need to get covered, think about what those enrollment numbers would be like. And we still have a long way to go. It's so important that we get the word out to people before Dec. 15, and we just don't know what the administration is going to do to help get us there."
On getting healthy people into the marketplace
"It is so important to get younger and healthier people into the marketplace. If you're young, if you're healthy, you might not be thinking about your health care coverage right now, unless you are reminded that you have to take action before Dec. 15, and that financial help is available. And so what we want to make sure they know is that 8 out of 10 people qualify for financial help, and that most people can find plans for $75, and many of them can even find health plans that cost zero dollars."
On cuts to subsidies for insurance companies
"The great news is if you qualify for financial help, the financial help you get this year will be more than it was last year or the year before. We're talking by about 75 percent. And the reason that is is because of the Trump administration's decision to not continue making the payments on the cost-sharing reduction. And so what that means is that financial help went up just as much as premiums went up."
"I think it goes to show, it's not about politics for them. It's about their lives, and about making sure them and their families have the care they need to stay healthy."

Lori Lodes
On the possibility that people feel more urgency to sign up now
"We do know that there is a chunk of people who either think the law was repealed or think it could go away. But I think having a yearlong conversation about taking it away has made people more cognizant of their life choices and what's happening. And so I think they were maybe more ready this year than they have been in years past."
On the navigator programs, community groups that help people sign up
"These community groups who are responsible for doing a lot of the hard work to make sure that people on the ground have the help they need, they sort of have been recommitted. So although their budgets have been cut, although their staffing has been cut, they are really stepping up to the challenge and making sure that they are doing everything this year they can to get people covered."
On who should be thinking about open enrollment
"Honestly anyone who doesn't have health care coverage, or who has individual coverage not through healthcare.gov. And healthcare.gov and the state exchanges are the only places you can get health care with financial help. And that financial help will lower your monthly premiums. And quite often, depending on what your income is, you could even get additional savings with lower deductibles and lower out-of-pocket expenses. So I think this year, with the options that are available, it is more important than ever that people visit healthcare.gov or visit their state-based exchange to find out what options are available for them. Because I think many people are going to be surprised."
This article was originally published on November 08, 2017.
This segment aired on November 8, 2017.