You Can Now Listen To A Livestream Of Whale Sounds 24/7
Play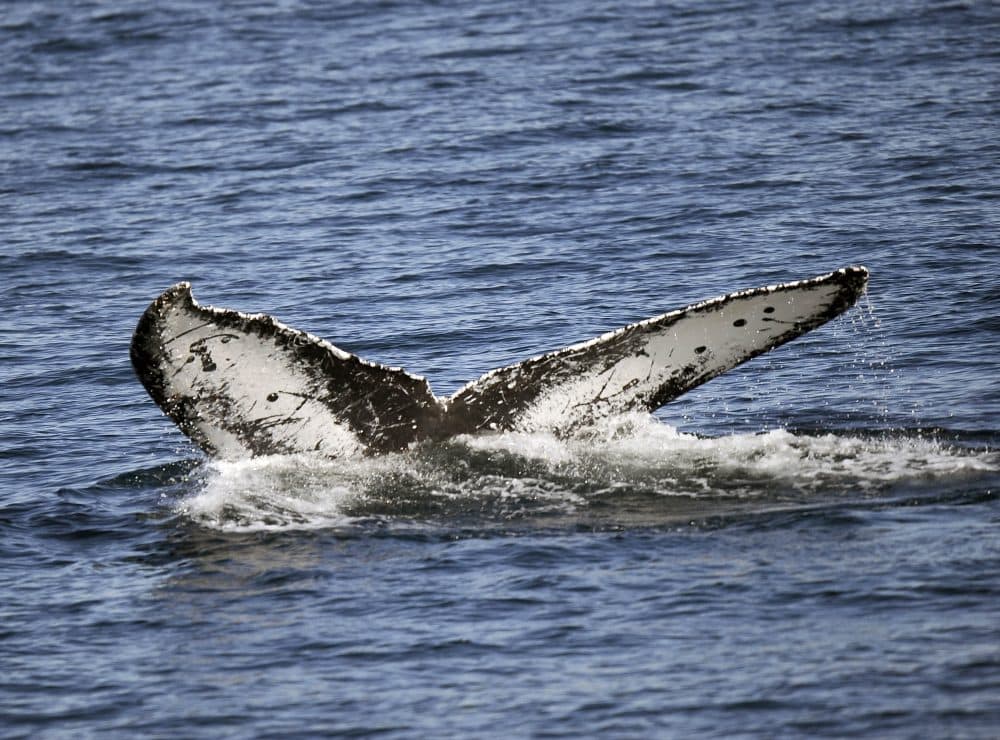 This article is more than 4 years old.
A new livestream on YouTube gives listeners the chance to eavesdrop on whales and other sea creatures 3,000 feet below the surface off the coast of Northern California. The sounds are being captured by an underwater microphone placed on the seafloor a few years ago.
Here & Now's Mina Kim speaks with John Ryan, senior research specialist at the Monterey Bay Aquarium Research Institute (@MBARI_News).
Interview Highlights
On how the project came to be
"A friend of mine asked me one day, 'Why isn't MBARI ... doing more with listening in the ocean?' And I thought that was a really good question because we already had a cabled observatory, this connection to the deep sea with a cable, which gives us power and communications. And so I proposed a project that would put a hydrophone, an underwater microphone, on that cabled observatory."
On getting the microphone down there
"We used a remotely operated vehicle, and already in place was the deep-sea cabled observatory. So it has on it a number of science ports where you can bring your experiment down to the deep ocean and plug in. And the amazing thing about that is here you are, 3,000 feet below the surface in salt water, and you can just plug it in and it works."

On fixing the mic if it goes offline
"The good news about being connected in real time is that you know if it's working or not. And yes, on occasion, we've had some internal network issues that have briefly interrupted the continuous stream, but we also have the ability to know when those problems arise and fix them."
On not being able to hear some of the calls
"Most speakers — for example, your computer speakers or your phone speaker — can't represent the very low frequency sounds of a blue whale B call. So what's a lot more fun is if you play it back at normal speed through a substantial subwoofer, and let the walls shake. But that's part of the fun of it, is, you never know on any given day what you're going to hear."
On the scientific value of the recordings
"Two of the species, the blue whales and the fin whales, they're still endangered. Their populations still have not recovered from the whaling days. And so, in order to effectively protect this recovering species, we need to understand their ecology and how their ecology varies with changes in the environment. And the great advantage of listening is that we can listen all the time. We can study these migratory giants with visual methods as well — go out on a boat, get out the binoculars, identify the animals that we see at the surface. However, they're not spending all that much time at the surface. So, with this research, we can build the solid scientific foundation for supporting the recovery of these endangered species.
"Just to follow up on that education and outreach, this livestream kind of started with a temporary mobile exhibit so that we can represent the wide range of sounds that we record in the soundscape, from very high frequency sounds to very low frequency. But there at the National Oceanic and Atmospheric Administration's exploration center in Santa Cruz, we brought this mobile exhibit to the public. And we found that people were very quickly fascinated. And so we're in the process of developing a permanent exhibit there so that people can, for free, walk in and experience the ocean soundscape."

This article was originally published on May 01, 2018.
This segment aired on May 1, 2018.