'They Don't Have To Be Alone In This': Drug Users Unions See Membership Increase
10:40
Play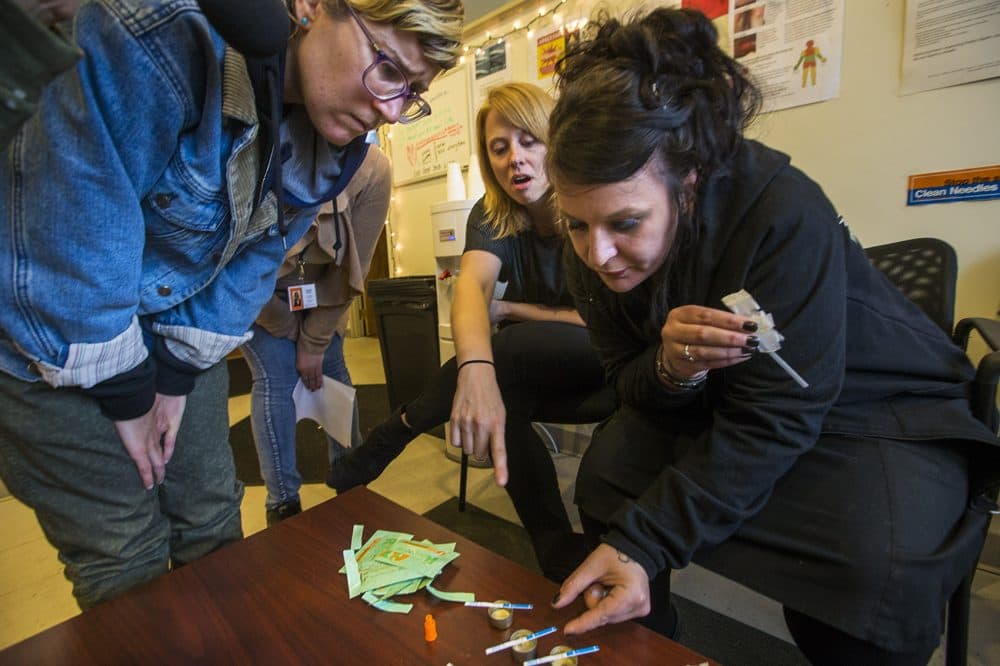 This article is more than 3 years old.
The opioid crisis has seen people who use drugs come together in unions to advocate for their communities, and to give each other support.
Here & Now's Robin Young speaks with Jess Tilley, president of the New England Drug Users Union, who says everybody's recovery from addiction "looks a little bit different."
"People always think recovery is either you're completely abstinent or you're in full chaotic use, and there is a world in between," she says.
Interview Highlights
On her experience starting to use heroin as a teenager
"I initially started at 15, and I always tell the story about coming back to school when I was 15 and realizing that probably nobody in my high school had injected heroin that weekend. That's where the stigma first began. And by 18, my two closest friends were completely strung out, and I actually had this animosity for heroin. However within the next year, I would be sexually assaulted, and I turned to heroin. It was my first drug. And it was the only thing that allowed me to feel present without actually having to be present, if that makes sense.
"However, my use got very chaotic because I was using alone and in secrecy, as many drug users do. And when I found harm reduction, I realized I didn't have to be ashamed, because I was injecting a substance into my body. This is a misconception with harm reduction: I was taught that it is heroin, it can kill you. But there are ways to use safely, until I was able to reach that point where I wanted to stop."
On continuing to use drugs after recovering, and the message that might send
"I always make the point to say I know I'm not infallible. Like I know that if I use too many days in a row, I'm right back where I was years ago. [I've] also realized that I'm at a high risk for overdose, because I'm a recreational user if anything. So it's a very thin line that we walk. However, I feel as an outed drug user, I speak for the people who can't speak for themselves. I want people to realize that they don't have to be alone in this."
"Every choice we make, we're thinking about our own safety, and how not to be persecuted by the society that we live in."

Jess Tilley
On harm reduction
"In the world of harm reduction, it's any positive change. If somebody, say, is injecting five times a day, and we are able — and I say 'we' as harm reductionists — are able to help them achieve a goal. Maybe their goal is using two times a day, or maybe they want to stop injecting and just sniff. To us, that's a positive change. I call it like the pretreatment phase, or precontemplation, where I've always seen this, and every person I've worked with in harm reduction, there comes a point where they realize their lives are way too chaotic or their use is just uncontrollable, and they want to stop. However that stopping may not be for the rest of their lives. It may just be for a month. It may be for, you know, a period of three years, and then they may try using again.
"And this is where the judgment comes in, and this is where I see people fall into the gaps and die. Because when that time comes, they tend to be using alone. I always talk about people using behind closed doors and dying, because they're so ashamed of that stigma that comes upon a person who chooses to pick up again. That's where I differ in my life. That's where I don't have that shame anymore. I will talk about it. If I decide to use again, I make sure I have people around me, I make sure there's a plan in place, that I've talked to my support, my network. And that's what keeps me alive.
"We as drug users are treated as second-class citizens, when we have a president that is talking about life imprisonment, or murdering drug dealers. I mean most drug dealers in this country now are middle-class white Americans who are selling to support their own habit. They are the children of parents that are speaking, and saying, 'We want drug dealers killed.' They don't realize it's their own kids who are dealing."
On how the union helps people who are struggling
"What we do as a union is we come together, we allow people to share their experiences, to talk about the stigmatization. We address mistreatment of drug users at emergency rooms, in housing. ... People who have housing, and that may have had a child overdose in their house cannot call 911, because they'll lose their housing. Think about how terrifying that is for a parent or somebody who's in school who's on scholarship, they can't call 911, or their friend can't call 911, because that person will lose their scholarship. Every choice we make, we're thinking about our own safety, and how not to be persecuted by the society that we live in. I try to say instead of 'drug user organizing,' I say 'community organizing,' because we're a community that actually stands up for itself."
This article was originally published on June 06, 2018.
This segment aired on June 6, 2018.