Mental Health Solutions An Uphill Battle In Rural Honduras
Resume
The World Health Organization estimates 300 million people worldwide suffer from depression — calling it the leading cause of global disability.
Finding treatment can be trying, even in countries with the most advanced medical systems. Now imagine suffering from depression, schizophrenia, bipolar and other cognitive disorders in the developing world, where some patients live their entire lives without a diagnosis.
Community Health Partnership Honduras recently traveled to southwestern Honduras, among the poorest regions in the world. The nongovernmental organization partners Honduran and American volunteer medical workers who visit the region twice a year.
Ludis Marleny Rodriguez's home sits high atop a cliff, a 25-minute hike up a precarious dirt and rock path from the small village of El Sause. Her hut has dirt floors and outdoor plumbing and she lives with 11 family members. But all that is status quo. What torments her is the future of her 16-year-old daughter Gledia. The teenager is nonverbal and suffers from seizures, anxiety and aggression.
Rodriguez, speaking through an interpreter, describes her teenager as "a little bit incomplete," and says Gledia doesn't understand language.
"We are under God's will. I have to change her, give her baths, I have to feed her," Rodriguez says.
The issues, Rodriguez says, started when Gledia was just a baby. She thought there might be medical exams to figure out what was wrong, but those were only available in Tegucigalpa, the country's capital. That's one cliff face, 200 miles, $20 and at least three buses away over sometimes-impassable mountain roads.
With an income of $3 a day, the family couldn't afford that. But as Gledia grew up, caring for her became increasingly difficult.
"It was really hard because she was really aggressive," says Rodriguez. "Especially when I had my last children."
She described how Gledia would look for her baby sister and try to hit her. "So we had to take care of the newborn and her. And sometimes I didn't know what to do. So I only prayed."
Hoping for help from God is a common refrain in the region. The WHO wrote in 2008 that the inequity of access to mental health services in Honduras denies the right to care to the most disadvantaged sector of the population. Not much has changed over the decade.
Last November, after 16 painful years, a local health care worker flagged Community Health Partnership Honduras about the family. Their visit marked the first time Gledia had ever seen a doctor. And critically, the first time she received a diagnosis.
"He told me that my child has autism," she says, referring to CHPH physician Marco Corea. "It was the first time I heard that word."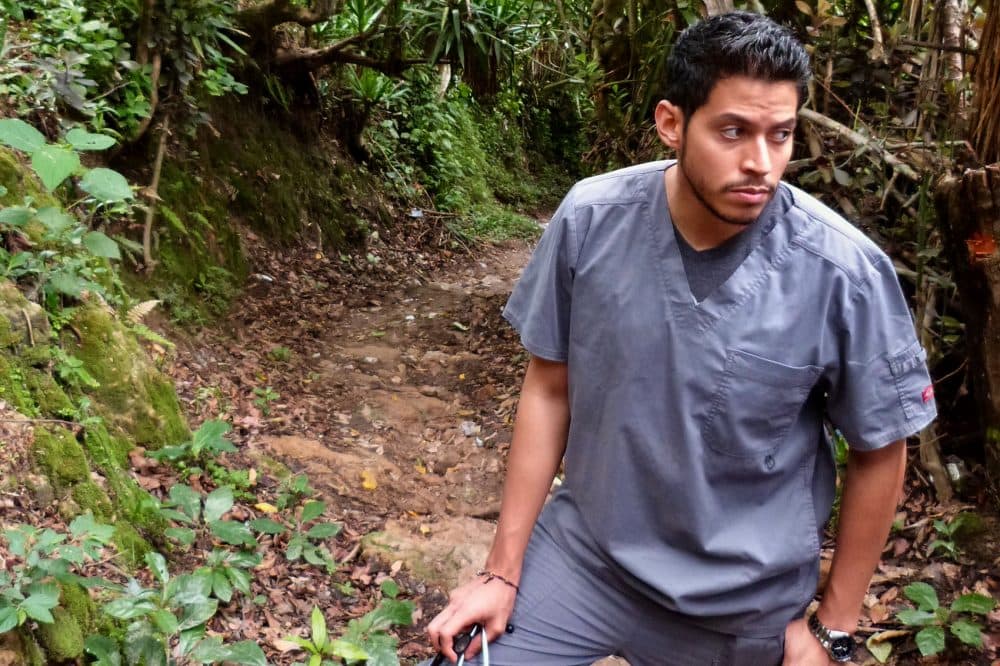 Rodriguez learned that autism needs to be treated with patience — that discipline, like hitting or yelling, are futile. Corea also prescribed medication for anxiety and seizures.
Now, Gledia is calmer. She watches from the dark house as Corea teaches her mother how to cut her small pills in half with a machete. But the years of caring for Gledia have taken a toll on the family. The other children are anxious and Ludis feels lonely and isolated.
"Sometimes I try to take her out of the house but she gets scared of the noise of other people and she starts [getting] really aggressive. So it's dangerous for her and for me. So I prefer to stay home with her."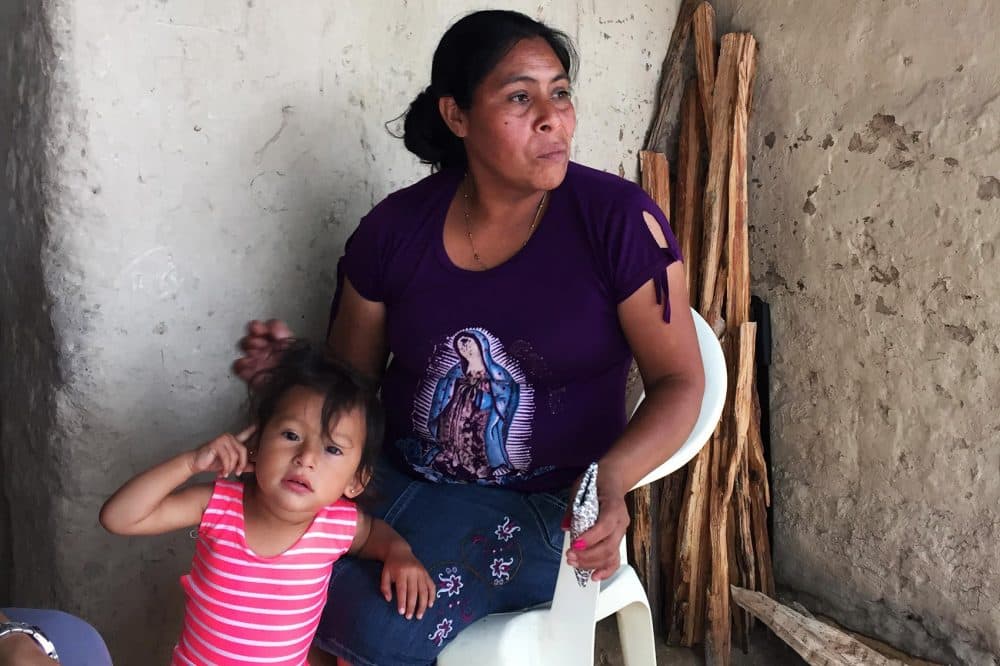 Several miles away, in the village of La Florida, patients wait for hours in a small clinic to see the CHPH doctors. The team treats patients from all 35 towns in the 85-square mile swath of mountains. The team has been visiting for half a dozen years, providing medical and pediatric care, eye glasses, dental work. This year, for the first time, there are also basic mental health screenings.
Fifty-nine-year-old Angelina Martinez is in a small examination room with California doctor Rob Collins and Honduran doctor Jorge Carrasco. She tested positive on the initial screening, and now they ask her about her sadness.
"The problem is me," she says. She says her life has no purpose, and that she's been praying to God, asking, "Why? Why am I this way?"
Maria Benites, 50, has also screened positive. She's initially reluctant to talk about her life and then quietly tells the physicians that her sadness started four years ago, after her son was murdered.
For Benites, Collins recommends therapy. He explains to her that it's not abnormal for her to feel this way, and that talking about it would help.
But Carrasco adds a note of realism: He says there's nowhere to get therapy in the region.
"There are no good options," he says, shaking his head. "There is no place to go in this area."
Benites and Martinez are both prescribed anti-depressants — an incomplete treatment, but better than nothing at all.
The acute need for mental health services is highlighted over and over during CHPH's weeklong medical brigade. Of the 158 patients randomly screened, 51 percent of women and 36 percent of men are positive. They cite reasons like chronic pain, poverty and domestic abuse. An 89-year-old says she just sits on her hammock, too sad to get up. A 35-year-old says she's too anxious to eat or sleep.
Back in 2004, the Honduran government recognized the country's profound need for more mental health services and launched an ambitious 17-year plan to overhaul the system. But 14 years later, the most critical issues haven't been resolved. The country's health care budget allots less than 6 percent of its money to mental health, almost all of it for in-patient services.
Carrasco says the situation is dire.
"In Honduras we have only two psychiatric hospitals, both in Tegucigalpa," he says. "There are too many people who need to be evaluated by psychologists or psychiatrists, but those two hospitals don't have enough personnel to take care of all the population."
In the end, he says, people can't get the care they need.
Carrasco adds that public clinics are supposed stock and dispense antidepressants, but says the reality is that "even when a patient is diagnosed with depression, or anxiety or other issues, there is no medication to treat them." The empty shelves, the stigma against talking about mental illness and obstacles to getting rural patients to treatment centers are, in his words, "a big problem."
It's hard to imagine a situation where the problem is more dire than a small village outside the town of Opotoro, where a winding dirt roads leads to the cinder block home of 42-year-old Reynaldo Lopez.
CHPH doctor Cindy McNamara and nurse Lineida Nunez, both from Connecticut, meet Lopez for his first-ever medical exam. He has a neuro-muscular disorder that prevents him from walking, as well as developmental delays. His elderly parents are tasked with taking him to the outhouse, bathing and dressing him.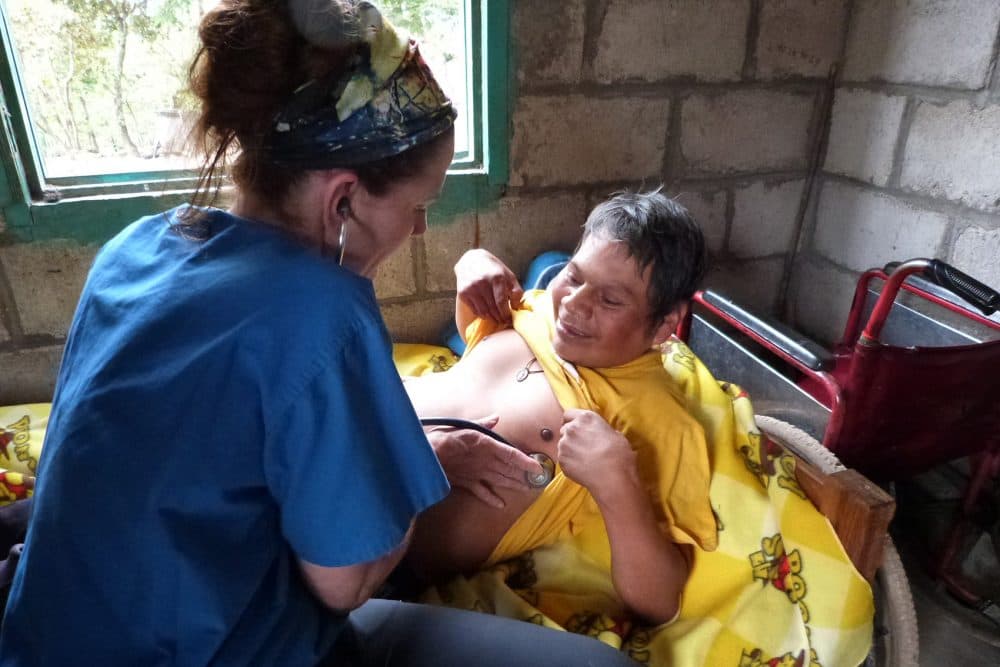 The exam focuses on his physical issues, until Nunez asks him whether he's sad.
Lopez lowers his head and sobs silently. His family has spent decades taking care of his body — it's the first time anyone has asked him about what's going on in his mind.
The team tries to comfort him, asking what makes him happy, but he continues to sob. "I don't know," he tells them.
The visit takes a toll on the team. They leave him with the only things they can — antidepressants, vitamins, ibuprofen. They even sing an off-tune Stevie Wonder song, since Lopez mentioned he used to enjoy music.
Back at the clinic in La Florida, Dr. Fernando Amador completes a lengthy follow-up screening with Rosibel Rodriguez. He's worried about her. He's diagnosed her with depression and anxiety, as well as a moderate risk of suicide. Still, she says she is relieved to find out there's medicine "for her head," something her family doesn't understand.
Rodriguez asks Amador to pass on a message to the head of the CHPH team.
"She would like for the brigade to bring a psychiatrist with them. It would actually be very helpful for people like her," Amador says.
When the team returns in November, that's exactly what they plan to do.
This segment aired on July 23, 2018.