You May Have Heard Republicans Use The Term 'Democrat Party'
Play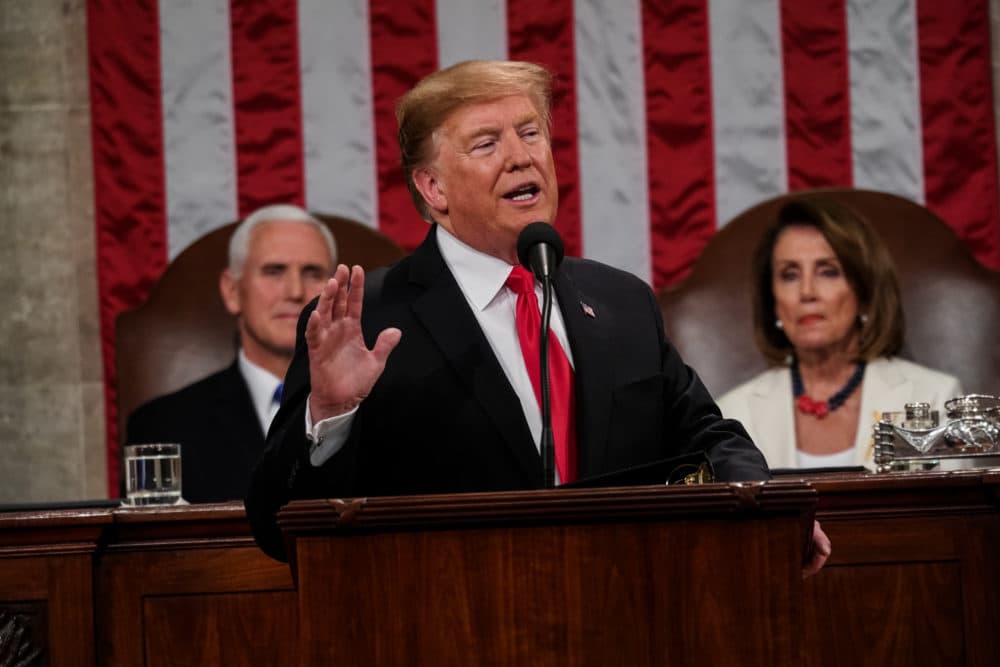 This article is more than 3 years old.
President Trump referred to a "Democrat agenda" in his State of the Union speech on Tuesday. He's said before that he prefers the term "Democrat Party" to Democratic Party, its official name.
But it's not grammatically correct — "Democrat" is a noun, "democratic" is an adjective — and it's also seen as a slight to Democrats.
NBC News national political correspondent Steve Kornacki, author of the book "The Red and the Blue: The 1990s and the Birth of Political Tribalism," says while the term doesn't have a specific date of origin, Republicans have used it as far back as the 1950s.
"[Sen. Joseph] McCarthy himself was known to use it. Other prominent Republicans of the period used it as well," Kornacki (@SteveKornacki) tells Here & Now's Jeremy Hobson. "The explanations that you heard back then were that they thought using the full, official name 'Democratic' suggested that they were kind of granting the premise that the Democrats were the party of the people. And then if you take that '-ic' suffix off of that, it changes the suggested meaning."
As Washington, D.C., enters a new period of divided government, something as small as dropping two letters off a party's official name could only serve to deepen partisan divisions, Kornacki says.
"Some Democrats kind of feel like it just sounds inelegant, it sounds rough, it sounds harsh, whatever word you want to put on it. So I think they're pushing back," he says. "They also just take it as disrespect — as a needless disrespect — as, 'Hey, this is the official name of our party. Call us by our name.' So I doubt they're going to turn around and embrace it too much."
Interview Highlights
On how use of "Democrat Party" has evolved over the years
"There were a couple of sort of eruptions along the way. There was one with Bob Dole when he was running for vice president back in 1976, he talked about 'Democrat wars' during a debate with Walter Mondale, his opponent. But really then it was in the 1990s, I think, when you had the rise of a new style of Republicanism in national politics that was kind of personified by Newt Gingrich. You had the kind of rise of a talk radio culture, Rush Limbaugh, and I think then it came back into prominence, and it's been there ever since."
"They ... take it as disrespect — as a needless disrespect — as, 'Hey, this is the official name of our party. Call us by our name.' "

Steve Kornacki, on how Democrats react to use of 'Democrat Party'
On President George W. Bush referring to a "Democrat majority" in his 2007 State of the Union address — and later apologizing for it
"It's interesting, the contrast between the clip you played of Trump [during the State of the Union] at the beginning and Bush, because Bush — the episode you're talking about from 2007 — a couple of days after that, he went to the House Democrats, they had had their annual retreat, and he basically apologized to them for it, and he said, 'My diction isn't that good, I occasionally mangle the English language, I appreciate you inviting the head of the Republic Party' — he tried to have a little fun with it, tried to defuse it. It seemed at least if it had been intentional, he regretted it. It's interesting to hear Trump use it and then as you often have with Trump, he sort of reads the stage notes out loud. He's like, 'Yeah, I say it because I like the sound of it. It's better. Basically it annoys them more.' "
On whether it hurts the Democratic Party when people call it the "Democrat Party"
"Frank Luntz, who's a Republican consultant and pollster, and somebody who's done a lot of work in that sort of intersection of language and politics — and he gets a lot of credit for sort of changing the vocabulary of Republican politics over the last generation or so — he actually did some testing on this, I think about 15 or 20 years ago, focus groups where he looked at reactions to changing 'Democratic Party' to 'Democrat Party,' seeing what that triggered in people. And what he said at the time was that, it basically ... annoyed the most-partisan Democrats. But it didn't really seem to have an effect on a broader audience. And so from that standpoint, the term that's come into being since then is 'trolling.' "
---
Julia Corcoran produced this interview and edited it for broadcast with Peter O'Dowd. Jack Mitchell adapted it for the web.
This segment aired on February 7, 2019.