Despite 'El Chapo' Conviction, 'Business Looks Better Than Ever' For Cartels, Mexican Journalist Says
09:28
Play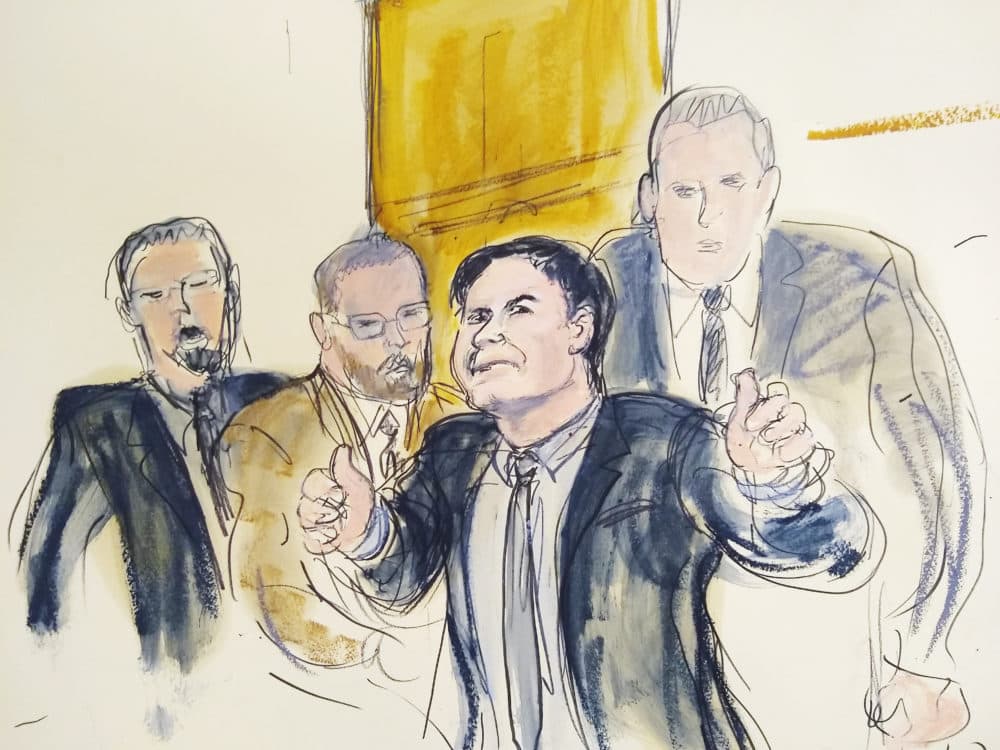 This article is more than 1 year old.
The conviction this week of cartel kingpin Joaquín "El Chapo" Guzmán was a sensational moment in Mexico's drug war. But business continues largely as usual for Guzmán's Sinaloa cartel.
"The cartels produce more heroin, more methamphetamines, more marijuana," says Mexican journalist and author Anabel Hernández. "Business looks better than ever even [though] El Chapo Guzmán is not there."
Despite Guzmán having spent the past two years in a Manhattan jail cell, nothing has changed, according to Hernández. 2018 was the deadliest year in Mexico's history, she points out, with 33,341 reported murders.
"El Chapo Guzmán is just a little element in the equation of corruption, drug trafficking and laundering money," she tells Here & Now's Peter O'Dowd. "This is the key, not El Chapo Guzmán."
Interview Highlights
On how Mexico has reacted to allegations made at Guzmán's trial of corruption in the country's government
"I think that for the Mexicans, we're not ... surprised about all these issues in the trial. Mexicans are very conscious about all this corruption in Mexico. I wrote the book 'Narcoland' ... and I reveal many of the things that were confirmed in this trial by the direct sources — direct narcos that were witnesses of these payments to the presidents, to the officials even in the highest rank in Mexico. So, maybe this is why in Mexico no one was surprised. No one cared … if El Chapo [would spend] … the rest of his life in jail."
On how the Mexican government has responded to the corruption allegations
"I just was talking last the week with one man that works very closely to the president. I was in an off-the-record conversation with him, and I asked him of course, 'OK, now the trial is finished, what next for the Mexican government?' And what these people said, what this man said is, 'Well … the new attorney general office just started one investigation related [to] the ... supposed corruption of Felipe Calderón and Enrique Peña Nieto, Genaro García Luna and many other names in the trial, just to confirm if it's true that they received money, if we can follow the money, if we can discover some some properties or bank accounts that [don't] correspond with their salary, so we can do something.
"This is the informal response of the Mexican government … and I know this man is very close to the president, so I think that they are ready to start one investigation. I don't know when they will finish it or what they will be able to [find], but what I have heard is that they already started one investigation."
On who has led the Sinaloa cartel during Guzmán's imprisonment
"Always, the Sinaloa cartel [has] had two heads: El Chapo and Ismael 'El Mayo' Zambada. Since 2001, both [have been] the heads of the cartel. Zambada has his faction, and El Chapo has his faction, but they used to have the same power. Now, since two years ago when El Chapo was extradited to the United States, El Mayo just [accumulated] all the power that [El Chapo] used to have.
"But you have to consider that [there's] still three sons of El Chapo inside the cartel: Ivan, Alfredo and Ovidio. These three sons of El Chapo are in the medium level of the cartel. They are very young. They are not able to have the power, the influence, the connections [like] their father. But I'm sure in the next months, maybe years, they will try to take back all the power of [their] father."
On how Guzmán's imprisonment has affected other cartels
"Since the last maybe six or 10 years, many things in the drug trafficking in Mexico haven't [changed]. We have these big cartels that everyone knows — Sinaloa cartel, Juarez cartel, the ... [Jalisco New Generation cartel] — but beside these cartels exist many other organizations that traffic lot of drugs, almost the same quantities [as] ... the Sinaloa cartel or the Gulf cartel, but in [silence]."
On whether Guzmán's connections to the cartel continue as he sits in prison
"Of course, and I think that there is a point that no one in Mexico or the United States have been talking about: One of the 10 charges against El Chapo is laundering money. According to the attorney general's office of the U.S. government, El Chapo has $14 billion by himself. [It] just accumulated in these 20 years where he was part of this drug trafficking. But until now, no one knows where … the money [is]. If you see that trial, if you see all the documents, if you try to hear all the depositions of the witness in trial, you will never hear, 'Where is the money? How [does] the cartel or El Chapo launder that money? In which banks? In which companies?'
"So, this is key in the power of the cartel, and it's key in the power of El Chapo. If he or the cartel is able to keep all the money, [nothing] matters ... because the money is the heart of the thing. El Chapo is not a drug lord because he wants to rape or because he wants to kill someone. No. He became this because [of] the money."
---
Chris Bentley produced this interview and edited it for broadcast with Todd Mundt. Jackson Cote adapted it for web.
This segment aired on February 15, 2019.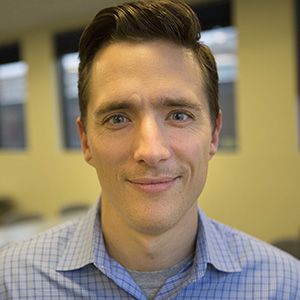 Peter O'Dowd Senior Editor, Here & Now
Peter O'Dowd has a hand in most parts of Here & Now — producing and overseeing segments, reporting stories and occasionally filling in as host. He came to Boston from KJZZ in Phoenix.