Carbon Emissions Hit All-Time High In 2018, As Demand For Coal Rises, Report Says
Play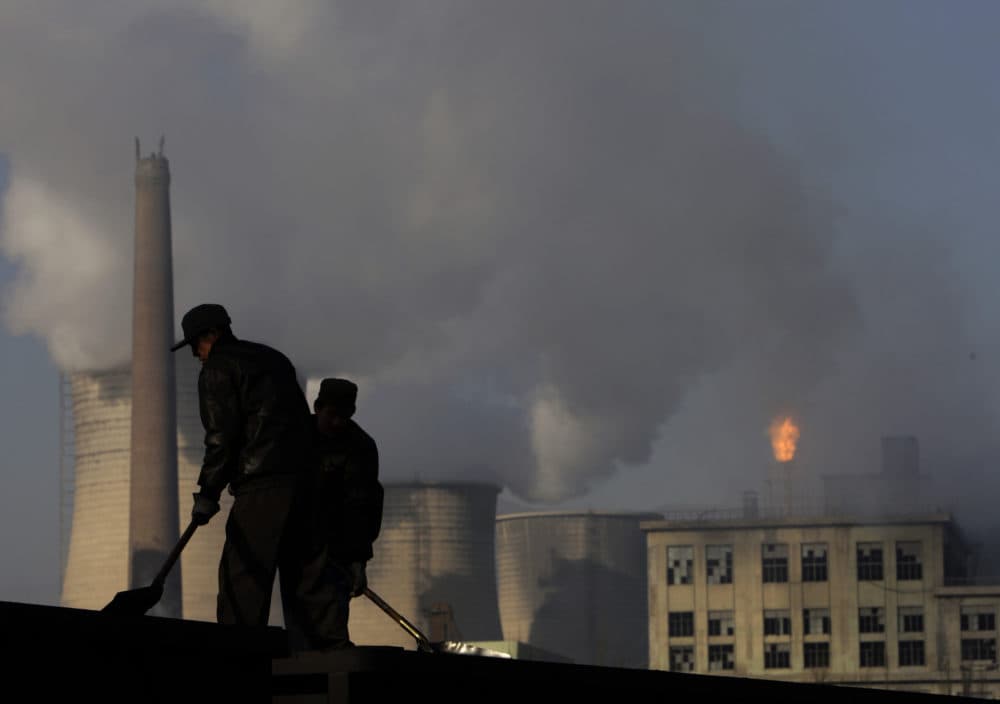 This article is more than 3 years old.
Carbon emissions around the world hit an all-time high last year as the demand for coal keeps rising, particularly in Asia, where China remains the world's biggest coal consumer, according to a new report from the International Energy Agency.
Coal-fired power generation is the still the largest energy field in China, but that trend is actually going down, says Ranping Song, developing country climate action manager for the World Resources Institute. Part of the reason is because China is investing more in renewable energy.
"It actually goes deeper to China's determination to change its economy and how the economy works," Song tells Here & Now's Peter O'Dowd. "So in the past, China [has relied] on industry sectors as the key engine for economic growth, but China wanted to shift that gear to ... a more service-sector-driven economy. And that has a big implication in terms of how much energy they need and where this energy needs to come from."
The report also found that Chinese coal plants are just 12 years old on average, meaning they could operate for decades to come. Song argues that the amount of coal China burns will continue to go down because there is no incentive to build for coal plants.
"So it actually makes no sense for China to construct any new coal power plants because they are going to shut them ... in the future if we're going to avoid climate disaster," he says.
Interview Highlights
On the growth in renewable energy in China
"I think China has been investing very heavily in terms of renewable energy in the past couple of years. We see really dramatic growth from China's renewable energy sector, and China's investing heavily in terms of future technologies, not only the current ones, including the batteries and offshore wind. ... So on one hand, China's very serious in rethinking their opportunities, trying to grow renewable energies and the cost have been coming down really dramatically in the past few years."
"The economy is actually switching gears from a more energy intensive and carbon intensive economy to a more climate friendly and low carbon economy."

Ranping Song on the Chinese economy
On if China consumes more energy on a per-person basis compared to the U.S.
"Yeah, of course. Not compared to the United States because in the U.S., we consume a lot of energy on a per capita basis. But then their per capita demand actually is rising. That's just natural because people want to have a better quality of life. So at one hand, we see that the demand is going up very fast."
On if global climate goals can be met without major changes in China
"I think that's still a very good possibility that China can switch to, transition to a low carbon economy. You know, what I'm seeing is the economy is actually switching gears from a more energy intensive and carbon intensive economy to a more climate friendly and low carbon economy. So we are seeing that there's a struggle between different sectors and different industries, so there's uncertainty there. But I see that's a huge political view from the top, from the Chinese government as well from the genuine demand from [the Chinese] economy that they would want to change because they know that our way could not sustain anymore. So I'm very hopeful, but it's not certain. It's far from certain."
---
Jill Ryan produced and edited this interview for broadcast with Todd Mundt. Samantha Raphelson adapted it for the web. 
This segment aired on March 29, 2019.