Sara Bareilles Shows Her Vulnerabilities On New Album, 'Amidst The Chaos'
Play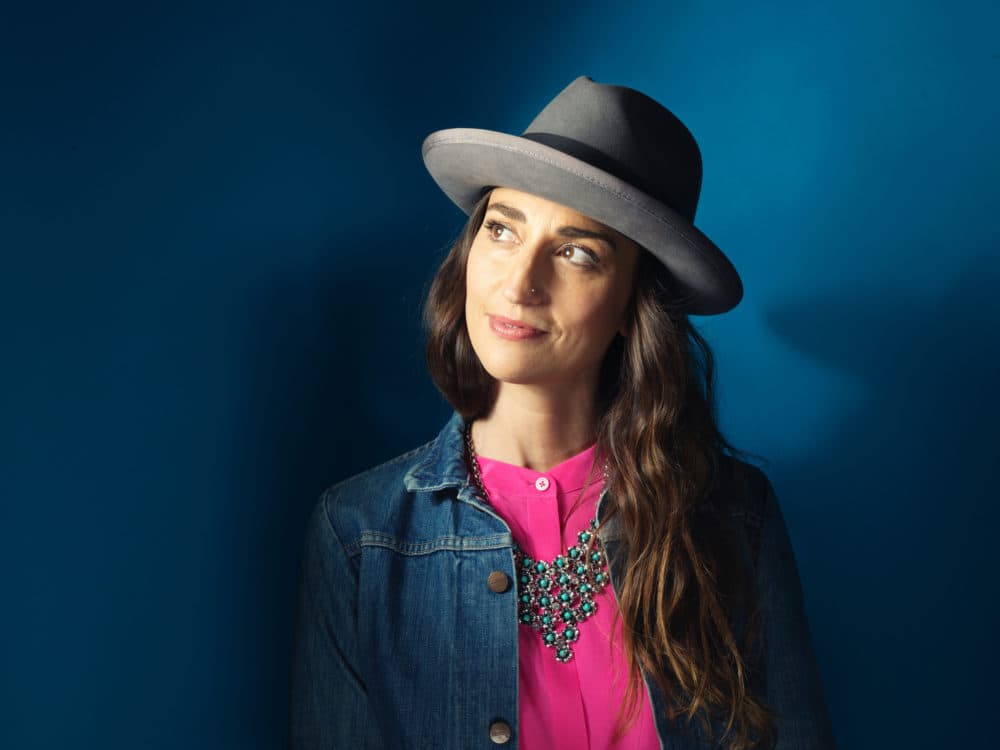 This article is more than 3 years old.
Sara Bareilles (@SaraBareilles) is out with a new album this week called "Amidst the Chaos."
The singer-songwriter has been a little busy. She recently starred on Broadway as Jenna in "Waitress," the Tony-nominated musical for which she wrote the music and lyrics, and as Mary Magdalene in the live television version of "Jesus Christ Superstar" last year.
Her new album includes 12 original songs, including "Armor," which was inspired by the Women's March of 2017. Bareilles says she drew further inspiration for the album from the 2016 presidential election.
"I really came away from those experiences reawakened — and maybe awakened for the first time," she tells Here & Now's Robin Young. "And I think the incredible gift I got from the last five years of working on 'Waitress' was this beautiful sense of how important collaboration is and talking about themes that were sort of outside myself and my own story."
Bareilles says she's not worried about the politically charged themes on this album alienating fans. After selling millions of records, she says she's overcome "that fear of disappointing people."
"I always come from a place of love and inclusion, and I don't want to apologize for my belief system," Bareilles says. "It feels more important to me to be honest than to sort of, you know, hope that someone buys my record."
Interview Highlights
On the song "Someone Who Loves Me" and the darker themes on this album
"That song in particular is really about my relationship to my own depression and anxiety and allowing someone else to sort of see you in your darkest hour. So that's something that I try to be outspoken about because I think it's easy to project a life that looks really sunny, but I'm someone who has to be really conscious about how I manage my own inner life.
"I think melancholy has always been a really good friend of mine. I think I had my first sort of mini-nervous breakdown when I was just in my early 20s, and felt like I was going crazy and was having some dissociation and couldn't stop hearing my thoughts. But I'm someone who's been in weekly therapy for years and years, and I'm a huge advocate. But I'm someone who just has, is gonna have a relationship with it for the rest of my life, and I'm much better at managing it now than I have been in the past."
On if she worries about getting too close to her own darkness with her music
"I think in my heart of hearts, I don't feel like there is such a thing as too close to the darkness. I think we can't be afraid of what is, and the closer we can go to what's just true, it sort of takes the bite out of it. If you can just be with whatever the feeling is and know that you don't have to change it or fix it, working on the practice of acceptance, I think, is a really, it's a huge theme for me in my music. It's certainly part of what I want to sort of preach in my own way to my fans that like we are all perfectly imperfect."
On her favorite song from the new album, "Saint Honesty"
"I have to say, I think, my favorite song on the record is a song called 'Saint Honesty.' And the reason I love it so much is because I've always been sort of too intimidated to put myself in the recording studio at the same time as all the session musicians. I have some real timidity as a piano player, and I worry about making mistakes. And one of the great gifts of working with [producer] T Bone Burnett is that he's really not about perfection at all. He's all about capturing a moment. So he really encouraged me to make music with the band, and it's the first time I've ever done that in my whole career as a recording artist, and I feel really proud of that. And there's mistakes and there's little imperfections, but it feels like the song's heart is intact, and that's the whole point of the whole record is that mistakes and all, it's all welcome here."
---
Emiko Tamagawa produced and edited this interview for broadcast with Todd Mundt. Samantha Raphelson adapted it for the web. 
This segment aired on April 4, 2019.