4 Little Girls Died In The 16th Street Baptist Church Bombing In 1963. A 5th Survived
Resume
Editor's note: This segment was rebroadcast on Aug. 28, 2023. Click here for that audio.
Birmingham, Alabama, is a changing city — it's going through a tech industry boom, it's got a burgeoning food scene and millennials are flocking there for the affordable housing and job opportunities.
It's also a city grappling with a painful past, one that includes lynching and marches and the Ku Klux Klan. It was also the site of the 16th Street Baptist Church bombing in 1963 that claimed the lives of four young girls: Carole Robertson, Cynthia Wesley, Denise McNair and Addie Mae Collins.
But there was a survivor among the girls in the downstairs ladies' lounge. Her name is Sarah Collins Rudolph, Addie Mae's younger sister. She calls herself the "fifth little girl," and has spent her life coming to terms with the physical — and mental — fallout from the attack.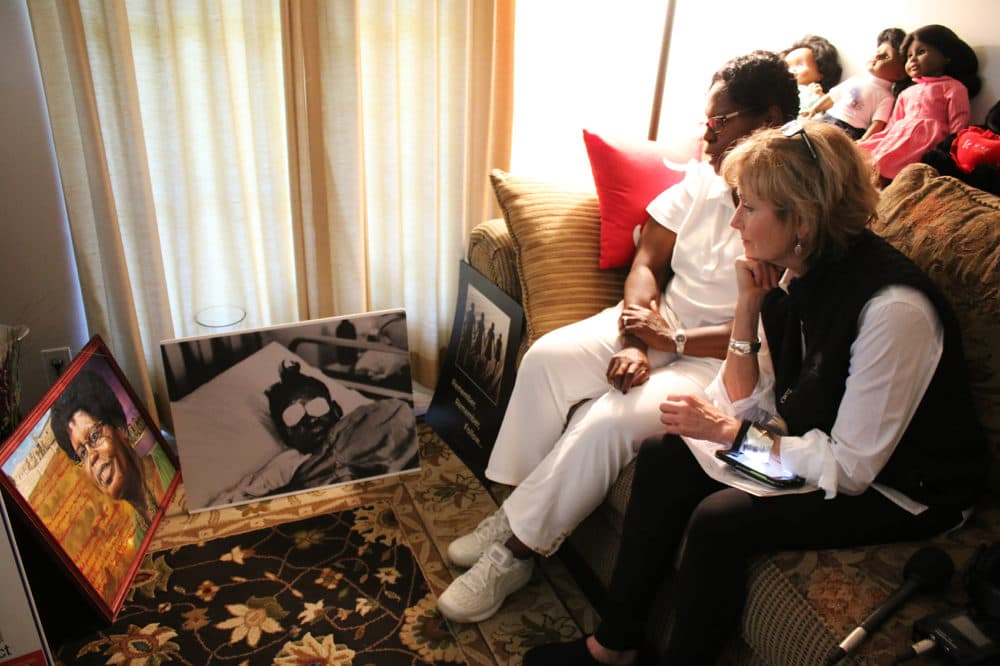 Rudolph says she's not surprised that many have never heard of her. She says she was "just a survivor." But she admits, with a little prodding, that she's a carrier of history. In fact, she remembers every detail of that Sept. 15, 1963.
She says the group of girls arrived at the church late, heading right to the downstairs bathroom "to freshen up" after a long walk. Rudolph watched her sister start to tie the sash on Denise's dress, and then, "Boom, the bomb went off."
That image is burned into Rudolph's memory. She says she never saw Addie Mae finish tying that sash.
Blinded by the shattered glass, Rudolph was rescued by a church deacon and hospitalized. She says she thinks about it every day, and still sees the scars on her face every time she looks at her reflection in the mirror. She ended up losing an eye in the bombing.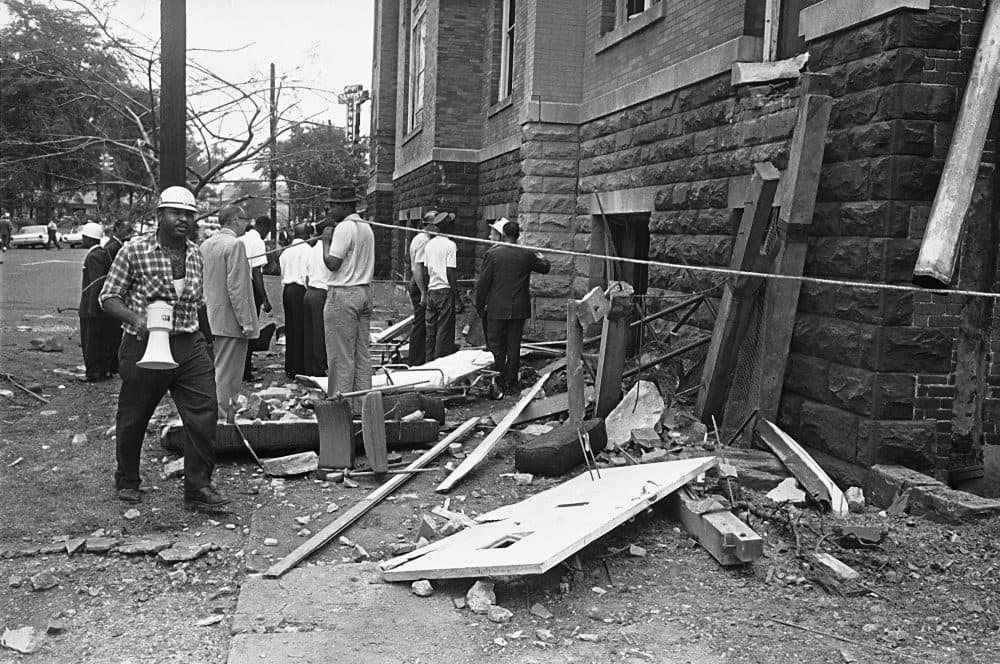 While she was hospitalized, a Life magazine photographer snapped an iconic photo of Rudolph lying in her hospital bed, her eyes covered in fist-sized gauze pads. She says she had no idea that the photo had been taken, nor that it polarized a nation that suddenly turned its focus to the civil rights issues rocking the South.
At the time, she says, "The police was involved. The mayor, the governor. They just hated our color. We couldn't even call the police if we wanted. All of them in the office was Ku Klux Klan. So we were having a rough time."
"I never knew a good Ku Klux Klan, really," Rudolph says.
Rudolph recognizes the four girls did not die in vain: She says that horrific act of violence was among the catalysts for the creation of the Civil Rights Act and the Voting Rights Act. But that doesn't take away from the profound disappointment she and her husband have in the people of her hometown.
"You go into church to praise God, and you come out without your sister."

Sarah Collins Rudolph
Despite the severity of her injuries, Rudolph received no counseling, little recognition and no restitution.
"The way they treated me here in the city of Birmingham, they don't acknowledge me as being the fifth little girl," she says.
Rudolph says she didn't initially know that her sister, or her friends, had been killed. She thought the group of girls had fled the bathroom. She learned the truth in the hospital from her mother, and says she dealt with it by crying, day and night, despite the pain that caused with glass still in her eyes.
"You know, you go into church to praise God, and you come out without your sister," Rudolph says. "And today, we still haven't gotten an apology from the city of Birmingham. Nothing. Nothing. [We're] still paying bills for doctors for my eye."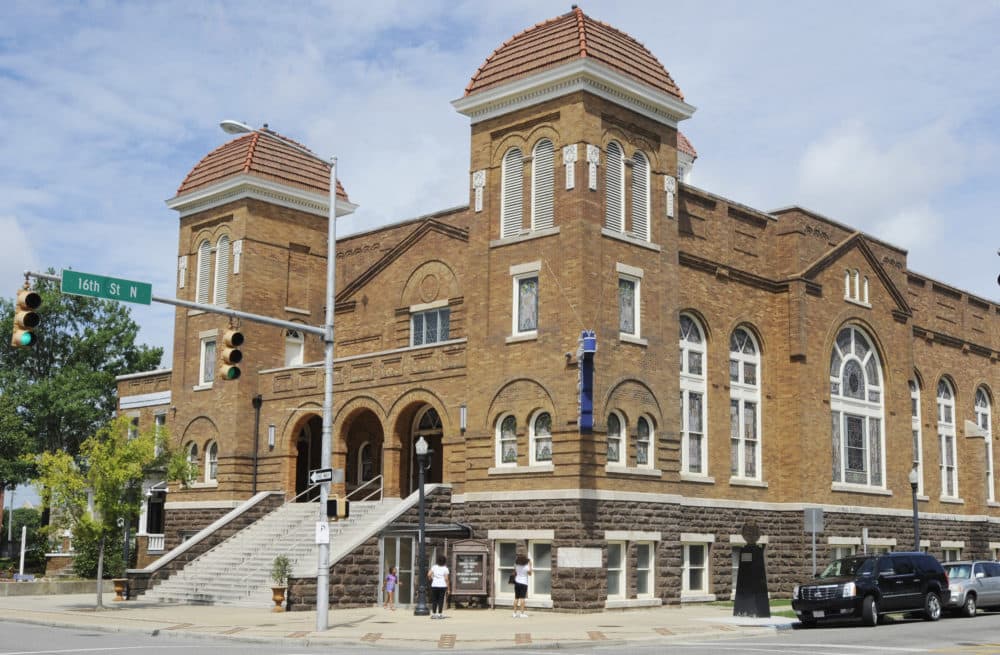 Rudolph admits that after being exposed to violent racism as a young child, she began to feel the same way.
"I started to get just like them. I was getting angry with them," she says.
That anger, and the lack of treatment, led Rudolph to alcohol and marijuana — habits she was able to kick with a return to God, she says.
Her husband, Vietnam veteran George Rudolph, says he's angry that his wife has experienced and continues to experience pain.
"What my wife went through at 12 years old, she went through Vietnam. She was in an explosion, all that stuff raining down on her. She was in Vietnam at 12 years old," he says.
"But you see," he says, "she never has got any kind of restitution for what she went through. Like those people in New York, 9/11, [the] Boston Marathon [bombings.]"
Sarah says it's hard to hear about the spate of recent church burnings and shootings, synagogue massacres and more. She worries the political tone in the U.S. is setting the stage for more violence.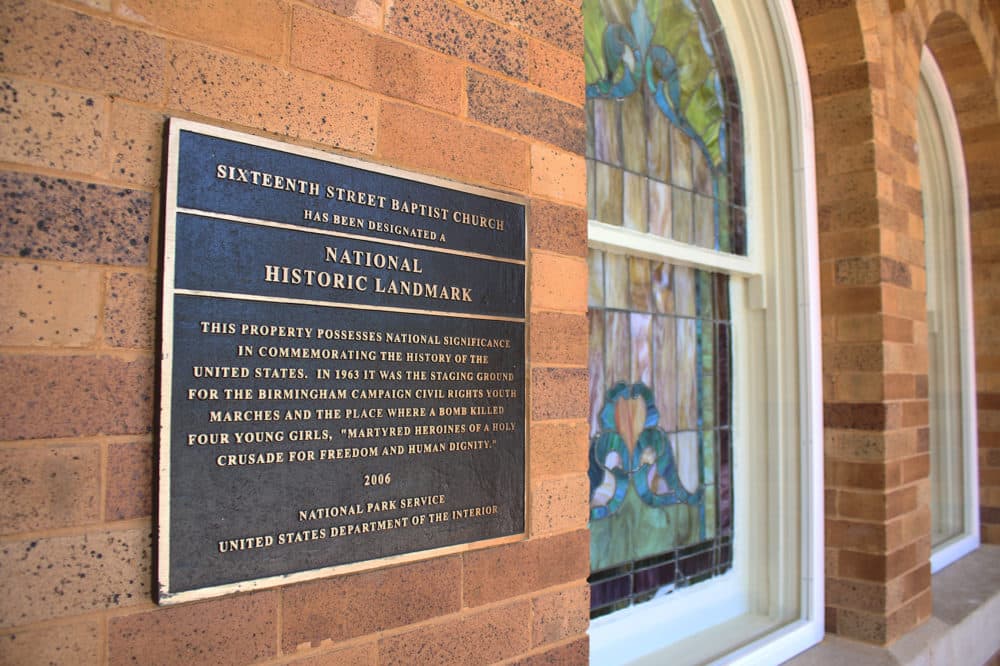 "We have a president now, and it looks like all this stuff is coming back, because he don't talk against it," she says. "The Ku Klux Klan is coming out, the Nazis are coming back out again."
Her tone changes when she talks about her sister, Addie Mae.
Sarah says Addie Mae was a sweet girl who she knows is now in heaven. She regrets not having gone to Addie Mae's funeral because she was in the hospital — and not having met Martin Luther King Jr., who eulogized her. But she takes some solace in the memories of the time she spent with her sister.
"We had some good times," Sarah says. "I still miss her."
This segment aired on April 30, 2019.