José Andrés Wants To Change The Way You Think About Vegetables
Resume
For the first time in 10 years, famed chef and philanthropist José Andrés has published a new cookbook.
"Vegetables Unleashed," written with food journalist Matt Goulding, is a book with a message: celebrate and elevate ingredients that the Spanish-born Andrés says are too often relegated to side-dish territory. It also features a recipe the James Beard Award winner calls one of the most "insane" he has ever come up with.
"[Vegetables] deserve more respect than the respect we're giving them," Andrés (@chefjoseandres) tells Here & Now's Jeremy Hobson. "If we want to be feeding the world, I believe that vegetables are going to have to be at the center of the plate."
You may have also heard Andrés' name in the news recently. He opened his Washington, D.C., restaurants to feed government workers furloughed during the partial government shutdown, and has been heavily involved in relief work in places like hurricane-stricken Puerto Rico and Houston. He even helped introduce Best Picture nominee "Roma" at this year's Oscars.
Andrés remains active with his nonprofit World Central Kitchen, along with managing his more than 30 restaurants around the world. He says despite broadening his focus into areas like politics and activism, food is still a central force in his life — and that he's motivated to find ways to share it with others.
"I live and I breathe food every day in a kitchen, or every day on a farmer's market, or in my restaurants," he says. "At the end, cooking is not about I, the person. Cooking is about we, the people."
Scroll down for recipes from "Vegetables Unleashed"
Interview Highlights
On why he wanted to focus this cookbook on vegetables
"The conversation on bringing more vegetables and fruits to the diets of everybody has been around for quite some time. But then it seems we never do enough. You go to the restaurants, and usually vegetables are a forgotten side dish. ... So this is a way to say, 'Hey, vegetables are here. We need to take them seriously. But don't be afraid of them. Vegetables are fun, they are mayhem. They like to misbehave.' That's what we want to tell people about vegetables. Vegetables should be part of your life every single day."
On writing that fruits and vegetables are "sexy in a way that a chicken breast can never be"
"Well imagine: You put the chicken breast in your mouth and your start slowly munching. Yes, at the beginning you have some juices — if it's not overcooked — flowing around your mouth. But after four or five seconds, those juices are gone. And then you are in your mouth with that kind of thing that is tasteless, that you have to keep munching for five, 10, 15 more seconds, and, '[Why] the heck I'm eating this? Why [am I] putting this in my belly?' A pineapple in the moment before you bring it into your mouth, the smell, the freshness, you start munching the pineapple, all the juices are flowing through your mouth from the beginning to the end. It's pure pleasure. Vegetables and fruits are much more interesting than a piece of meat."
"This is a way to say, 'Hey, vegetables are here. We need to take them seriously. But don't be afraid of them. Vegetables are fun, they are mayhem. They like to misbehave.' "

José Andrés
On how he grew to love vegetables, like his mother's fried green peppers
"The first time I hated a vegetable was green peppers, and my mother would fry them, and she [would] give them for me for dinner, and I didn't want to eat them. And she sent them to my school for lunch, and then because I need them, brought them back for dinner. I didn't eat them again. So you send them back to the school. Two days later, I ate an entire tray of green peppers, and now I can tell you that one of my favorite things in the world is the fried green peppers as my mother used to make."
On the simplicity of cooking vegetables
"I think sometimes we are so, so, so complicated in the way we are trying to tell people how to cook. We need to make it simple for people. Nothing to me is more [simple] than putting water and boiling the water and then adding any vegetable you want to cook. You can cook it to perfection. If you like it crunchy, you cook it less. If you like it more cooked, you leave it longer. You take it out of the water, some olive oil, maybe some Spanish paprika, pimentón, maybe some spices or sesame seeds, something very simple. You see in one second you can be feeding a big family in no time. To me, water sometimes is the most efficient technique to take care of vegetables."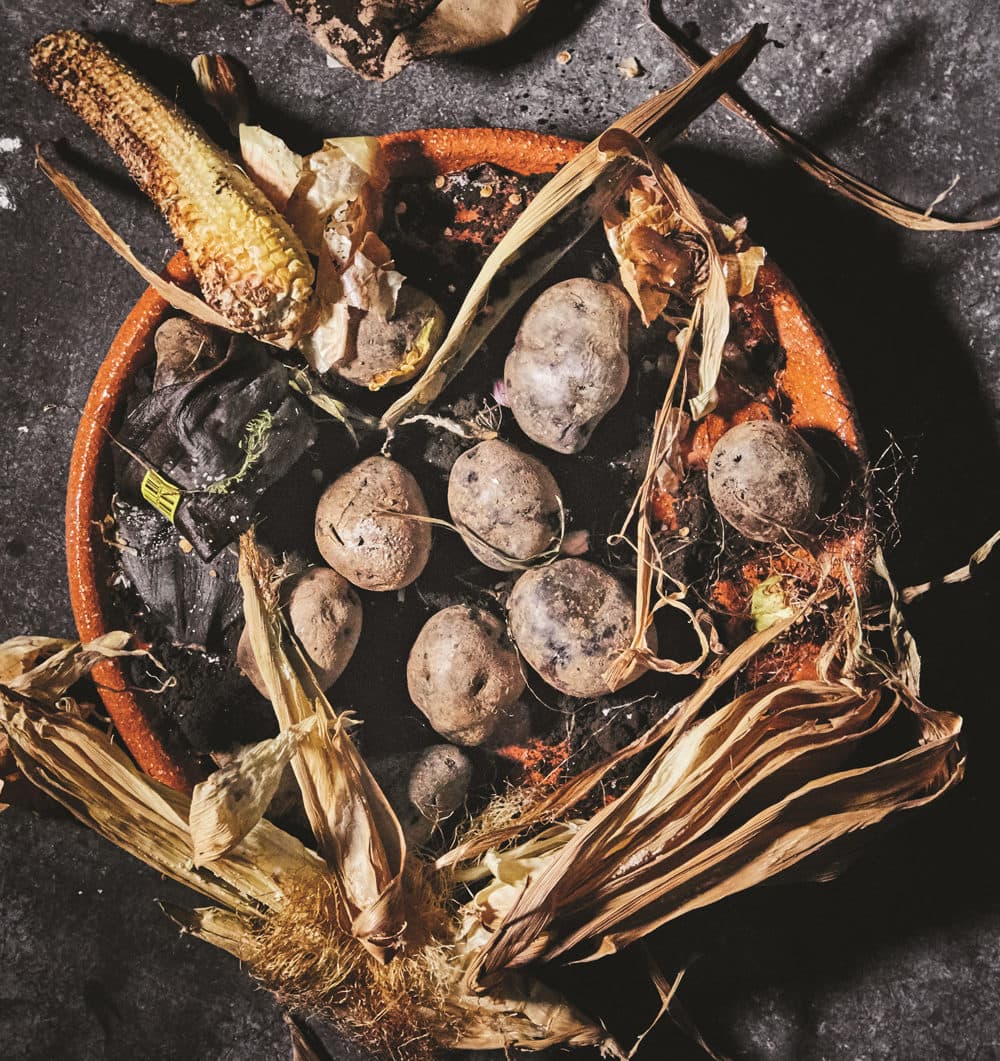 On one of the recipes in the book: "compost potatoes"
"In my house, yes, I have a little garden outside and we do composting of all the food. ... We have a little thing in the kitchen — the onions, the leeks and whatever leftovers of cleaning vegetables, we keep them there, and then we put out the coffee grounds. All of the sudden, my wife was about to take all of those vegetables and coffee of a couple of days to the compost bin. And I thought, 'Hold on a second, this is the same compost that at the end is going to end [up] in the dirt in the farm where we grow our potatoes. Why, if we cook the potatoes with the same compost, eventually they will become one?'
"So we got all those leftovers, and I think in that moment we had from corn, to coffee, to tomato peels, to potato peels. And then we kind of cover the potatoes on them, and we put them in the oven for almost an hour. And guess what? The potatoes cook, and those potatoes, between you and me, they were delicious. So this was only sending the message, 'Why [don't we] cook the potatoes with this same compost? It's actually helping those potatoes to come to light.' "
On his tomato beefsteak sandwich
"For me, making this tomato beefsteak sandwich, we began doing it because we opened a fast-food restaurant called Beefsteak, where my idea was, 'Let's do a fast food, which is called beefsteak, but where 99 percent of the foods are vegetables.' And we needed to have a sandwich, not only bowls or vegetables and grains. And so we made this beefsteak sandwich were, as you see, it's very juicy. When you go into your mouth with that bread and that mayo and the greens and the tomato, and all the juices begin flowing through your mouth, it's like, 'Yes, a beef burger is awesome. But we need to be fair and give an opportunity to a humble tomato also to have a space on the table.' And I love now to see that the beefsteak sandwich, every season when we put it on the menu, becomes one of the most successful items."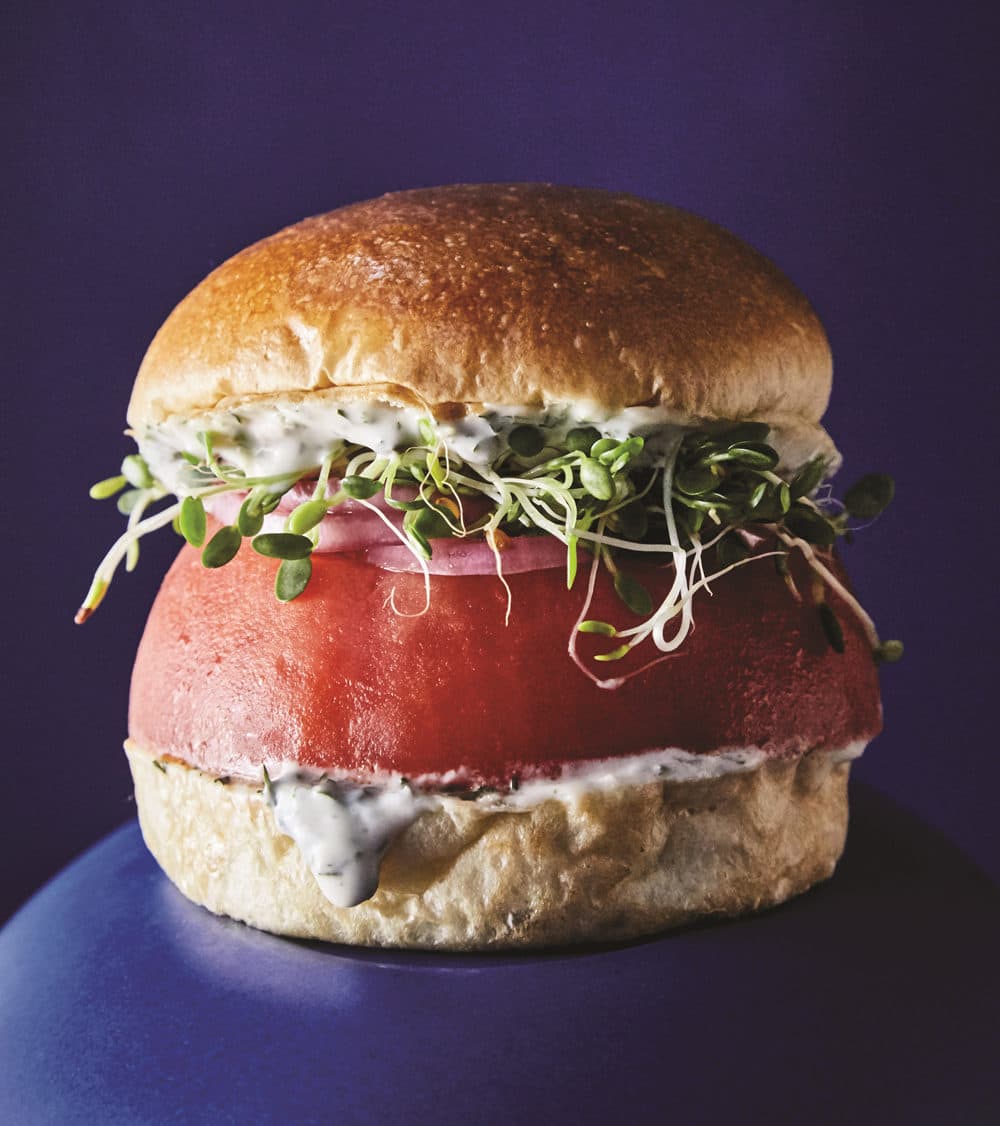 On being able to balance his work as a chef with the work he does with World Central Kitchen
"I'm surrounded by an amazing team of individuals that makes everything possible and allows me to keep also doing the other things I like in life. If people are in need of a plate of food in Colombia, I am not the one doing it. My organization is. Do I go? Yeah. Do I spend there a few days, a week here, a week there? Yeah. But again, it's not I, the person, but we, the people. We have amazing people here in America and around the world that when something happens, they put everything aside only with one very simple mission: to feed those people that are hungry after emergency, and I'm very, very lucky that I am part of that group of individuals that make it happen."
Recipes From 'Vegetables Unleashed'
by José Andrés and Matt Goulding
Excerpt from VEGETABLES UNLEASHED by José Andrés and Matt Goulding. Copyright 2019 by José Andrés. Excerpted by permission of Ecco, an imprint of HarperCollins Publishers.
---
Emiko Tamagawa produced this interview and edited it for broadcast with Todd Mundt. Jack Mitchell adapted it for the web.
This segment aired on May 23, 2019.