Illinois Abortion Provider Prepares For Influx Of Patients From Missouri
Play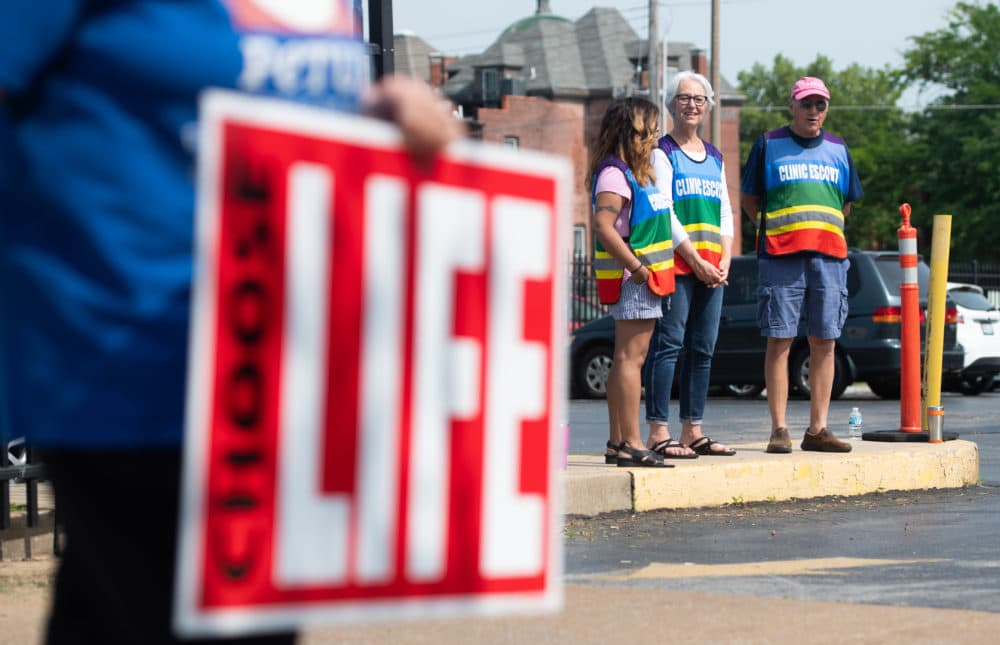 This article is more than 3 years old.
The fate of the last abortion clinic in Missouri is in a judge's hands, after the state's department of health didn't renew the clinic's license, citing concerns about patient safety.
Meanwhile, an abortion clinic over the state border in Illinois is preparing for an influx of patients from Missouri. Dr. Erin King, who runs the Hope Clinic for Women in Granite City, Illinois, tells Here & Now's Robin Young the clinic has been ramping up efforts for years in anticipation of restrictive abortion policies in Missouri.
"We've been increasing the number of doctors, the number of nurses, the amount of time that we're open, and really trying to be as accessible as possible as more and more restrictions have passed in Missouri around abortion," she says.
More than half of the clinic's patients already come from Missouri because of the clinic's proximity to the border, but King says that number has gone up significantly.
"Just in the last year to year and a half, we've seen an increase by about 30 percent," she says. "And then in the last couple months that has increased even more."
Interview Highlights
On her views on abortion as a medical doctor
"I'm a gynecologist, and I've been practicing medicine for over 15 years, and I have specifically trained in women's health care to provide the care that my patients need. And I really strongly believe that patients that need access to abortion at that time in their life that they're seeking care, they know their bodies best. They know their lives best. Abortion is a very personal subject, and these are not decisions that people make lightly. These are decisions that people make in a well-informed, well thought out process."
On the reasons why women seek abortion
"The emotions that we see in abortion care range from grief — there's people with very highly desired pregnancies that find out that their pregnancies just can't continue. There's patients that have severe medical problems that they know that if they continue the pregnancy, that will be a detriment to their health. There are patients who come to us with relief because they know that if they continue their pregnancies, that from an economic situation they cannot continue to take care of the children that they already have.
"We see patients that are conflicted. They don't know. This is a pregnancy that potentially they would continue in a different situation, but at this point in their lives, whether it's that they have a partner that's not supportive, a family that's that's supportive ... we see that as well. We see patients who come to us that have been assaulted, and this pregnancy is a result of that. So we really literally see [3,000] to 4,000 patients a year, and every single patient has a different reason that they are here, and they are all very very good reasons."
On how women make the decision to have an abortion
"There are very very good studies that show that by the time people actually arrive to a health care facility for an abortion procedure, over 95 percent of them have made a clear choice. And I don't want people to think that when they get to our office, they necessarily suddenly have to have their procedure. We absolutely have educators, counselors here that talk to the patients, ask them about their decision, make sure that they do not feel forced in any way — that this is a decision that they are making. Most of the time, people know their bodies. They have talked to their own families, their own partners about this decision before they even walk through the doors to see me."
On the new Missouri law banning abortion after eight weeks
"We as doctors, our job is take care of the patient in a way that is legal for the patient and for ourselves. So I think the biggest concern for us is the wording around criminalization for the patient themselves as well. This is becoming a very dangerous part of health care for the patients and then for the doctors that provide it. So I don't think any of the doctors plan to do illegal procedures on the patients, but we just don't want to see our patients seeking care outside the health system where they could be criminalized as well."
On if she worries about her safety and the safety of other providers
"Yes, I do worry about the safety of myself, my family, the providers in general, the employees at that facility that where we work. With the language and the rhetoric that is being used by anti-abortion people, I think has really ramped up the level of anxiety on all sides, and then therefore has ramped up the level of potential violence. If people think that I am doing some sort of medically inaccurate procedure that's described by legislators or even our president, then of course, they're going to be more angry. Of course, they're going to be more violent.
"I mean, like I said, abortion is very personal — and that is OK. It is OK for each person to have their opinion about abortion. But what really matters is trusting the patient, trusting the doctors and trusting a system where a state can say, 'Look, we will oversee these doctors just like we oversee the rest of the doctors in our state. The medical care that they're giving will be safe for the patients seeking that care. And it will be legal and it will be accessible.' "
---
Jill Ryan produced and edited this interview for broadcast with Todd Mundt. Samantha Raphelson adapted it for the web.
This segment aired on June 6, 2019.