Tony Hale On Acting, Anxiety And Playing A Googly Eyed Spork In 'Toy Story 4'
Resume
Actor Tony Hale plays Forky in the new movie "Toy Story 4" — a toy handmade by a child out of a spork, pipe cleaner and some mismatched googly eyes. Forky is anxious, uncertain and a little bit neurotic.
In other words, a tailor-made Tony Hale character.
"That's how they pitched him to me. They're like, 'We have this spork, who has a little bit of a neurotic energy and we thought of you.' And I was like, 'Check. Sounds about right,' " Hale (@MrTonyHale) tells Here & Now. "I've had a history of kind of struggling with anxiety in my past, so it's nice to be used for good."
The fourth installment of Pixar's "Toy Story" hits theaters Friday. For Hale — known for his roles as devoted and abused bag man Gary on HBO's "Veep" and Buster Bluth on "Arrested Development" — voicing Forky means younger generations may best remember him for playing an animated spork. And he says he's OK with that.
"I love what Forky represents. He kind of started into this world with one purpose, and that's to help people eat chili and then go to the trash. And I love that Woody comes along and is like, 'No you were made for a purpose, and you have great value.' I think ... on a meta level, what a beautiful message," Hale says.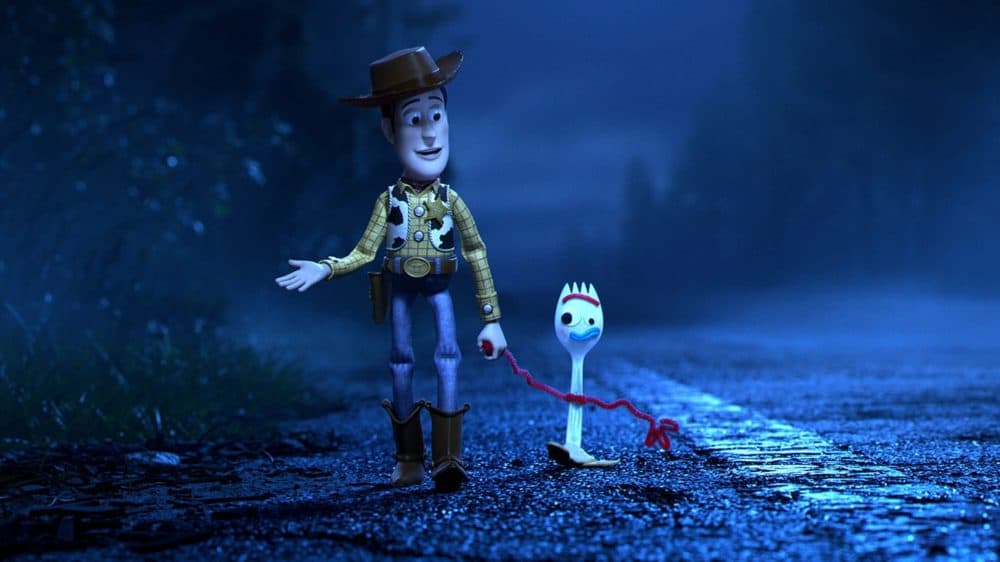 Interview Highlights
On uncertainty as an actor around the "Toy Story" script, and how it shaped his performance
"The interesting thing about being in 'Toy Story' was no one really was able to read a full script. They wanted to kind of keep it under wraps and stuff — which really helped Forky, because Forky is so confused about everything. He had no idea why he was there or what's happening next, and so it really was easy to get into that because I had no clue what was happening. I had no idea what was going on. Forky's very much a blank slate. He's always asking questions, no clue what's happening, so it really helped because I genuinely had no clue what was going on. And whereas like on 'Veep' or 'Arrested Development,' there was a real freedom of like, 'Yeah I feel like we've already done this' — especially with comedy because you're always thinking this can be done quicker, sharper, let's let it turn the comedy and all that kind of stuff. So there was a lot of input that they were very open to."
"I don't care how old you are, it's always the simplest messages that are what to me is the most profound."

Tony Hale
On "Veep" recently wrapping after a seven-season run, and whether he's sad it's over
"Yes, I'm so sad — I think because our characters were so abused and so atrocious to each other that we balanced it with just being crazy in love with each other off set. We just had the best time together, we loved each other. Honestly, I of course miss the material and Gary. I mean, playing him was so fun. But I mainly miss the camaraderie, because we were really close."
On which show he liked working on better, "Veep" or "Arrested Development"
"[They were] really different seasons in my life. I mean the thing is, 'Arrested' kind of kept coming back, but they were really, really different. I think just because 'Veep' just ended, my heart's there and I really miss that gang."
"The ironic thing is, side note, ['Veep' co-star] Julia [Louis-Dreyfus] was on 'Arrested Development,' she played the blind lawyer. And we were asked on separate occasions if we ever had a scene together, and both of us on separate occasions were like, 'No.' And then someone sent us a screenshot of us in a scene together on 'Arrested Development.' So it's like clearly, we both blocked it out. … Clearly we made no impact on each other's lives back in 'Arrested Development.' "
On his favorite "Arrested Development" gags
"I got such joy out of Tobias ... thinking the Blue Man Group was a support group for depressed men. That made me laugh so hard, and just the signs, like you'll just see this random blue handprint on the wall and it was just how that show just constantly — it was so dense and [had] so many callbacks. And I'll never forget when, before my hand was eaten off by a seal, I remember seeing, like, hand signs, and being like, 'Hmm, that's interesting.' Because I didn't know my hand was coming off. And I remember Buster had a hand chair, and I was like, 'What the hell's up with the hand chair? I don't know what's going on.' Cut to, no more hands."
On what's next after "Toy Story 4"
"I did this children's book years ago called 'Archibald's Next Big Thing,' and it was about a little chicken who's always looking to his next thing and missing where he is, and was kind of [about] learning how to be present. And now we're doing a children's series that's going to be coming out in the fall on Netflix, and now he's a chicken that just absolutely lives fully in the moment and sees the best in people and the best in situations, he goes on all these adventures, and his little sidekick named Bea — who in the book was like, 'You've got to just be, man. You gotta just be.' He's pretty much my hero, this chicken."
On reaching young kids as well as adults with his work
"I love it. I also especially love creating something for children with this children's series, because it's so — the messages are so simple and just beautiful and just sweet. The fact is ... I don't care how old you are, it's always the simplest messages that are what to me is the most profound."
---
Julia Corcoran produced this interview and edited it for broadcast with Kathleen McKenna. Jack Mitchell adapted it for the web.
This segment aired on June 20, 2019.