'Dear Evan Hansen' National Tour Has 'Touched People Across The Nation,' Actors Say
11:08
Play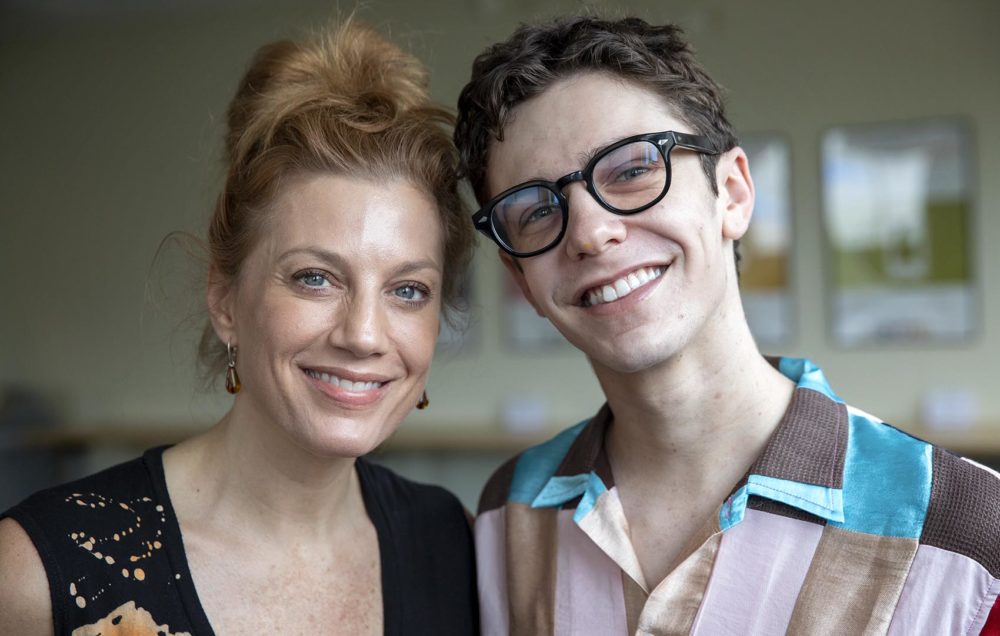 This article is more than 3 years old.
One of Broadway's biggest recent hits is currently touring the country.
Tony-award-winning musical "Dear Evan Hansen" tells the story of Evan, whose lie about knowing a high school classmate who killed himself spirals out of control largely due to social media.
It's a very modern story that explores themes of anxiety and depression among teenagers, and how social media can have a real impact on people's lives — for better or for worse. Jessica Phillips, who stars as Evan's mother Heidi in the touring cast, says she sees how this show resonates with fans night after night at the stage door.
"It's remarkable to me every time I walk out and I see these teenagers there and their parents, many are in tears, many are shaking with excitement," she tells Here & Now's Jeremy Hobson.
"Some people have said to me, 'This was my first time. I knew every word of the cast album, and I just can't believe I saw it come to life and it's even better than I imagined,' " Phillips adds. "And then some people say, 'I've seen it nine times, and it's just as great the ninth time, so thank you thank you for coming to our town.' " 
For Ben Levi Ross, who plays Evan Hansen, meeting fans is an interesting experience because at 21, he is so close to the age of the character he portrays in the show.
"The interesting thing is that a lot of people at the stage door could be my peers," he tells Hobson. "I think that also provides a level of comfort and familiarity when I go out and meet them, and if they are a theater student, which many of the kids at the stage door are or want to be, they can see that I am someone who's just like them. That I'm accessible. That this is, you know, a possibility."
Interview Highlights 
On how fans have reacted to the show
Ben Levi Ross: "I have an Instagram account, and after every show, I pretty much get flooded with messages from kids that were in the audience that night, whether it be someone who's just thanking me for the show that they saw or someone really opening up and telling me that they have struggled with self-harm, or they have been depressed for the majority of their lives, or they have dealt with anxiety in the same way as Evan or Connor. And sometimes the end of the messages will sort of finish with, 'And now I'm doing a lot better,' which is great for me. And sometimes they don't. And when they don't, I feel a bit of a responsibility to make sure that that kid gets tended to.
"So I'll take a screenshot of that message and send it to our PR team, who then has someone from one of our organizations that we are partnered with, whether it be The Trevor Project, Child Mind Institute, Born This Way Foundation. One of those organizations will literally reach out to that kid directly and send them a message, and they can have a conversation with a professional. Because that's, you know, it ends up sort of becoming my responsibility in a way. Even though I am just the actor, I'm not going to let that just fall to the wayside."
On the music in the show 
Ross: "I love the music. Also I was an understudy on Broadway for a year before this. ... I played two other characters. I played Jared and Connor and Evan in New York. And Jessica's been listening to this music obviously for the year that we've been on tour, but for it to be two years for me of listening every night to the same score, you know, I still love it."
Jessica Phillips: "Yeah, it's infectious. I'm not tired of it."
On bringing the emotion to these characters every night 
Phillips: "It is different every night, and my job is to say the dialogue as honestly as possible. But honestly, the entire character arc for me ends up being a bit of a meditative experience because it is so real, and it is so anchored in actual words that I've said to my own sons and dialogue that almost every parent who's in the audience has said at one time or another, and feelings and emotions and experiences that most parents have had or are having, that I can't think about anything else. And so in those scenes, in those moments, especially when we're having these mother and son intense dialogues, I am completely present and I make it through that experience satisfied. Even though it rings me out, it is a resolution of sorts, and it feels really satisfying to come through that."
Ross: "There's something like magical. This sounds so ridiculous, but there's something kind of magical that happens every night. And at this point, I don't really know. I just go on stage, and then it happens. And that sounds so simple and so general and so ridiculous, but at this point, I just have to give myself over."
On playing multiple roles in the same show 
Ross: "I loved playing all of the roles that I understudied on Broadway. And also I will say that the one thing that I carried over from that experience into playing Evan full time was that it sort of gave me a level of empathy for these other two roles that I played. I understood why Jared was insecure. I understood why Connor was lashing out. A little bit more than I would have understood had I just seen the show from Evan's perspective."
---
Emiko Tamagawa produced and edited this interview for broadcast with Kathleen McKenna. Samantha Raphelson adapted it for the web. 
This segment aired on July 22, 2019.