NCAA Threatens To Bar California Colleges From Competitions Over Student Athlete Pay
Play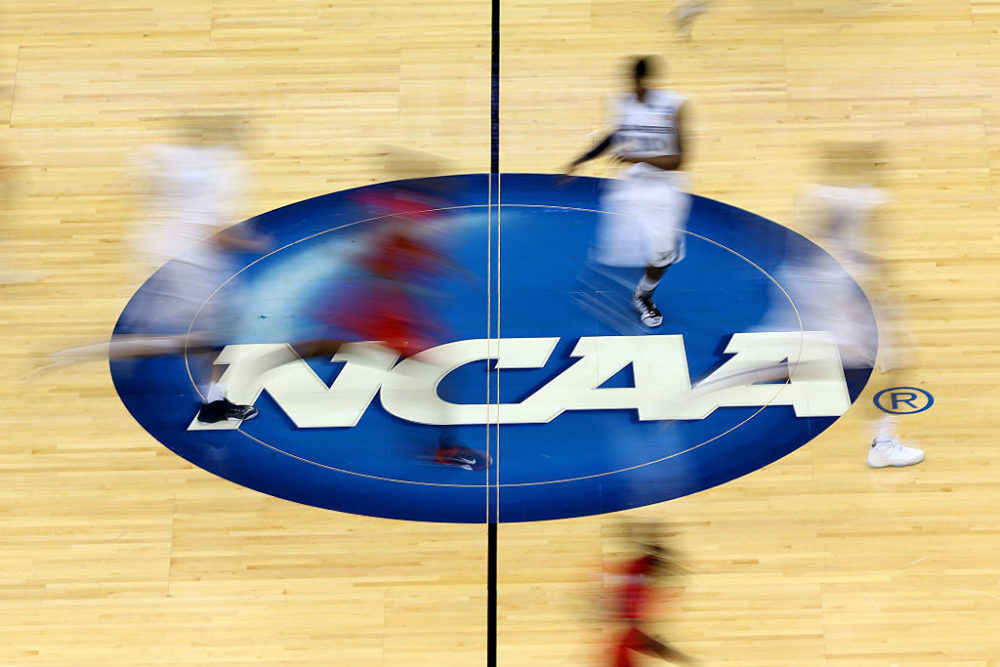 This article is more than 3 years old.
A battle is underway between the state of California and the NCAA over a college athlete's right to fair pay.
The NCAA sent a letter to California Gov. Gavin Newsom this week urging him to veto Senate Bill 206. The bill passed on Wednesday and if signed into law, it would allow college athletes to hire agents, get paid for the use of their name and sign endorsement deals.
"If the bill becomes law and California's 58 NCAA schools are compelled to allow an unrestricted name, image and likeness scheme, it would erase the critical distinction between college and professional athletics," the letter read. "Right now, nearly half a million student-athletes in all 50 states compete under the same rules. This bill would remove that essential element of fairness and equal treatment that forms the bedrock of college sports."
Many high profile people such as Sen. Bernie Sanders and NBA star LeBron James have spoken out in support of the law. James said in post on Twitter that passing the law could push Congress to create a national policy for paying college athletes.
While the bill does not require schools to pay student athletes, it does allow them to hire agents who could help them earn income. The NCAA letter also threatened to ban California colleges and universities from NCAA competitions because of an "unfair recruiting advantage."
Denis McDonough, a member of the NCAA board of directors and a former White House chief of staff under President Obama, says he doesn't believe the bill is in the "best interests of student athletes."
"There's 500,000 student athletes in colleges across the country. Not all of them, but a good percentage of them, are in college because of the pathway that athletics afforded them," McDonough says. "I worry, myself, about the fact that this bill in one state in the country would end up undercutting that pathway, and at a time when it's already too expensive for so many families to send kids to college, I'd really hate to see this pathway go away."
Interview Highlights 
On whether college athletes should get a cut of the money they earn for their schools
"Look, I think that it's a very legitimate question, and fact is that many of the rules that we're talking about were written in 1975, and so there's no doubt that the rules need to be updated. We're looking at that very closely at the moment to make sure that we can update those rules into the 21st century here in a way that allows student athletes to have the same opportunities that other students have, which is in this new economy, in this new environment to generate revenue where they can. We just want to make sure that it's tied to their academic experience, and that it doesn't put California at a competitive advantage over the other 49 states in things like recruiting."
On if new NCAA rules would give allowances to student athletes
"I don't want to get ahead of the work that's being done. We have a working group of the board that's looking at this hard. So I don't want to rule anything like an endorsement deal in or out. What I do want to say is that we're trying to make sure that the experience of the student athletes is similar to the experience of their classmates. They're in this economy. They're YouTube influencers. They're using social media. They're getting opportunities to start businesses. I think it's reasonable for us to look at that for student athletes, too."
On threatening to ban California colleges and universities from NCAA championships 
"I don't know that it's meant to be a threat as much as it's a statement of fact, which is that if you have a situation where California has arguably a competitive advantage over the other 49 states in recruiting student athletes, then I think that it throws into question the fundamental fairness of the competition. And that's what we're focused on here. First and foremost, we're focused on the health and well-being of the student athletes. But then the championships are the NCAA and the country's way of manifesting that competition in the most fair way. And if California is operating under a different set of rules, that does not allow the competition to unwind fairly."
On if the NCAA is losing the battle for public opinion on this issue 
"I will say it's daunting to be on the other side of a tweet from LeBron, but we feel duty bound to protect the system of college athletics that allows fair competition across 50 states because I think it is an important pathway for people to get to college who wouldn't otherwise have the opportunity or be able to afford it. And we do know from all the social science data that the fastest pathway to economic mobility is with a college degree. So I want to make sure that whoever is on the other side of this, whether it's Sen. Sanders or LeBron or Draymond Green or the California legislature, that Gov. Newsom takes that into consideration before he signs the bill."
On if he would've felt differently when he was a young college football player 
"I'm not sure, but I also I'm not sure whether it's virtuous to not have a change of opinion or change of mind in those years. I mean, oftentimes you hear that debate here in Washington that somehow you should have the same view over the course of your lifetime. If you don't, I think that should be a logical rational fact-based decision. But look, I'm not saying to you that I'm against them having the same kinds of opportunities that their classmates have. I just want to make sure that this unfolds in a way that a young 20-year-old defensive back from Minnesota who like really aspired to get to a national championship. We lost twice in the national semifinal, so I never got there. But I want everybody to have that chance. Not only that, I want everybody to have the chance that I did to get through four years of college be able afford it ⁠— and I think that's what this debate is about."
---
Chris Bentley produced and edited this interview for broadcast with Todd Mundt. Samantha Raphelson adapted it for the web.
This segment aired on September 13, 2019.