Phoenix Residents Will Need To Adapt To An Even Hotter Climate
Play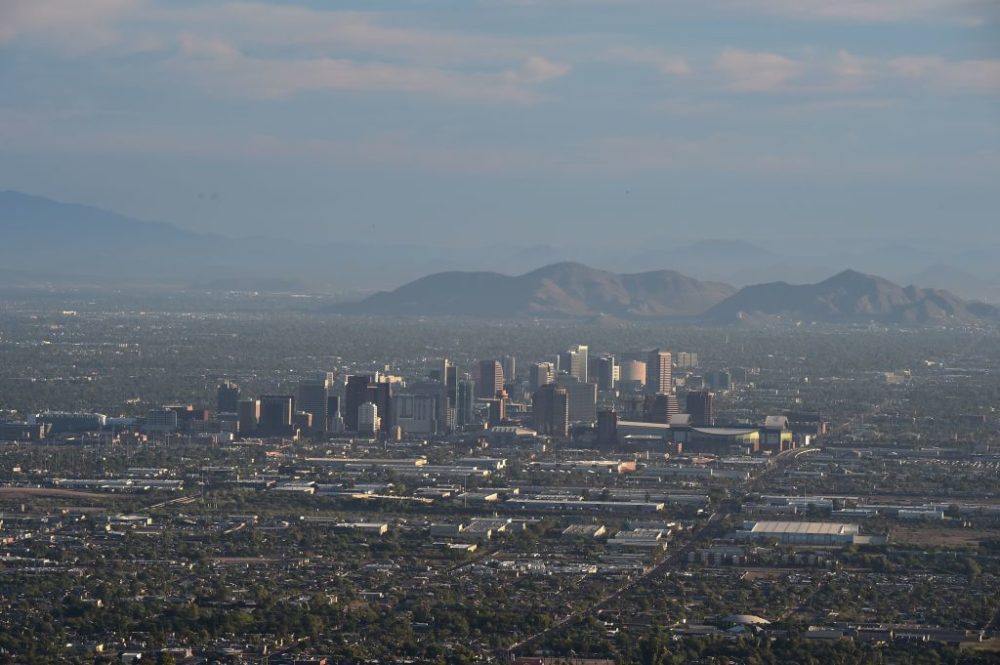 This article is more than 3 years old.
This story is part of "Covering Climate Now," a week-long global initiative of over 250 news outlets.
---
The hottest day in Phoenix history is June 26, 1990, when temperatures reached 122 degrees — but thanks to climate change, the desert city's sweltering heat could break this record.
In hot places like Phoenix, residents rely on taking a break from the heat at night when temperatures significantly drop. But over the last half-century, the average nighttime temperature in Phoenix has increased by 9 degrees.
"As it gets hotter and less comfortable, we don't want to revert to air conditioning as the only solution," says Arizona State University professor Ariane Middel. "We want to have the environment comfortable so that people can actually be outdoors and be active."
Middel says the nighttime temperature increase is thanks to a phenomenon that's changing the city's climate called the urban heat island effect, which is caused by artificial surfaces like concrete and asphalt that store heat.
These surfaces absorb heat from the sun during the day. When the sun goes down, the surfaces slowly release the heat.
As cities continue to urbanize and incorporate more heat-absorbant surfaces from sidewalks to parking garages, they absorb more heat that needs to be released at night — resulting in warmer nighttime temperatures.
"That increases the demand for energy-use for air conditioning, for example," she says, "and it doesn't really give people a relief from the heat that they experienced during the day."
This week, the National Weather Service predicted there will be no more 110 degree days in Phoenix for the rest of the year. Temperatures surpassed this mark on 29 days this summer, which is the fourth most of all time.
In this 517-square mile city, heat-related deaths tripled from 2014 to 2017.
"Usually, we can hit up to 100 days that are 100 degrees Fahrenheit or more and that's going to become much worse in the future," she says, "because it's predicted that conditions [will] become more extreme and heatwaves [will] become more frequent and may last longer, too."

Middel studies the local climate at ASU alongside her friend MaRTy, a mobile heat robot that measures how heat impacts the human body.
Together, they determined the hottest location on the ASU campus was between two large concrete buildings, an area students actively avoid. On top of absorbing heat, concrete also reflects light, making concrete-dense urban areas even more uncomfortable in the heat.
"If you look at the weather forecast, you usually get air temperature," she says. "But that doesn't necessarily represent how you experience the temperature because there's a big difference if you're standing in the shade or you're standing in the sun."
She works with cities like Phoenix and Tempe, Arizona, to measure the outdoor conditions and recommend ways to mitigate the heat, which include planting trees, producing more shade, and using more permeable surfaces that don't store as much heat.
Building shaded-areas into an urban environment makes people feel more comfortable outdoors and increases the likelihood they will do outdoor activities, she says.
Any amount of shade will help, but not all shade is created equally. Middel is also investigating 50 different types of shade on the ASU campus through a study called 50 Grades of Shade.
She's looking at various tree species, awnings and umbrellas to see what's most efficient. She's also searching for solutions to help cool down parts of urban areas where trees can't be planted because of underground sewer systems or cables.
Solid, dense shade works best, she says, so an umbrella will protect you from the sun better than a tree with small leaves.
Shade structures themselves also heat up, so they work better when they're further from your body, meaning an awning 10 feet above your head will protect you better than an umbrella.
Residents can try to beat the heat by shifting their schedules to the early morning or late evening, she says.
The state's infamous climate makes Arizona a great region to test temperature mitigation strategies that other areas may need to start adopting.
"We're in a very unique situation here in Phoenix because it is already hot," she says, "and a lot of places in the future elsewhere are predicted to become hotter."
---
Peter O'Dowd produced and edited this interview for broadcast with Kathleen McKenna. Allison Hagan adapted it for the web.
This segment aired on September 18, 2019.