Increased Subway Policing Sparks Protest In New York City
Play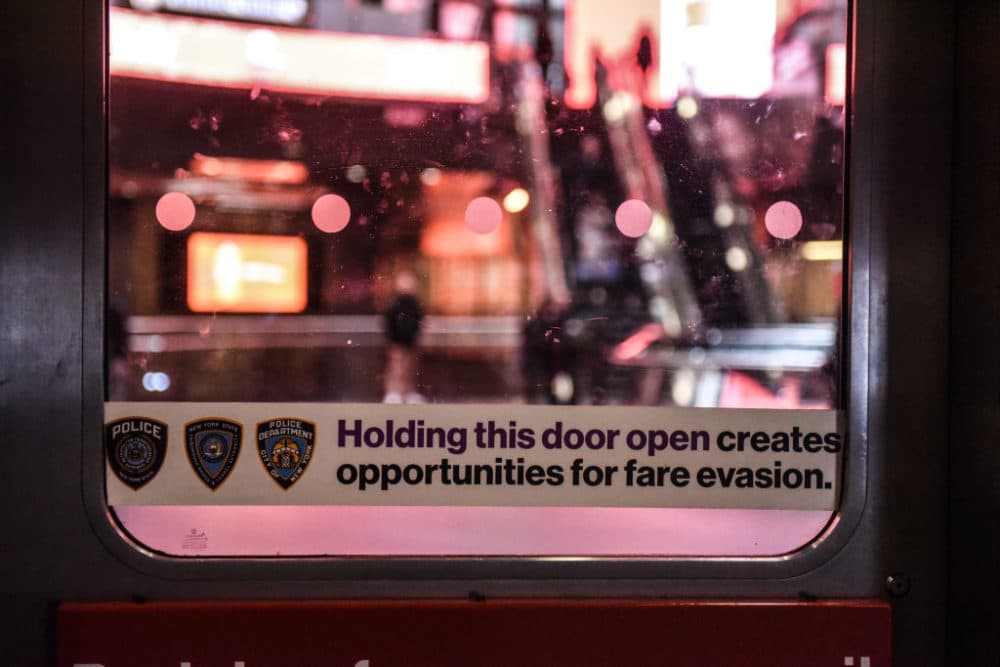 This article is more than 2 years old.
The Metropolitan Transportation Authority in New York City voted on Wednesday to approve the governor's plan to hire 500 additional transit cops dedicated to patrolling the city's subways.
Protestors chanted, "No more cops! Riders need a service hike!" across the street from MTA headquarters Tuesday night ahead of the vote. On Wednesday, protesters were forcefully removed from the MTA's budget meeting, where the plan was approved as part of the system's $17 billion budget for 2020.
Since October, advocacy groups have been organizing a "For The People" movement against increased police presence in the subway.
On Nov. 1, the first wave of protestors stormed the Hoyt-Schermerhorn subway station in Brooklyn, shouting 'How do you spell racist? NYPD' as they hopped over the turnstiles one-by-one.
Protesters took to the streets again on Nov. 22, resulting in 58 arrests. Decolonize This Place, one of the advocacy groups organizing the movement, is encouraging people to support the arrested protesters by showing up at their court dates on Dec. 23.
The group says it's planning a third action, though the date is undetermined. New York officials have not directly commented on the protests.
The city raised transit fares in April and later launched an advertising campaign discouraging fare evasion. In June, Gov. Andrew Cuomo announced the plan to hire hundreds of new officers to combat "a dramatic increase in crime in the subway system" and crack down on fare evasion. But transit advocates have criticized the move for unfairly targeting low-income commuters and people of color.
Protests began after a series of viral videos posted on social media displayed officers aggressively confronting riders over minor offenses. One video shows an officer punching a black teenage boy accused of fare evasion in the face.
Another video shows New York Police Department officers pointing guns into a crowded train at 19-year-old Adrian Napier. Officers stormed into the train to arrest him as he sat with his hands in the air and asked to call his mother.
And the increased subway policing hasn't only impacted fare evaders. On Nov. 9, nearly a week after the first protest, a viral video showed outraged bystanders watching officers arrest a churro vendor.
NYPD's most recent report on fare found almost 90% of people arrested for fare evasion from April to June were black or Latino.
Activists believe the city's fare hikes and increased policing are affecting the livelihood of its most vulnerable commuters, says Terry Nguyen, who has reported on the protests for Vox's The Goods.
"With a rise in fares — and class and race are interconnected — you're already targeting vulnerable, poorer people," she says. "Activists are concerned about the rise in fares because they feel that poor people already are not likely to live close to transit hubs. And this will affect how they get to their jobs."
Transit officials say fare beaters could cost the city $300 million — a sizable chunk of the $6.2 billion in revenue the MTA generates from subway and bus fares each year, Nguyen reports.
Transit systems across the country rely on fares to function because they aren't profitable, she says.
Hiring more transit officers is expected to cost $250 million over four years. The MTA wants to invest in police in hopes of losing less money, but citizens feel it's unfair that the agency is spending more on law enforcement when it's operating budget deficit could reach $1 billion by 2023, she reports.
Instead of taking a law enforcement-based approach to enforcing the fare, many places are decriminalizing fare evasion. The King County Metro system in Washington state has adopted an in-house fare violation program that offers riders non-monetary resolutions like community service or signing up for its low-income reduced fare program.
Many cities in Europe and Australia have proof-of-payment systems, where undercover operatives randomly check people's tickets, Nguyen says. Eliminating turnstiles and gates also makes transit faster, she says.
Though increased policing sparked the protests, activists want more than cops out of the subway. Activists are calling for the MTA to eliminate the fare and make public transportation free.
On Tuesday, six members of Congress, including Rep. Alexandria Ocasio-Cortez, released a letter condemning Gov. Cuomo's plan. Organizer Decolonize This Place responded with a post saying the congressional letter doesn't speak to the movement's core demands of free transit and no cops in the subway.
The demand for free transit is not a radical idea. Earlier this month, the city council in Kansas City, Missouri, voted to direct staff to look into how to fund a plan to make bus service free. If approved, the move could make Kansas City the largest city in the U.S. to eliminate bus fare.
"Whatever policies are passed, like a fare hike or increased policing in New York, it's seen as a state's priority," she says. "But people are really disgruntled when it's not fully reflecting their will."
New York isn't the only place where public transportation spaces have recently played a role in protests. Beyond the U.S., recent ongoing demonstrations around the world — dubbed a global protest wave — have taken place in and around transit stations.
In Santiago, Chile, a 4% transit fare hike sparked protests demanding an end to inequality in the country. Protesters have called for riders to evade the fare, mirroring New York's protests.
Transit workers in France walked out on Dec. 5 as part of the country's ongoing strikes, leading to indefinite train cancellations. And in Hong Kong, pro-democracy protestors have disrupted and boycotted public transit services.
"It's a pressure cooker environment," Nguyen says. "These protests are not completely tied to the public transit system, but because transit affects so many people, it's really easy for people of different classes, of different demographics to feel like they're being collectively impacted by something like a fare hike."
---
Allison Hagan and Ashley Locke produced and edited this interview for broadcast with Kathleen McKenna. Hagan adapted it for the web.
This segment aired on December 19, 2019.