How The Supreme Court Made 'Climate History' In Massachusetts V. EPA
Play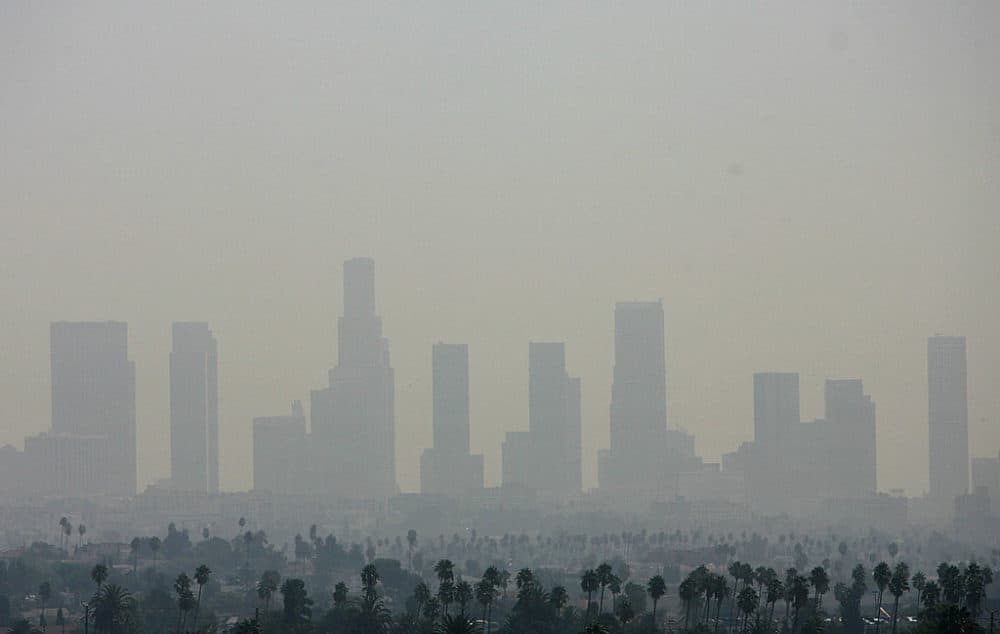 This article is more than 2 years old.
One Supreme Court decision sparked some of the most significant actions taken by the U.S. government to deal with climate change.
Massachusetts vs. Environmental Protection Agency was decided in a 5 to 4 ruling in 2007. It laid the groundwork for many of former President Obama's climate policies, including the Clean Power Plan.
It all began in 1999 when a man named Joe Mendelson, an environmental lawyer who worked for a small public interest group, delivered a petition to the EPA urging them to regulate carbon dioxide as an air pollutant under the Clean Air Act, says Richard Lazarus, author of a new book about the case called, "The Rule of Five: Making Climate History at the Supreme Court."
"He thought it was obvious. He thought the science was clear," says Lazarus, who teaches at Harvard Law School and has represented the government and environmental groups in 40 Supreme Court cases.
Mendelson had been making noise about this issue for a while and faced criticism for it, even from mainstream environmental groups who told him to "quiet down" and "don't rock the boat," Lazarus says.
"And Joe finally got fed up. He walked down to EPA, handed them a petition, which said, 'I think you've got an obligation to regulate greenhouse gases,' " Lazarus says. "And it was such a controversial move when he pushed that on EPA that even some of the other environmental groups managed to lobby to cut off his funding."
In 2003, the EPA determined that it didn't have the authority under the Clean Air Act to regulate carbon dioxide or other pollutants for climate change purposes.
Many mainstream environmentalists understood that making a change like the one Mendelson proposed was all about timing, Lazarus says. And historically, the Supreme Court did not hear cases that environmentalists lost in the lower courts.
"In the past, the court has often just never seen it to be important or the time is right when the environmentalists have lost in the lower court," he says. "They've been pretty ready to grant cases when the government has lost or industry has lost. And that's what made this [case] so unusual."
Environmental lawyers cleverly pitched the case to the court as an administrative law case rather than an environmental one, Lazarus says. Basically, they ditched the question of whether or not greenhouse gases are air pollutants, and instead, they asked the court to consider if the EPA had the authority to regulate greenhouse gases.
"And then in sort of what is known as classic bait-and-switch strategy before the Supreme Court, once the court granted review, they then buried the issue they said was so important, and they put front and center the big question they cared about and that's whether greenhouse gases are air pollutants are not," Lazarus says.
In the case, the person everyone was watching was Justice Anthony Kennedy, who was the swing vote in many instances.
"Justice Kennedy ... was the decisive vote in basically every single environmental case in over three decades except one," Lazarus says. "Everyone knew this case would be no exception."
Everyone knew this, including Justice John Paul Stevens. But Stevens also knew that he had to write the opinion in a way that kept Kennedy on the majority's side.
"What Justice Stevens told me was this was a really important case to him," Lazarus says. "He could not understand why so many people, including so many Republicans, and he was a Republican, didn't understand the seriousness of climate change. He wanted to make a statement."
Massachusetts vs. EPA is called "the most significant environmental decision ever" by the Supreme Court, Lazarus says. And that's because it laid the groundwork for so many environmental policies going forward, including Obama's Clean Power Plan and the Paris Agreement.
But the Trump administration has quickly unraveled many of these policies, which is why he says the 2020 election may determine the fate of climate issues.
"If the Trump administration is confined to four years, basically every single thing that happened during the Obama administration can be protected," Lazarus says. "If there's another four years, it will be much harder, protect all those regulations, all those rules, and harder to protect the Paris Agreement."
---
Chris Bentley produced and edited this interview for broadcast with Kathleen McKenna. Samantha Raphelson adapted it for the web. 
---
Excerpt adapted from THE RULE OF FIVE: MAKING CLIMATE HISTORY AT THE SUPREME COURT by Richard J. Lazarus, published by Harvard University Press. Copyright © 2020 by Richard J. Lazarus. Used by permission. All rights reserved.
This segment aired on March 9, 2020.