JetBlue CEO Says Coronavirus Impact On Flight Bookings Is Worse Than After 9/11
Play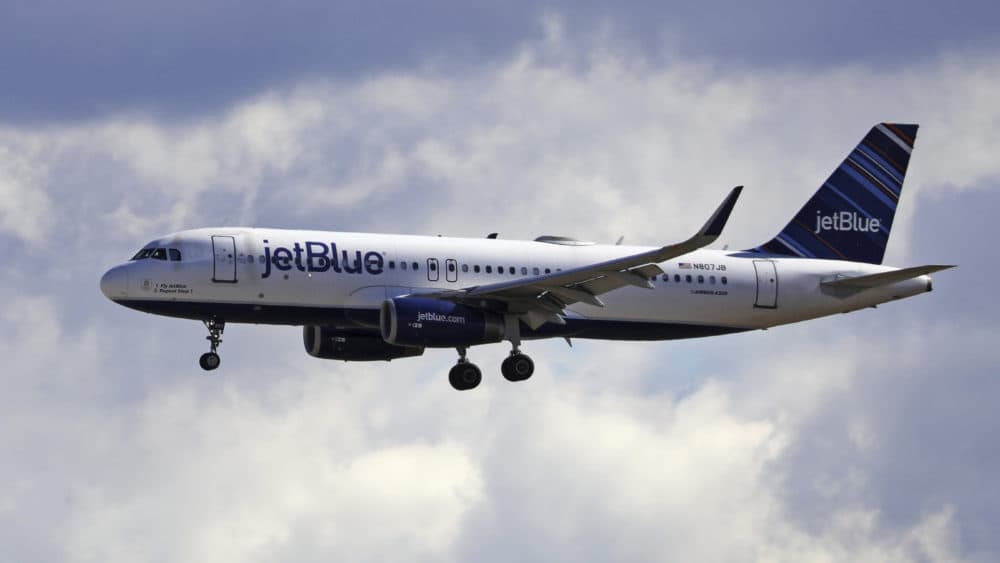 This article is more than 2 years old.
JetBlue Airways CEO Robin Hayes says the airline is facing a more significant drop in bookings than after 9/11.
The U.S. airline industry saw a 30% decline in demand following the tragedy, he says. With the World Health Organization declaring coronavirus a pandemic on Wednesday, he says similar concerns about flying have led JetBlue's bookings to decline more than after Sept. 11.
"We're seeing bookings come off to an even greater extent with this, you know, with this scare around the coronavirus and a lot of people also wanting to refund delayed trips as well," he says. "Not only are the number of new bookings down, but we're seeing a lot of customers want to change their flights."
The airline industry is facing immediate effects from the spread of coronavirus. Delta Air Lines, American Airlines and United Airlines are all cutting back on the number of domestic and international flights as bookings decline. United says ticket sales have fallen 25%, while Delta reports a 25% to 35% drop in bookings over the past two weeks.
JetBlue decreased 5% of its capacity for April and is reviewing further cuts, Hayes says.
Recent flights haven't been reaching capacity because of the impact on bookings, and he believes most passengers will notice the empty seats onboard.
During the time after 9/11, Here & Now transportation analyst Seth Kaplan recalls feeling safe on cheap, empty flights because of the new regulations introduced following the attacks. But now, he says there's a key difference between how Sept. 11 and coronavirus will impact the industry.
"Most of us are not going to die from coronavirus but this is an ongoing threat," he says. "And you can't exactly tell people there's nothing to worry about when there are people out there contracting, in some cases dying, from coronavirus."
Hayes says the company is planning for this to continue for a "very significant" amount of time. Though domestic airline travel in China has started to recover, he says it took two years for airlines in the U.S. to bounce back after 9/11.
Without enough passengers, airlines can lose their regular slots at popular airports if they fail to meet minimum flight requirements. To help the U.S. airline industry, the Federal Aviation Administration announced Wednesday it will waive minimum flight requirements through May 31.
"Clearly in an environment where we're seeing devastating impact for bookings, we don't want to be flying around empty planes," Hayes says. "That's not good for anyone. It's certainly not good for the environment."
Compared to before the financial crisis, he says U.S. airlines are in a better position with stronger balance sheets and liquidity. Before coronavirus concerns heightened, he says JetBlue saw a strong demand for both business and leisure travel in January and February thanks to the economy.
Though it's too soon for him to predict the long-term impact of coronavirus on the industry, he thinks airlines will stimulate the market with low fares and demand will quickly return. But the industry may need to drop fares lower than expected and it could take time to fully recover, he says.
"The good news for JetBlue is that we have a very strong balance sheet," Hayes says. "We've been preparing 10 years for this event, and we're acting very quickly to cut capacity and reduce costs so we can weather this."
The strength of the U.S. airline industry makes it best equipped to survive, he says — unlike struggling airlines in Asia and Europe. United Kingdom-based Flybe filed for bankruptcy last week and Hayes believes more similar airlines will in the near future.
To mitigate the impacts of decreased bookings, the heads of United and Southwest Airlines announced plans to forego base salaries until the end of June and take pay cuts. Some airlines are halting hiring and, like JetBlue, cutting capacity.
U.S. airlines entered the crisis in a "relatively healthy state," Kaplan says — so companies have avoided taking drastic action that would have happened in another era, like furloughing employees.
"The problem is that nobody knows exactly how long this will last," he says.
JetBlue is deep cleaning its airplanes overnight and providing passengers with disinfectant wipes to clean their seats, he says. The airline uses hospital-grade filtering systems that recirculate air in the cabin every three minutes from top to bottom, he says.
"When we think about flying, we really want people to think about it as safe as anything else you do in your day-to-day life," he says.
He recommends that people feeling sick refrain from flying, and instead take advantage of JetBlue's offer of free changes and cancellations.
Crew members are trained in handling sick customers and have protective equipment on board, he says. The airline has also tried to remove potential contact points from its plans by suspending hotel service, he says.
Staff can also choose to wear gloves, he says, but the Centers for Disease Control and Prevention advises them not to wear masks. That's because when people wear masks, they tend to touch the masks which could increase contact with their face, he says.
"The advice for our crew is really the same as everyone else, which is to wash your hands frequently," he says. "That is the best way to avoid getting this infection."
---
Chris Bentley produced and edited this story for broadcast with Tinku Ray. Allison Hagan adapted it for the web. 
This segment aired on March 11, 2020.