No Gym? No Problem: 5 Exercises For Working Out While Social Distancing
Play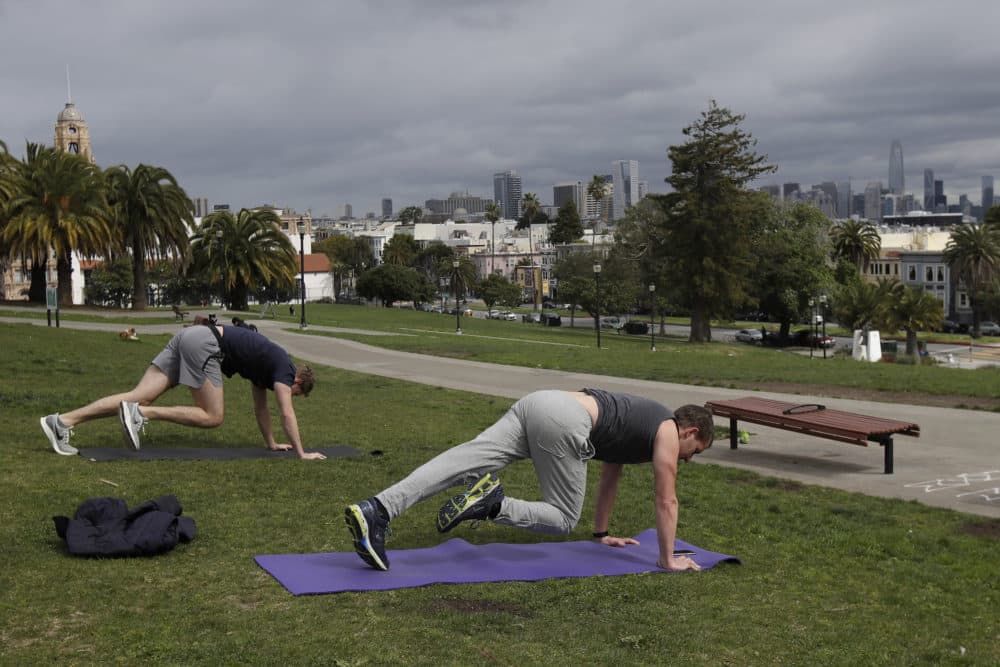 This article is more than 2 years old.
Tony Maloney, exercise physiologist and fitness center manager at the National Institute For Fitness And Sport (@NIFSIndy), gives Here & Now's Jeremy Hobson his suggestions for getting exercise at home, including playing with people you're with at home.
Tony's Exercise Tips And Tricks
Remember you have the best piece of fitness equipment with you at all times – your body!
Bodyweight Exercises
Choose a combination of five of the below movements to create your circuit. Move for 30 seconds and take a break for 30 seconds for a total of three to five rounds. Speed it up for more of a cardio workout, or try time under tension (TUT) reps, slow tempo reps or isometric holds to maximize muscle building while slowing down reps.
Squats
Glute bridge
Push-ups
Lunges
Plank variations
DIY Fitness: Household items you can use for equipment
Fill up a backpack to add load to bodyweight movements
Loaded walking (laps around the house, stair climbing)
Squats, bent over rows, lunges, overhead presses
Use water jugs (big or small) to add load and variability to the movement
Use paint cans, laundry detergent bottles or tool bags if you don't have dumbbell weights
Use paper plates on carpet or a towel on a wood surface for sliding exercises, such as sliding reverse lunges, push-ups with a reach, hamstring curls, plank saws
Cardio Remedies
Laps around the house
Stair climbing
Chores like high-intensity deep cleaning
Yard work
Play with kids and family
Commercial break fitness: body weight exercises during TV commercial breaks
Mind and Body
Online/streaming Yoga
Online/streaming recovery and mobility drills
Meditation
Read
Tips To Stay Active While Working from Home
Get up and move every 15 minutes — walk upstairs, do laps around the house, or stretch
Stand to work at your computer
Schedule time to work out or play
Check yourself at the fridge. Ask yourself: Am I hungry or just bored?
---
Lynn Menegon produced and edited this interview for broadcast with Peter O'Dowd. Samantha Raphelson adapted it for the web. 
This segment aired on March 26, 2020.