Doctors Are Warning Of A Potential Connection Between Vaping And Coronavirus Complications
Play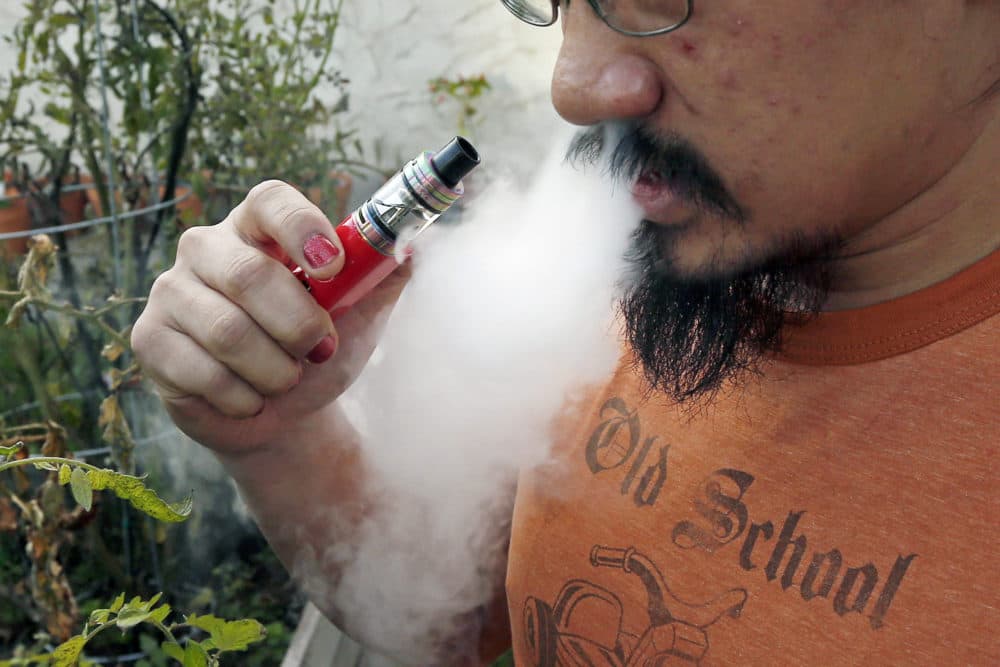 This article is more than 2 years old.
The Centers for Disease Prevention and Control says up to 21% of patients hospitalized in the United States from COVID-19 are between the ages of 20 and 44. About 3% are under 20.
Some doctors are speculating vaping is making teens and young adults in the U.S. more susceptible to more serious complications from COVID-19. The National Institute on Drug Abuse blog has added vapers to its list of groups who could be the hardest hit.
In 2019, concerns about vaping were sparked by an outbreak of acute lung injury cases, says Dr. Humberto Choi, a pulmonologist at the Cleveland Clinic. Thousands of people were hospitalized for shortness of breath and coughing, but in many severe cases, people needed life support and some died.
Some studies concluded vaping damages the cilia system — tiny hairs that protect the lungs from infections.
"The lungs are totally exposed to the environment," he says. "The lungs and the airways have ways to defend themselves against anything that can cause injury, especially infections, and this cilia system is a big part of that."
People who smoke cigarettes have impaired cilia systems and are at higher risk of infections like pneumonia, he says.
Doctors are now speculating this could also happen with vaping, he says, though there isn't a lot of research yet. Some lab research shows the function of cilia cells is impaired when they're exposed to chemicals in vaping liquid, he says.
"It's definitely possible that people who were vaping could be at higher risk of having infections, just like the COVID-19," he says.
Choi says it's no coincidence that the rate of hospitalizations for COVID-19 is high in the U.S., where vaping is prevalent.
The American Lung Association estimates the number of teens in the U.S. who vape jumped up 80% from 2018 to 2019. Choi says he's seen rates of 30% to 50% at some schools he's visited.
And the added risk is not limited to nicotine vapers — more than 80% of people hospitalized in 2019 for vaping were using marijuana products, according to the CDC.
Choi says there's a dangerous misconception that "only a grandma will get sick" from COVID-19, but that's not the case.
"This is a wrong concept. Young people can get sick from this, too," he says. "And it's very possible that vaping can make our youth more susceptible to that as well."
---
Karyn Miller-Medzon produced and edited this interview for broadcast with Tinku Ray. Allison Hagan adapted it for the web.
This segment aired on March 26, 2020.