'The Last Dance' Remembers The Chicago Bulls' 1997-1998 Championship Run
Play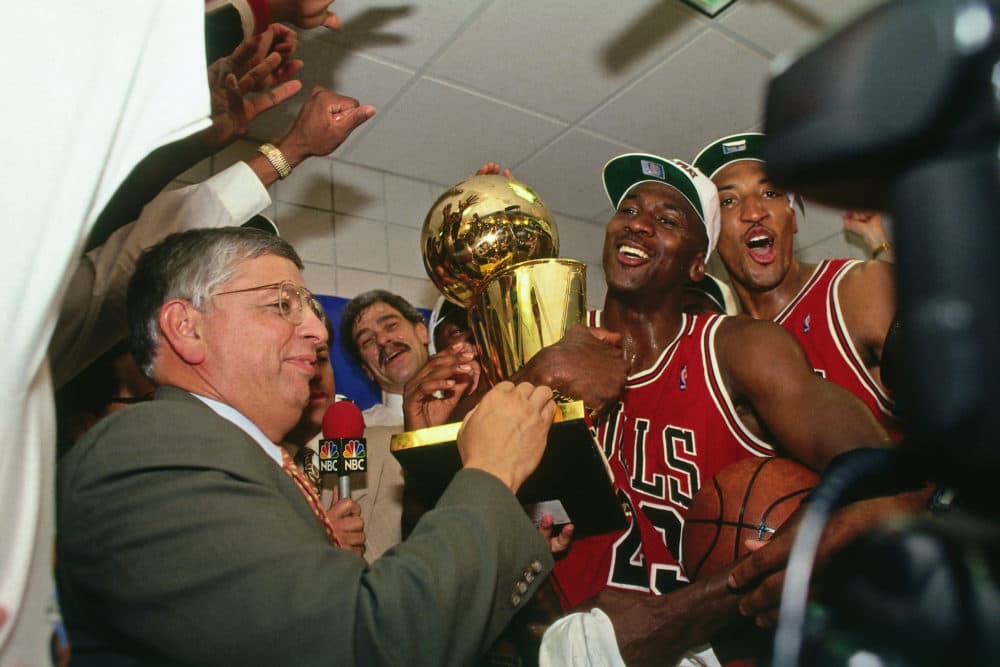 This article is more than 2 years old.
In a world with no sports, ESPN on Sunday will start airing a much-anticipated 10-part documentary about the Michael Jordan era Chicago Bulls.
"The Last Dance" follows the 1997-1998 Bulls as they seek to pull off a second three-peat, winning their third NBA championship in three years and their sixth since 1991.
But there was a dispute between management and players like Jordan about whether to repeat or rebuild the team. It all came down to money, the film's director Jason Hehir says.
"Ownership was of the opinion that most of the key players on the Bulls at that point, except for Michael Jordan, were past their prime years and they were carrying higher and higher price tags as the years went by," he says.
Management wanted to break up and revamp the team before the '97-'98 season began. Player by player, the team began to dissolve.
In the summer of '97, Phil Jackson, the team's star coach, was only offered a one-year contract.
Hehir says in essence, Jackson's one-year agreement signaled ownership was "breaking up the dynasty."
One player remained a central part of the Bulls: Michael Jordan.
Jordan's legendary competitiveness and "ferocious drive to win at all costs" is known by many. But Hehir says what set Jordan apart on the team wasn't his athleticism. It was his dogged work ethic that he was grounded in from a young age.
"He was taught this from a very early age by his parents: You do your best all the time, and there is no other option except doing your best," he says. "These were lessons he learned in his backyard and carried with him all throughout his career with the Bulls."

Interview Highlights
On the current hunger for sports during the coronavirus crisis
"I think that our team is all really happy that we can get this out. There's a dearth of programming out there, and it's also just a dearth of human connection. And so many people feel that connection through sports, whether attending games or just being a fan online or in person with your friends. So to give people new sports content right now and be able to give people a little bit of a distraction, a little bit of an escape from all this chaos is something we take seriously and we're grateful for the responsibility."
On Jerry Krause, the Bulls' general manager
"He was certainly shrewd in building [the team]. He was the architect of that dynasty from back until the mid-'80s when he took over. He, as we'll see in the series, gave Phil Jackson his first coaching opportunity when Phil was ready to leave basketball in the '80s and become a lawyer. Jerry Krause saved his career. I do think he deserves the credit for architecting this team. The thing is, he's not camera friendly. He's an easy guy to ridicule. But by the end of the series, I think we gave him his just due."

On Michael Jordan's desire to win at all costs and how he treated his teammates
"I think that it was calculated at times. He was tougher than he needed to be at times. He understood that this was going to separate him from his teammates. If he was that intense every day, if he was that much of a perfectionist every day, this is not something that's going to endear him and be one of the guys. Will Purdue is one of his teammates from the first three-peat in the early '90s, and Will says Michael was an a******. But in the same breath, he says, but he was a great teammate. He brought the best out in all of us and that was Michael's impetus from day one."
On other players' storylines in the documentary, including Scottie Pippen
"As fascinating as Michael is, no one can take 10 hours of a story about one person. And oftentimes the people who are a little bit in the background, the supporting cast, are just as interesting, if not more interesting than the main character. Scottie Pippen is maybe the most fascinating character in the documentary considering where he came from. Scottie was born into abject poverty in Hamburg, Arkansas, a town of about 2,000 people. He lived with his siblings and his parents — 13 people under one roof. His dad was confined to a wheelchair after a stroke. His brother was confined to a wheelchair after a wrestling accident. He came up with the toughest of tough conditions, was not recruited to go to any college, but from the time he was a kid, he believed he was going to the NBA. And he had no business believing that because he was not that good a player as a young boy. As his career developed, his confidence grew as well. And the next thing you know, he is now considered one of the top 50 players in the history of the NBA. So it sounds ridiculous to say that the Bulls of the '90s were underdogs. But when you take it apart piece by piece and you examine each piece of this team and each character on the team, each one of them was an unlikely hero.
"[Pippen] signed a very conservative contract in 1991, which was seven years for about $18 million. Now we examine the reasons why he chose to sign such a conservative contract, and it has to do with what I just mentioned, about needing to support his family. He has a very large family that was poor back in Arkansas and he saw that it could all go away in a flash. You can end up in a wheelchair after a wrong turn. So he was 122st highest-paid player in the league in 1997 and '98. And you can make a very good case that he was the second-best player in the league. He wasn't even in the top five highest-paid players on the Bulls.
On interviewing Barack Obama and Bill Clinton for the documentary
"A lot of people will pick up the phone if you call and you say you're doing a documentary about the Chicago Bulls and Michael Jordan and you're interested in talking to them. With presidents, it's a little bit different. So that's when you need the big guns. And Michael helped us there. Michael has a relationship with Barack Obama and his relationship with Bill Clinton. Those kind of people and their handlers are never picking up the phone if Jason Hehir calls, but they're picking it up on the first ring if Michael Jordan calls. He was very generous with his assistance and with his time. And when they knew that Michael endorsed this and was going to be a part of a product, his reputation precedes itself. So it made it easy for us to line up all these interviews."
On how the Bulls would stack up today against other high-achieving teams in the NBA
"I think that from the pure perspective of how hard it was to build this and how hard it was to maintain it, you know, the Warriors had their three-peat and other teams have repeated and other players have won multiple titles. Michael and the Bulls won three in a row and they took two years off and they won three more. One of my favorite stats about that era is that every time Michael Jordan showed up for the first day of training camp for the Bulls in the 1990s, they won the NBA title. Every time. That tells you all you need to know about his greatness."
---
Emiko Tamagawa produced and edited this interview for broadcast with Peter O'Dowd. Serena McMahon adapted it for the web.
This segment aired on April 16, 2020.