'I Lost My Mother And I Didn't Have To': Daughter Shares Story Of COVID-19 Spread In Tenn. Nursing Home
Play
This article is more than 3 years old.
Debbie Bolton lost her mother Clara Ruth Summers to COVID-19 just days after Summers' 89th birthday.
Summers, who had dementia, was living at the Gallatin Center for Rehabilitation and Healing in Tennessee, where more than 161 residents caught the coronavirus and 19 people died.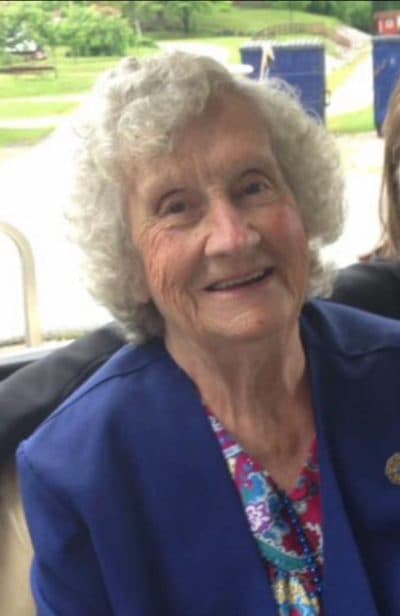 Bolton's lawyer has notified the center that a wrongful death lawsuit — which alleges neglect and intentional disregard of safety rules — will soon be filed.
"I literally feel like I lost my mother and I didn't have to, because my mother, when I tell you she was not in bad health, she wasn't," Bolton says.
In a statement to Here & Now, the Gallatin Center says it will continue to partner with local hospitals and the Tennessee Department of Health to maintain their focus on the safety of its residents and staff.
After a spike in coronavirus outbreaks in nursing homes across the country, the Centers for Disease Control and Prevention is now calling for all nursing homes to disclose cases to residents and the public.
Lona Mody, a professor of internal medicine, geriatrics and epidemiology, says nursing homes are looking to two strategies to address the spread: universal testing in all long-term facilities and quick separation of sick patients from healthy ones.
Yet these potential strategies have come too late for Bolton and her mourning family.
Summers, a mother of four, was a devout Christian who enjoyed reading her Bible and was a "joy" to all, Bolton says. Summers was born missing a hand, Bolton explains. But that didn't slow her down — for example, she sewed all of Bolton's clothes growing up.
The 89-year-old also didn't have any health complications besides high blood pressure, which was controlled by medicine, Bolton says.
The staff originally called to tell Bolton her mom was ill with "a severe upper respiratory chest infection." After Summers was eventually isolated, Bolton decided it wasn't enough and she insisted that her mom be taken to the hospital for a coronavirus test. It was her 89th birthday.
Summers' tests came back positive, and she was placed on a ventilator.
"In my mom's case, she was on a ventilator for less than 48 hours and passed," she says.
The nursing home could have done more to protect her mom and other residents from exposure, Bolton says. Summers started showing symptoms a week before she was taken to the hospital, she says.
"If I had known COVID-19 was going to come into that nursing home on [March] 8 when I was over there visiting her, I would've brought her home with me that day," she says through tears.
The void left by the sudden death of her mother has been hard to accept, Bolton says, because she didn't get to say goodbye or be by her side in her final moments.
"Unless she died in her sleep, I always thought, I want to be with mama when she passes because when I was born, it was me and her. We started this journey together," she says. "And when she went, I wanted to be with her when she went, and I didn't get to."
---
Ciku Theuri produced and edited this interview for broadcast with Peter O'Dowd. Serena McMahon adapted it for the web.
This segment aired on April 24, 2020.